Twitch viewership reached 1.8 billion hours in October, according to the latest edition of StreamElements and Rainmaker.gg's monthly ''State of the Stream'' report. 
In the meantime, Facebook Gaming watchtime reached 342 million hours last month, rising slightly from September's 328 million hours.
---
Also Read: Meta tests Twitch-like livestreaming platform named 'Super'
---
YouTube Gaming users, on the other hand, watched 281 million hours of content in the month, down from September's 272 million hours. 
The report also revealed the top categories on Twitch that users watched the most during October. Just Chatting was the No.1 category with 239 million hours of viewership, followed by League of Legends (157M) at No.2, and Overwatch 2 (133M) at No.3 despite being released just weeks ago.
---
Also Read: Overwatch 2 price, system requirements, and more
---
The top 10 list continues with Grand Theft Auto V, Dota 2, Valorant, FIFA 23, Counter-Strike: Global Offensive, Minecraft and World of Warcraft respectively.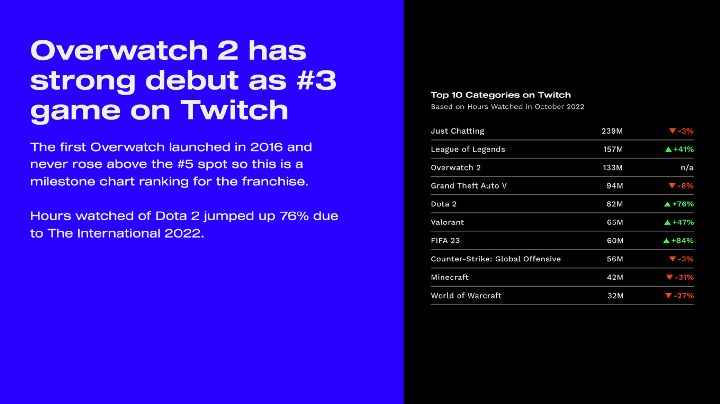 Both Facebook Gaming and Twitch watchtime more than doubled in January 2021, and Twitch saw its record in March the same year when its users watched 2.2 billion hours of content on the platform.
While viewership began declining this year after countries lifted lockdowns, the lowest point Twitch saw was 1.7 billion hours viewed in September, which was still above the company's pre-pandemic levels and the peak it saw in 2020.
"Twitch has reached an interesting point where we have a clear baseline for 2022 that represents a massive audience while growth has simmered beyond it," said Gil Hirsch, co-founder and CEO of StreamElements. "This is likely less about livestreaming losing momentum and more about creators diversifying where they are creating content, especially as we see their expansion to TikTok and the collective growth of livestreaming," he added.