New data from Sensor Tower revealed that in the United States, Snapchat saw an average monthly ad spending of $237 million and quarterly ad spending of $707 million between the first quarters of 2022 and 2023. At the same time, the popular social media platform also saw 39 billion monthly ad impressions on average.
According to The State of Snapchat Advertising report, Amazon spent the most money ($96.1 million) on Snapchat ads in 2022. The Top 10, which collectively accounted for $232 million, also includes NBC ($56.8M), Meta ($51.4M), Nike ($49.7M), HBO ($46.5M), Samsung ($46.1M), AT&T ($41.1M), Google ($39.2M), Coca Cola ($37.7M), and Procter & Gamble ($37.5M) respectively.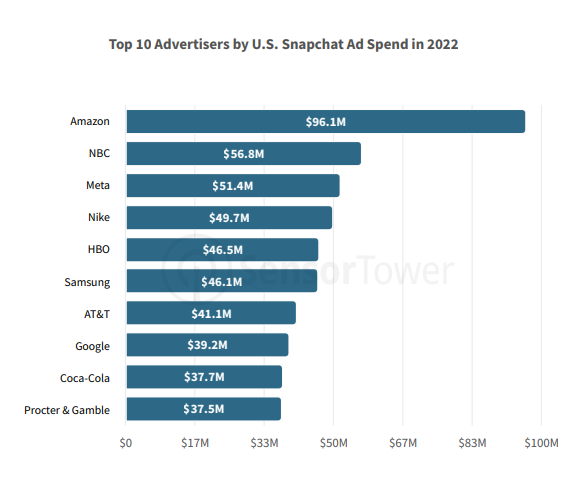 Sensor Tower also shared the top 10 media advertisers in the United States that spent the most money on Snapchat advertising last year. The list was led by NBC at $56.8 million, which was followed by HBO ($46.5M), The New York Times ($25.9M), Sirius XM Radio ($15.4M), Reddit ($8.3M), Amazon ($7.8M), Discovery Channel ($7.6M), Spotify ($7.2M), ESPN ($6.5M), and NAVER Corp. ($3.7), respectively.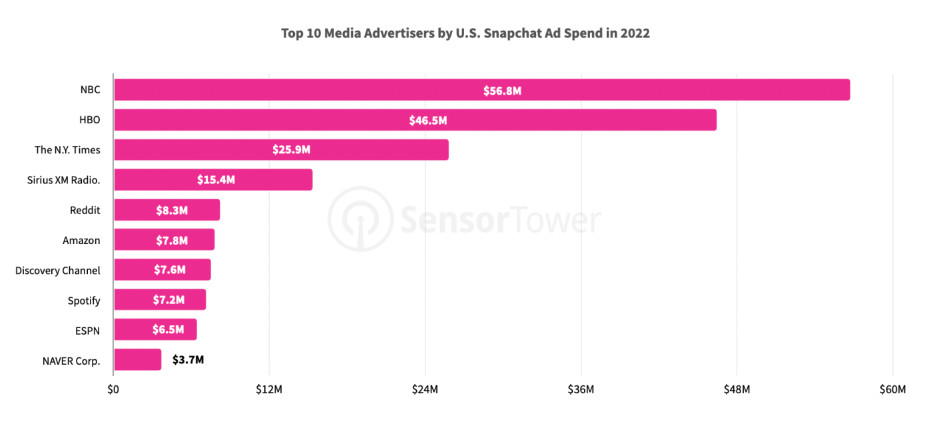 ''Media ad spending on Snapchat was dominated by NBC and HBO, both of whom aimed the vast majority of their ad dollars at their streaming services,'' Sensor Tower explained. ''In their peak spending months, they employed creatives promoting these services, with HBO focusing on House of the Dragon and Pretty Little Liars, while NBC took a more generic approach to their creatives, instead emphasizing the streaming service as a whole, with broad references to football, sports, and movies comprising the most frequent employed text elements.''
---
Also Read: Snapchat Revenue and Usage Statistics
---
The report also revealed that Arts & Entertainment advertisers in the United States spent a total of $146 million on Snapchat ads last year. 49% of advertisers were related to movies, and 28% of Arts & Entertainment ad spending was from movies, Sensor Tower said.
In 2022, top movies by Snapchat ad spend included Minions 2, The Bad Guys, and The Batman, while the top Arts & Entertainment advertisers by spend were Hulu, Disney, and Amazon.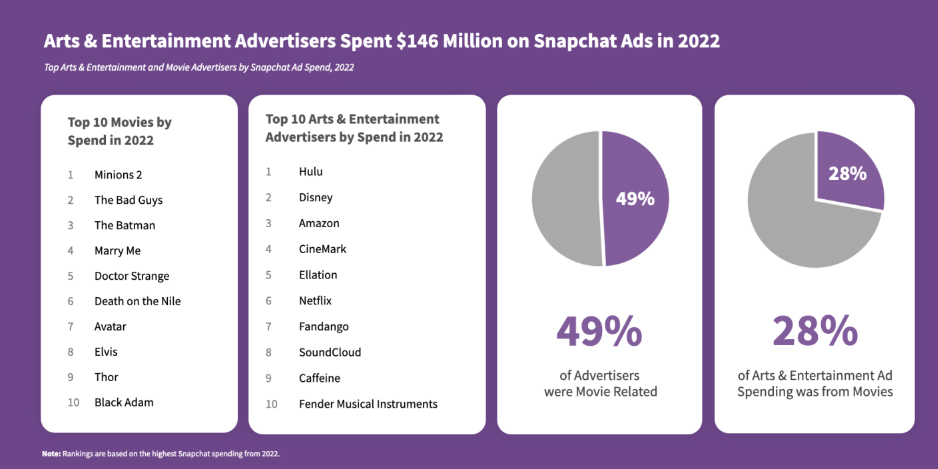 According to another recent Sensor Tower report, global app installs are still above pre-pandemic levels in spite of the economic slowdown.