New data from SocialPeta has revealed that nearly 50 thousand mobile game advertisers released new creatives in the first quarter of 2023, accounting for more than 92% of all the advertisers.
According to the ad intelligence company's latest report, the first three months of 2023 saw a total of 7.80 million new ad creatives in the mobile gaming ecosystem, which make up 67.01% of all the ad creatives placed in the quarter.
Android creatives account for nearly 70%
SocialPeta said that the number of Android creatives saw a significant growth in Q1, when they accounted for 69.69% of all the creatives, while iOS creatives represented the remaining 30.31%.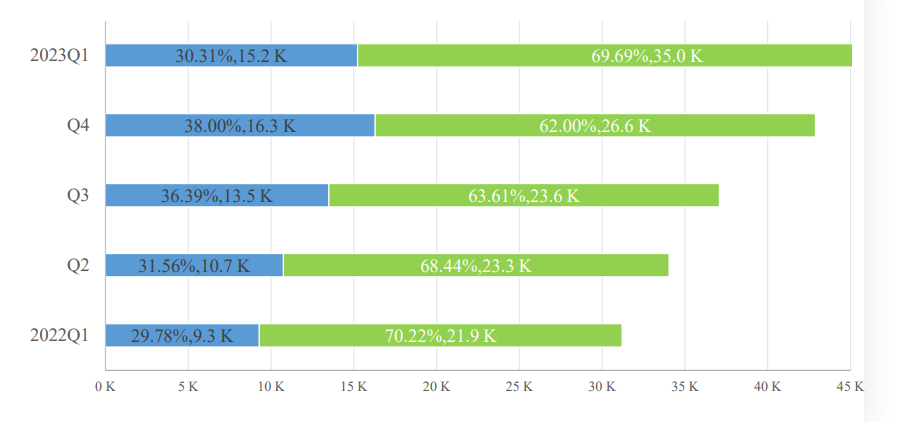 Casual games saw the most creatives in Q1
The Casual genre was the No.1 genre of the quarter in terms of both the number of advertisers and the number of creatives, which were up 2.29% and 12.33% Y/Y.
In the first list, it was followed by Puzzle, Simulation, Action, RPG, Casino, Arcade, Strategy, Card, and Adventure categories, respectively.
And the mobile game genres that saw the most creatives in Q1 also include Puzzle, RPG, Simulation, Strategy, Action, Casino, Card, Arcade, and Adventure.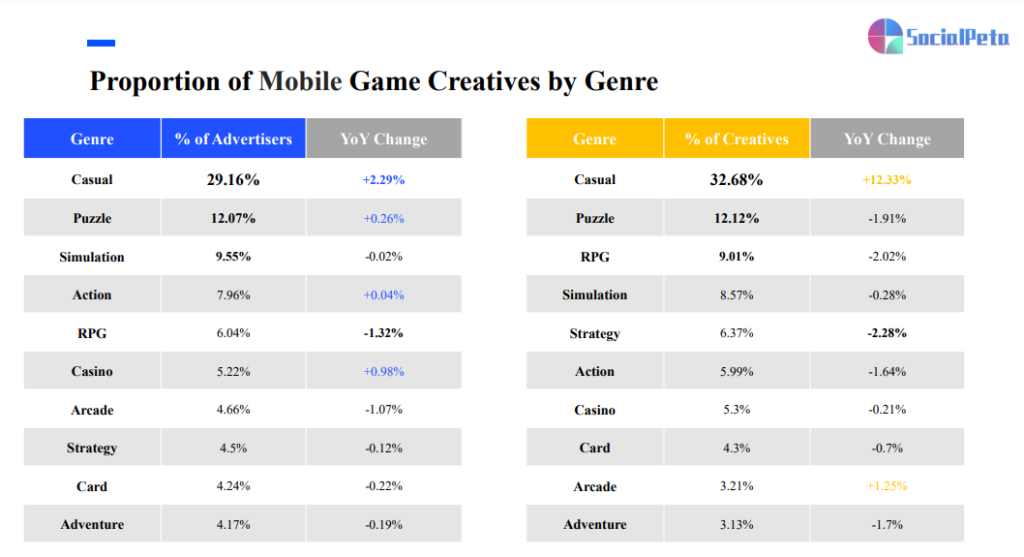 ---
Check out SocialPeta's 2022 Mobile Game Ad Ultimate Guide: Market Analysis & Creative Strategies
---
North America had the highest average monthly advertisers
The report also revealed that during Q1, North America had the highest average number of monthly advertisers at 12.7K, which is 30.6% higher than the second region in the list, Europe.
On the other hand, Hong Kong, Macao, and Taiwan saw the highest average monthly creatives per advertiser (239), followed closely by Japan & South Korea (230)  and Southeast Asia (222).

Video ads are the most popular among mobile game marketers
SocialPeta also shared the top ad types among mobile game advertisers in Q1 2023. According to the report, Video ads accounted for 82.97% of all ad creatives during the quarter, while Image, Playable, and other ad types accounted for 13.56%, 2.17%, and 1.30% respectively.