Are you looking to shed those extra pounds and embrace a healthier lifestyle? Look no further than the world of free weight loss apps for iPhone. In this era of digital convenience, these apps have emerged as your dedicated companions on the journey to achieving your fitness goals. Seamlessly integrating into the iPhone ecosystem, these apps offer a range of features that make weight management both effective and enjoyable. From tracking your daily calorie intake and monitoring your progress to offering personalized meal plans and engaging communities, these apps are a treasure trove of tools designed to guide you every step of the way. Whether you're a seasoned fitness enthusiast or just starting out, these free weight loss apps for iPhone are here to provide you with the support and motivation you need to transform your health and well-being. Get ready to embark on a transformative journey with the power of technology right at your fingertips. Without further ado, here are the free weight loss apps for iPhone!
Happy Scale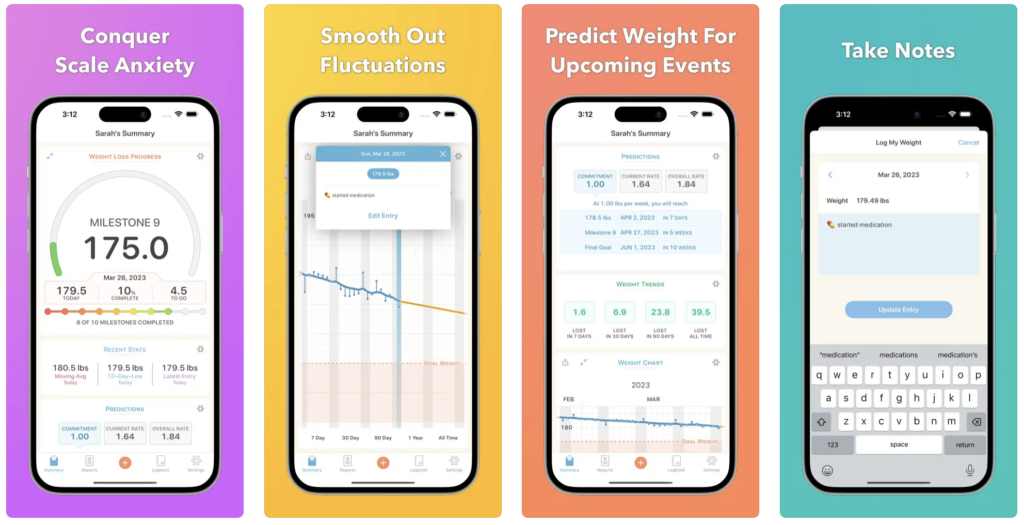 Happy Scale revolutionizes weight management by providing a holistic perspective on your weight loss journey. Through sophisticated mathematical analysis, it navigates the fluctuations in your weigh-ins, offering a genuine understanding of your progress. Whether deciphering plateaus or predicting your weight for upcoming events, Happy Scale empowers you with accurate insights. Its smart math showcases your true weekly progress, eliminating confusion. The moving average progress tracking ensures consistent daily updates, making plateaus a thing of the past. For significant weight loss goals, the app recommends breaking them into achievable milestones, emphasizing short-term victories.
Also, seamlessly integrate Happy Scale with other apps through Apple Health, streamlining your progress tracking. Visualize your success through future weight predictions and personalized commitment goals. With compatibility across devices, Happy Scale offers effortless synchronization. Explore Happy Scale's website for more detailed information about the app.
FatSecret
FatSecret redefines diet management through seamless integration with the Health app and external tools, offering a comprehensive approach to weight loss success. Effortlessly sync calories burned and steps from the Health app while sharing foods and their nutritional details. Track your weight in the Health app for a complete wellness overview.
User-friendly and feature-rich, FatSecret boasts an intuitive food diary, a supportive community, and image recognition for effortless nutrition tracking. Barcode scanning, exercise tracking via the Health app and Fitbit, and detailed reporting further enhance the experience. Users can capture progress through photos and a dedicated journal, while reminders keep you on track. FatSecret is one of the free weight loss apps for iPhone. Visit FatSecret's website for more detailed information.
---
Also Read: The 7 Best Free Calorie Counter Apps
---
YAZIO Fasting & Food Tracker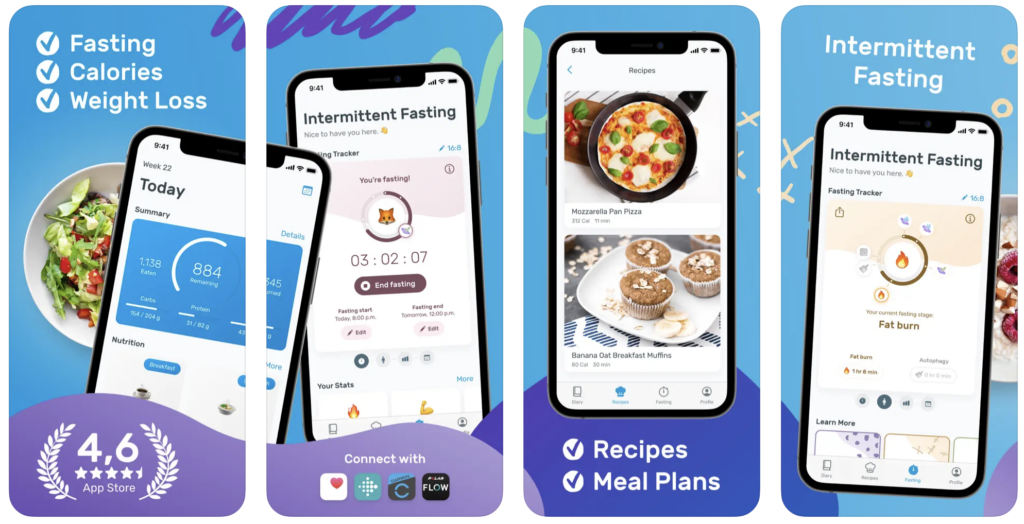 YAZIO's Calorie Counter app transforms weight management by simplifying daily food tracking and achieving weight loss goals. With over 50 million success stories, YAZIO empowers users to effortlessly count calories, monitor meals, and track activities. Testimonials like Sandra's 15 lb weight loss testify to its effectiveness.
Also, the app offers a personalized approach with features including personalized plans for weight loss or muscle building, a vast calorie table encompassing 2 million foods, comprehensive nutrition tracking, barcode scanning for quick food input, exercise monitoring, and seamless integration with the Health App and other fitness apps. Explore YAZIO's website to learn more.
YAZIO Fasting & Food Tracker on the App Store
PlateJoy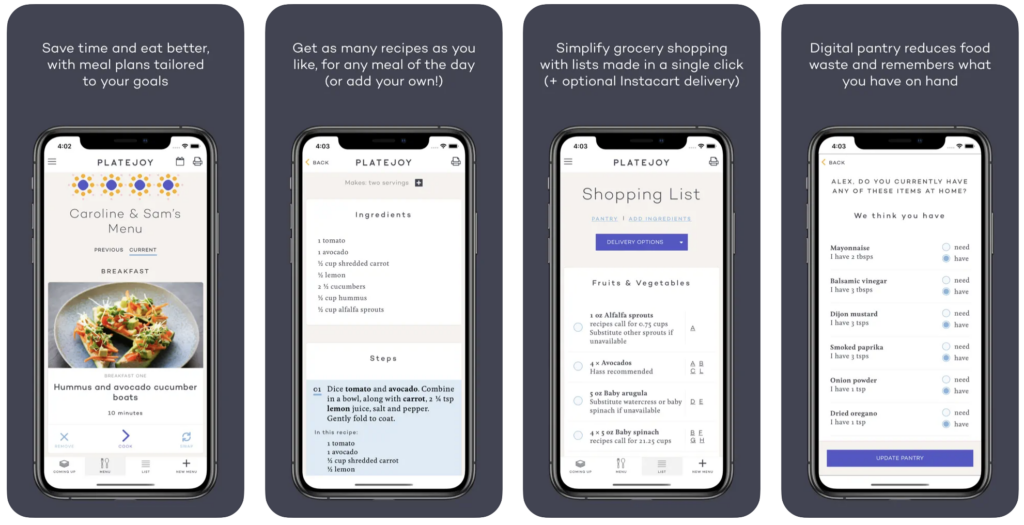 PlateJoy is one of the free weight loss apps for iPhone with its unique features. Users can attain their fitness zenith through tailor-made meal blueprints and personalized shopping lists, all finely tuned to their distinct requirements. The app is appropriate for lifestyles such as Paleo, Gluten-Free, Weight Loss, Friendly, Vegetarian, Vegan, and more. Users can engage in the lifestyle quiz by articulating taste inclinations, fitness milestones, dietary predilections, allergies, and routines. To learn more, visit PlateJoy's website.
---
Also Read: 9 Free Fasting Apps for iPhone
---
Lose Weight at Home in 30 Days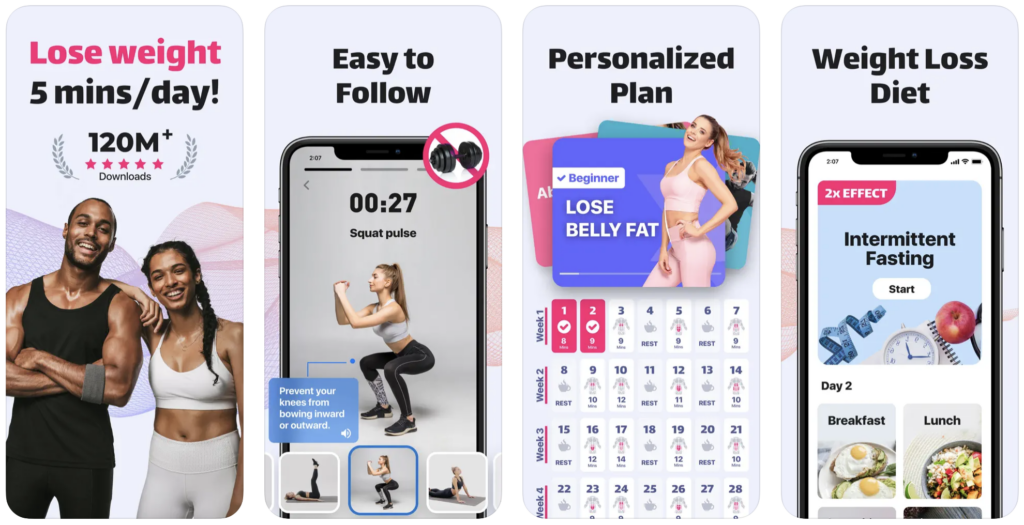 Lose Weight at Home in 30 Days app is one of the free weight loss apps for iPhone, and it offers a comprehensive weight loss journey with its array of features. With no hidden charges, users can confidently embark on their fitness goals. The app enables easy tracking of weight loss progress and burned calories, providing tangible insights into achievements. Its extensive selection of low-calorie diets caters to diverse preferences.
Moreover, animated demonstrations and video guidance enhance workout effectiveness, while a variety of workouts keep routines engaging. The app gradually increases exercise intensity for a sustainable approach. "Lose Weight at Home in 30 Days" is a valuable tool for those seeking convenient and effective home-based weight loss solutions, empowering users with a holistic fitness experience.
Lose Weight at Home in 30 Days on the App Store
Noom
Noom stands out with a plethora of features designed for effective and personalized weight management. With access to a vast food database containing over 1 million items, users can easily log meals. The app offers healthy recipes, dietitian-created meal plans, and more than 1,000 interactive lessons covering topics like mindful eating and goal setting.
Furthermore, Noom provides personal health insights, fostering progress tracking and lifestyle improvement. The community aspect is enhanced through Circles, while water tracking and integration with the Health App keep users on track. Device compatibility and options for health coaching make Noom a comprehensive tool for holistic wellness journeys. Browse Noom's website for more detailed information.
---
Also Read: The 10 Best Free Workout Apps for iOS (2023)
---
lose it!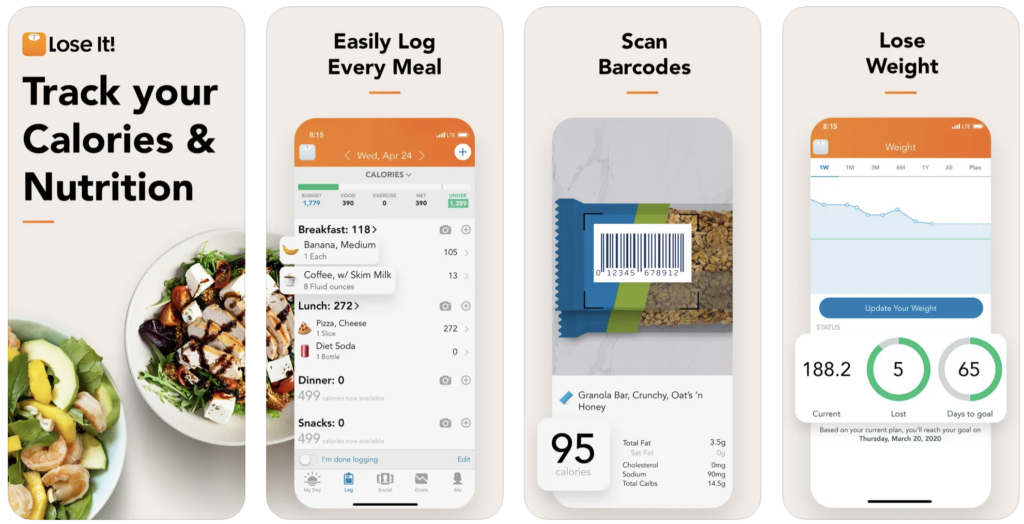 Lose It emerges as a powerful and free weight loss app for iPhone users, embodying comprehensive features to support your fitness journey. Seamlessly integrating with the Apple ecosystem, this app empowers you to track your progress effortlessly. With its extensive food database and calorie tracking capabilities, Lose It! ensures you stay on top of your nutrition.
Besides, Lose It's intuitive interface offers a personalized experience, while features like barcode scanning simplifies data entry. Engage in a supportive community and set achievable goals with ease. Go to lose it's website to learn more details about the app.
MyFitnessPal
MyFitnessPal shines as a premier free weight loss solution for iPhone, catering to your fitness aspirations with precision. Seamlessly syncing with the iOS platform, the app provides a seamless and holistic approach to weight management. Boasting an extensive food database and calorie tracking capabilities, MyFitnessPal offers a streamlined method to monitor your dietary intake.
In addition, barcode scanning simplifies data input, while its interactive platform encourages accountability and goal-setting. The app's user-centric design and comprehensive features make it an indispensable tool for anyone committed to achieving their weight-loss goals. MyFitnessPal stands out among the free weight loss apps for iPhone. Go to MyFitnessPal's website to learn more.