In today's fast-paced digital landscape, iPads have become indispensable tools for productivity and creativity. Whether you're a student, professional, or simply someone who loves to express ideas in writing, having access to quality word processing apps is paramount. Enter the realm of 'Free Word Apps for iPad,' where innovation meets convenience to elevate your writing experience. These apps not only offer the power to draft documents on the go but also provide a range of features that cater to various needs. From collaborative tools that enable seamless teamwork to intuitive interfaces that boost individual productivity, the world of free word apps for iPad holds a treasure trove of possibilities.
In this review, we covered a selection of standout apps, exploring their unique strengths and capabilities. Get ready to discover how these apps can transform your iPad into a versatile hub for crafting words, ideas, and stories. Without further ado, here are the free word apps for iPad!
WPS Office

WPS Office is an exceptional choice for iPad users seeking a versatile and free word-processing solution. With its suite of apps for Word documents, spreadsheets, and presentations, it covers various productivity needs in one place. The intuitive interface and compatibility with Microsoft Office formats ensure a smooth experience.
In addition, WPS Office's collaborative features make it suitable for teamwork, and its cloud integration simplifies access to files across devices. For those who prioritize convenience and functionality, WPS Office stands out as a reliable companion on the iPad. Visit WPS Office's website for more detailed information.
Werdsmith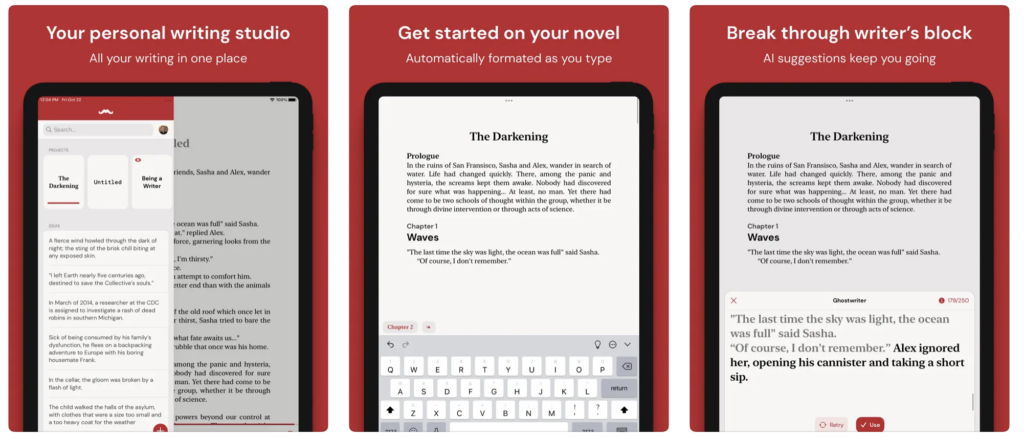 Werdsmith caters to writers who value simplicity and focus in their work, and it stands out among free word apps for iPad. With the app's minimalist design, distraction-free environment, and goal-tracking features, it aids in maintaining a productive writing routine.
Also, the ability to sync work across devices means that your creativity is never limited to a single platform. For iPad users in pursuit of an uncluttered and efficient writing experience, Werdsmith's blend of elegance and utility makes it an ideal choice. Go to Werdsmith's website to learn more.
---
Also Read: The 10 Best Free Note-Taking Apps for iPad
---
Ulysses | Writing App

Ulysses elevates word processing on the iPad with its blend of elegance and advanced features, and it ranks among the free word apps for iPad. Writers benefit from its organizational system, markdown support, and seamless device synchronization via iCloud. Whether you're crafting short stories or long-form content, Ulysses offers tools that streamline your creative process.
Moreover, the app's ability to export to various formats ensures compatibility with different platforms. Ulysses is a must-consider option for iPad users who require a versatile and robust writing app. Check out Ulysses' website for more details about the app.
Ulysses | Writing App on the App Store
Google Docs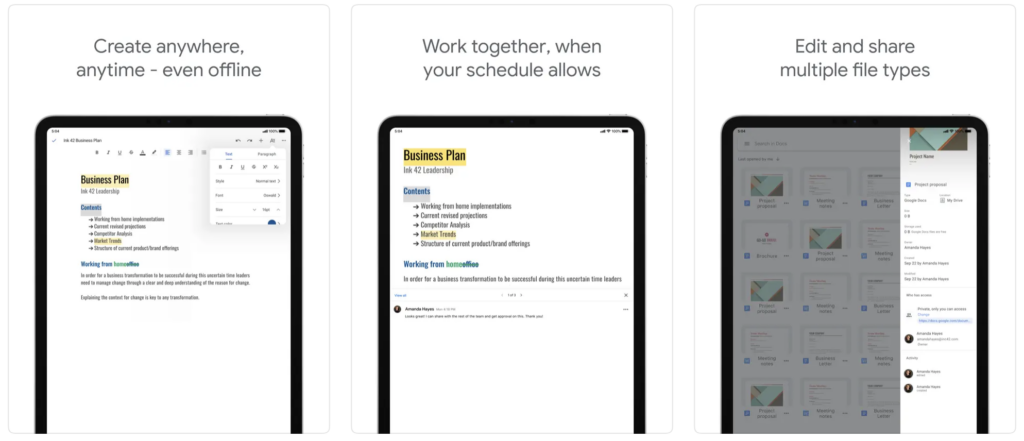 Google Docs excels in collaborative word processing, making it an excellent choice for iPad users engaged in teamwork. The app's real-time collaboration and cloud storage ensures that documents are accessible and editable from anywhere.
Furthermore, the familiar Google interface simplifies usage, while its integration with other Google services enhances productivity. Google Docs is a reliable companion for those who prioritize collaboration and seamless file sharing.
---
Also Read: The 6 Best Handwriting Apps for iPad
---
Notes Writer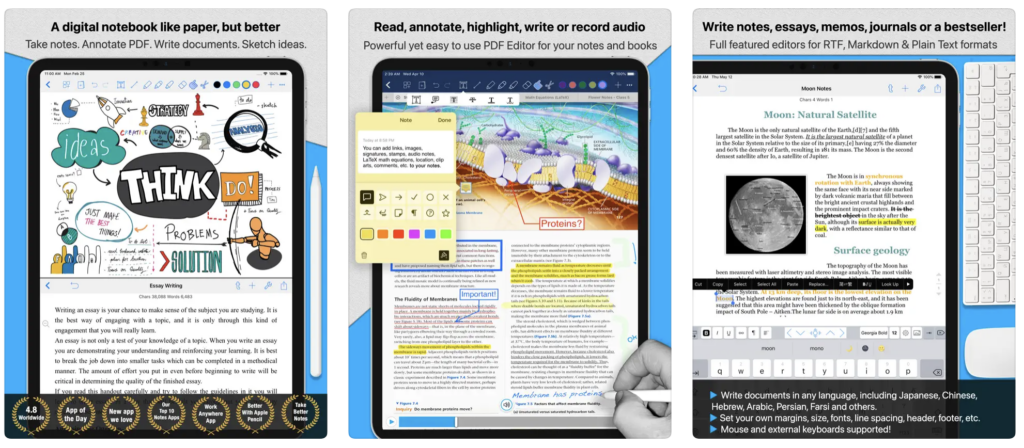 Notes Writer bridges the gap between digital and analog note-taking, making it a unique choice among free word apps for iPads. With the ability to handwrite notes and annotate documents, the app offers a versatile platform for various tasks.
Besides, Notes Writer's support for importing PDFs and different paper styles adds to its appeal. If you seek a word app that caters to both handwritten and typed notes, Notes Writer is a practical option. Explore Notes Writer's website to learn more detailed information.
Polaris Office

Polaris Office provides a comprehensive office suite for iPads, including word processing, spreadsheets, and presentations. Polaris Office's user-friendly interface and cloud integration simplify document management and collaboration, making it stand out among the free word apps for iPad.
Also, Polaris Office supports various file formats, enhancing its versatility. Whether you're a student, professional, or anyone in need of a full-fledged office solution on your iPad, Polaris Office delivers a well-rounded experience. Go to Polaris Office's website to learn more.
Polaris Office on the App Store
---
Also Read: The 7 Best Journal Apps for iPad
---
Microsoft Word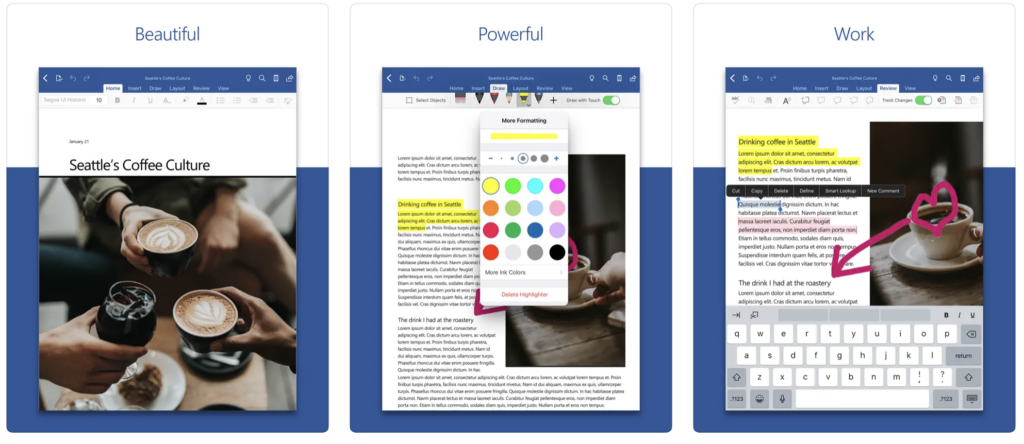 Microsoft Word remains a go-to word-processing app with its rich feature set and familiarity. The iPad version maintains the essence of the desktop counterpart, allowing users to create, edit, and format documents seamlessly.
Moreover, Microsoft Word's extensive formatting options, templates, and collaboration tools make it appropriate for a wide range of users. For those who require a reliable and feature-rich word-processing app on their iPads, Microsoft Word continues to shine.
Microsoft Word on the App Store
Bear Markdown Notes

Bear Markdown Notes offers a unique approach to word processing through markdown, blending simplicity with functionality, and it is considered one of the free word apps for iPad. The app's clean interface and markdown support enable structured and organized note-taking.
In addition, Bear's use of tags and note linking enhances organization, making it a standout choice for users who value a systematic approach to writing. If you're an iPad user seeking a word app with a markdown twist, Bear provides a refreshing and effective writing experience. Visit Bear Markdown Notes' website to learn more about the app.
Bear Markdown Notes on the App Store