Recent research from Sensor Tower indicates that user growth on social media apps has slowed off after the pandemic-driven peaks achieved in 2020 and 2021.
In Q1 2023, Snapchat was the only social media app to record double-digit annual user growth, while Twitter was the only social media platform to see its user growth trend fall compared to the previous year. Snapchat's Daily Active Users (DAU) rose 13% year-on-year in 1Q23, while Twitter's fell 3%.
When it comes to app engagement, Facebook saw a 12% year-over-year increase in time spent in-app (1.3 billion hours per day) in the first quarter of 2023, while Instagram saw a 16% increase (935 million hours per day). In 1Q23, users spent 99 million hours a day on Twitter, down 6% from last year (QoQ -5%) and the lowest of any social media platform reviewed. Snapchat held steady the quarter with users logged in for 116 million hours a day. 
US Snapchat users recorded 120 sessions per week on average in Q1 2023, compared to 104 on Instagram, 82 on TikTok, 79 on Facebook, and 58 on Twitter. The greater number of sessions per week on Snapchat is comparable to messaging apps like WhatsApp, whose US users logged 116 sessions per week in the first quarter of 2023.
With Snapchat users likely using the app as a messaging platform rather than as an entertainment hub, which is probably just a follow-on feature for its users, it appears that U.S. Snapchat users are using the app remarkably differently than users of short-form video-centric apps (like TikTok) or legacy social media apps (like Facebook).
The report also found that TikTok emerged as a lead channel for U.S. advertisers given its broad appeal and heavily engaged user base. Per the report, nine of the top ten categories of US advertisers on TikTok spent more on the platform in Q1 2023 compared to Q1 20222, increasing their ad spend by an average of 46% year-on-year.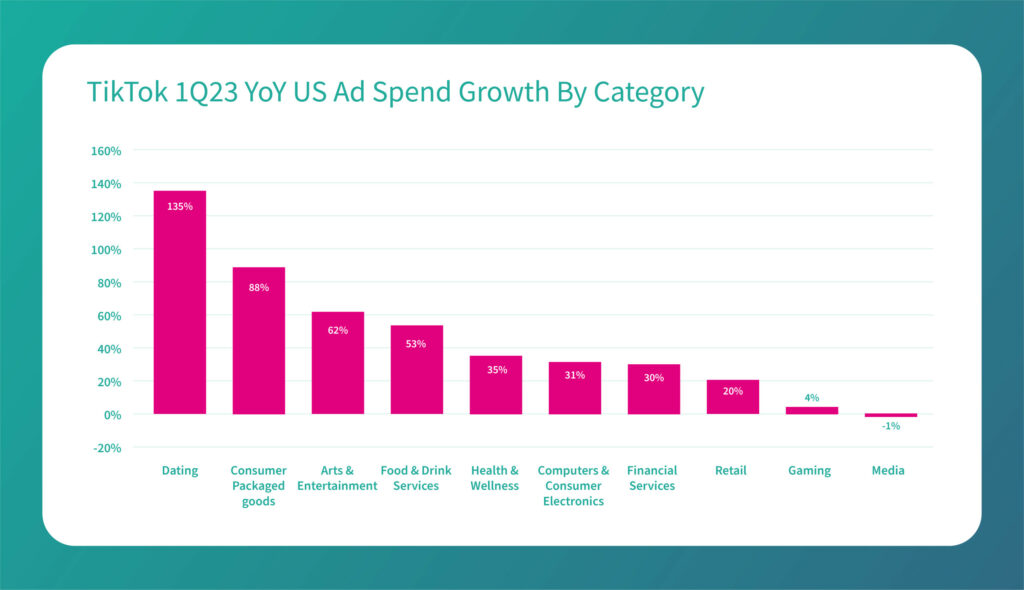 On the other hand, six out of the top ten U.S. Twitter ad categories decreased their ad spend by an average of 53% YoY in Q1 2023 compared to Q1 2022, drastically reducing their spending on the platform.
Social media networks have shifted to user-paid subscriptions in order to generate new sources of revenue as advertising demand has slowed down due to economic uncertainties and changes to advertising on Apple devices. In June 2022, Snap launched its paid subscription service, Snapchat+. 
Consumers have spent more over $82 million on Snapchat+ memberships since the service's launch, according to Sensor Tower statistics. the research shows that there are about 3 million monthly Snapchat+ members as of the beginning of April.
Even while these figures might appear significant, in-app subscription revenue from Snapchat+ subscriptions only accounts for less than 3% of all U.S. advertising revenue in 2022. Snapchat reported $3.1 billion in U.S. ad revenue over that time.