According to a new report by We Are Social and Hootsuite, social media users have increased by 400 million in the last 12 months to reach 4.55 billion in October 2021.
According to the report, user growth has slowed slightly in the last 3 months, but the global total continues to increase at a rate of more than 1 million new users each day.
Current trends suggest that social media users will account for 60% of the world's total population sometime in the first half of 2022.
---
Also Read: U.S. users spent 4.2 hours daily in mobile apps in Q3 2021
---
The top five most used social media apps in the world in terms of active users are Facebook, YouTube, WhatsApp, Instagram and Facebook Messenger. Announcing that it passed 1 billion active users in September, TikTok is in 7th place.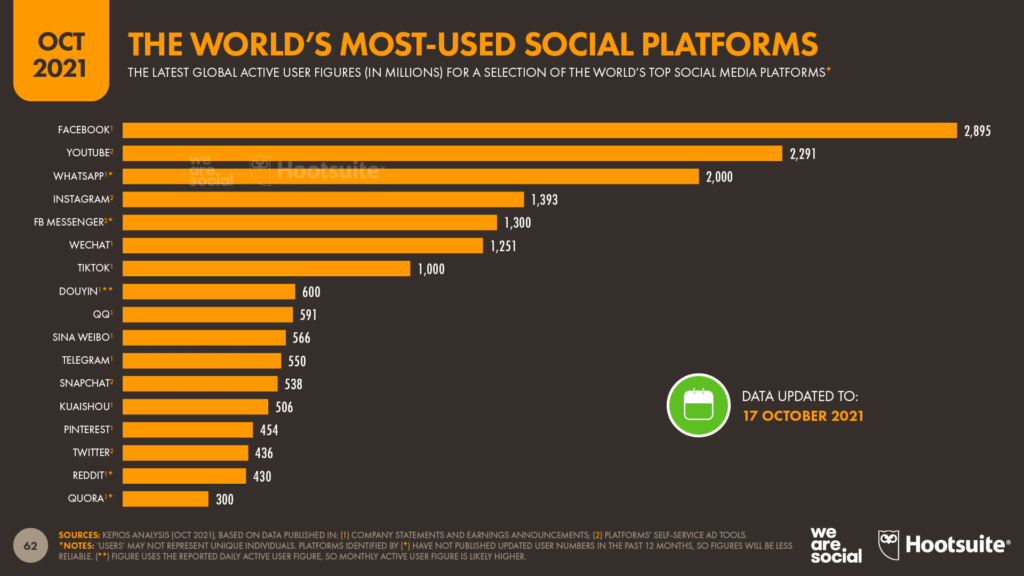 Although TikTok is 7th on the list, it should not be forgotten that the popular app reached 1 billion active user milestone in just 5 years and is still banned in India, which has more than 650 million internet users.
As a social network with 825 million users aged 18 and above around the world, TikTok is too important a channel for mobile marketers to ignore. Offering to reach 10% of the world's population regardless of age and location, TikTok also focuses on increasing the efficiency of its ad products with developments such as the launch of creator marketplace, self-service advertising manager tool, new ad formats and partnerships.
"If an advertiser cannot scale spend on TikTok with its 1BN monthly users outside of China and India, then the failure is the advertiser's alone." Eric Seufert says.
TikTok is at 1BN MAU — finding scale on it is an *imperative*. This quote (often misattributed to Trump) can be adapted here: If you cant scale spend on a 100MM MAU channel, that's their problem. If you cant scale spend on a 1BN MAU channel, that's your problem pic.twitter.com/2LgtXaP39o

— Eric Seufert (@eric_seufert) October 2, 2021
The United States is home to TikTok's largest advertising audience, with the latest data showing that TikTok ads now reach more than 120 million US users aged 18 and above.
Facebook's platforms, on the other hand, now exceeds 3 billion in potential ad reach, equal to about 78 percent of the platform's monthly active users, according to the report.
The cost of reaching audiences on social media has also increased in the past 12 months. Average global social media CPM has increased by over 33% since this time last year, according to Skai's latest data.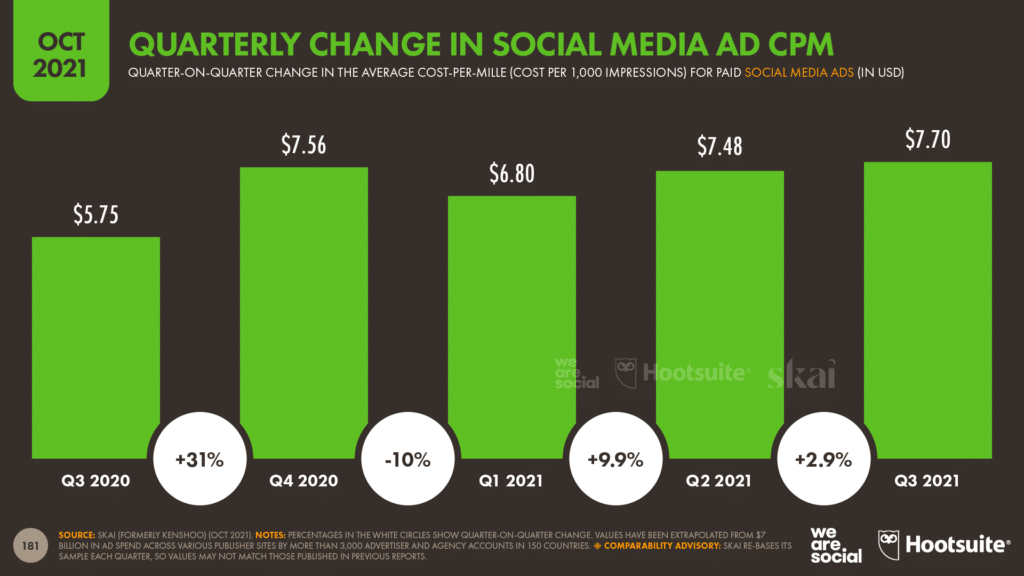 Skai's data also shows that average social media CPMs in Q3 this year were already above the average CPM value for last year's 'holiday' season in Q4, suggesting that marketers may want to brace themselves for some significantly higher prices between now and the end of the year.