Facebook, once the most preferred social media platform in the world, has seen a sharp decline in popularity among teen users as Gen Z has turned to other platforms including YouTube and TikTok.
That's according to a new report from Pew Research Center, which conducted a survey in April-May this year with 1,300 American teenagers aged between 13-17, to understand which platforms are the most popular among the younger generation and how much time they spend on them.
The survey found that merely 32% of teens now use Facebook, while this figure stood at 71% in 2015. As its popularity plunged, YouTube has taken over the throne with 95% of participants saying they're using its website or mobile app.
YouTube was followed by TikTok at No.2, which was launched by ByteDance in 2017 and quickly became a strong competitor to the former dominators of the social media industry. 67% of the participants said that they're using the popular short video app.
Instagram, another Meta-owned platform which has recently stopped testing its TikTok-like full-screen home feed after users started a change.org campaign titled 'MAKE INSTAGRAM INSTAGRAM AGAIN' receiving support from Kylie Jenner and Kim Kardashian, came in No.3 with 62% of teens saying they're using it.
After Facebook which ranked No.4, the list continues with Twitter, Twitch, WhatsApp, Reddit and Tumblr respectively.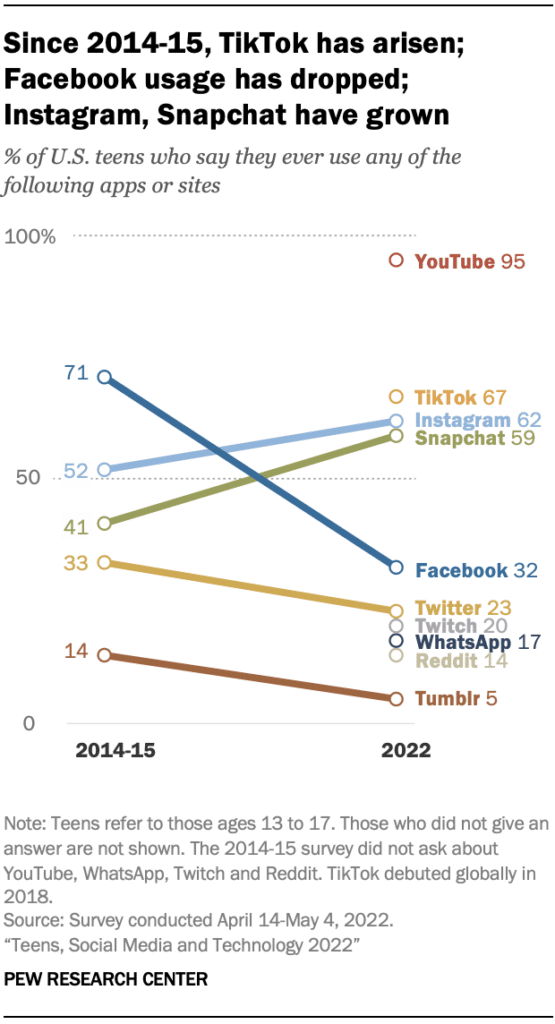 The think tank also asked participants how often they use these social media platforms. Again, YouTube ranked No.1 with 19% of them saying that they use it almost constantly. The same response was given by 16% of participants for TikTok, 10% for Instagram, 15% for Snapchat, and only 2% for Facebook.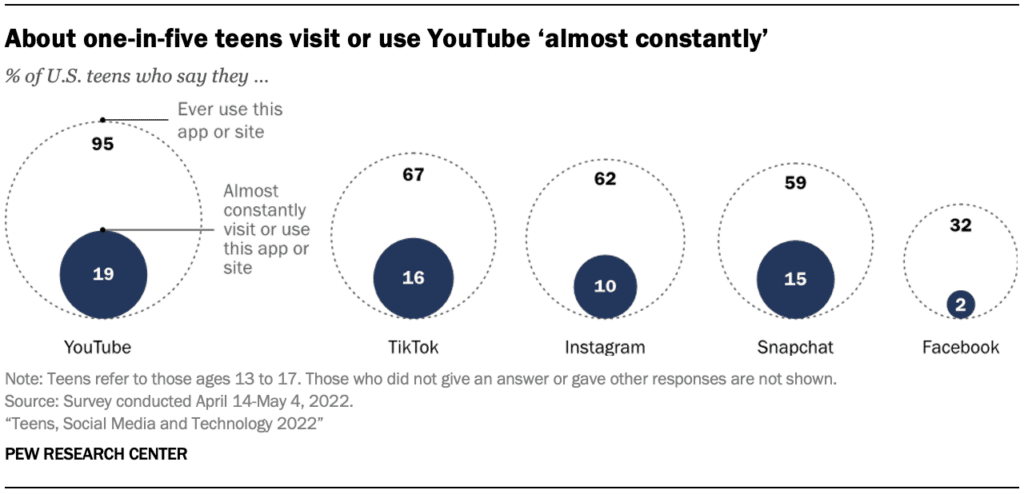 In addition, 36% of them said they're spending too much time on social media, while 55% said they're spending the right amount of time. When asked if it would be a challenge for them to stop using these platforms, 54% said it would be difficult to give up, and 46% said it wouldn't be a big deal.