Social media giant Meta announced that it's bringing the augmented reality technology to Instagram Reels and Facebook Stories ads to let brands reach out to their target audience through more engaging AR filters.
During Thursday's 2023 NewFronts event hosted by the Interactive Advertising Bureau (IAB), the company said that its AR ads, which were previously limited to Facebook & Instagram Feeds and Instagram Stories only, were found to be highly effective in driving incremental ad recall with the 18- to 24-year-old demographic 87% of the time, surpassing ads that are not powered by AI.
The company said that personal care and beauty products retailer Sephora tested the new AR Reels ads prior to its launch with a campaign that prompted users to tap on their phone screen to find their 'fragrance vibe' based on their aura.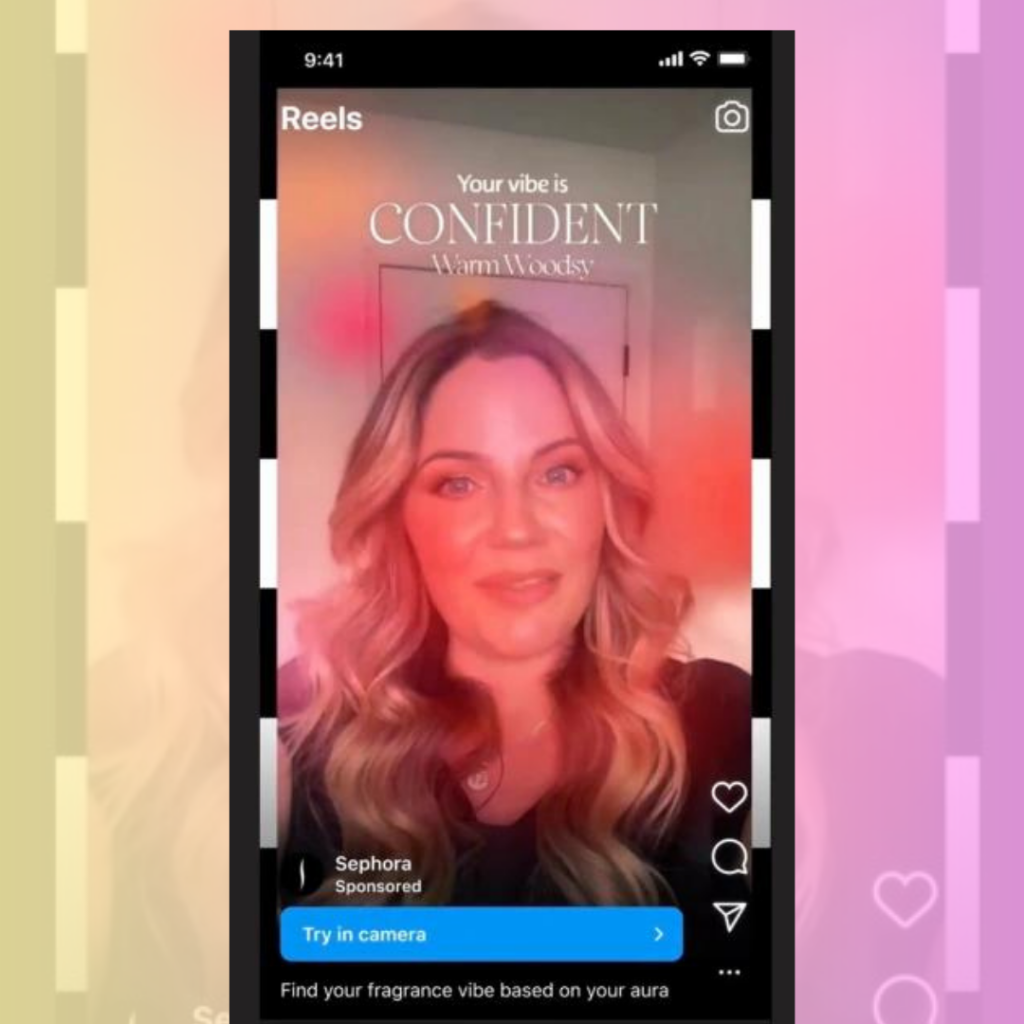 In addition to the new AR ads, Meta also announced it plans to enhance user engagement with Reels ads with the addition of larger CTA buttons that would provide users with more details about the brand behind the ad, including an ad thumbnail, headline, the seller's website URL, etc.
The company is also planning to allow Facebook users to stop a video ad and preview where its link will take them. Shopping-related Instagram Reels ads will now include multiple product images instead of just redirecting users to the seller's website.
Furthermore, the tech giant said that advertisers will soon be able to team up with third-party measurement firms like DoubleVerify, Integral Ad Science (IAS), and MOAT for their Reels ad campaigns.
Meta says AI investments are paying off
During the event, Meta also talked about its commitment to investing in artificial intelligence, highlighting its ability to enhance ad ranking by identifying which ads work, which ones don't, and which ones have the most potential to be relevant to users.
"It's also driving efficiency for a suite of ad products, eliminating many of the manual and tedious steps of creating an ad," said Nicola Mendelsohn, Meta's Vice President of Global Business Group, during her speech.
She said that Meta's investments in AI are ''already paying off'', particularly when it comes to Meta Advantage, under which the company gathered all of its automated advertising solutions in March 2022.
---
Also Read: Meta rolls out AI-powered Advantage+ shopping campaigns to advertisers globally
---
"This is just the start of how AI can create better connections with people and drive more growth for your business,'' Mendelsohn added. ''And we're going to have more and more product updates and announcements around AI just in the coming few weeks.''
Especially following the massive and rapid success of OpenAI's ChatGPT, tech companies have gotten into a fierce race to integrate AI technology into their products in an effort to level up their game and lure users who are interested in the technology to their offerings.
Earlier this year, Meta merged all of its teams working on AI into a one big team that will focus on exploring ways to integrate AI into the company's various products, including Facebook, Instagram and WhatsApp.
On the other hand, the social media company has just released a report warning of the increase in ChatGPT-related malware.