The Coronavirus pandemic, which continues to spread rapidly, has greatly changed our daily lives. It is now a must for us to stay home so we can prevent the spread of COVID-19. Smartphone users now use mobile applications more than ever for many purposes such as spending time and following the latest news about the pandemic. This demand for applications has also begun to show itself in charts. In this article, we will focus on how the Coronavirus pandemic affects app ratings & reviews.
Despite the fact that hundreds of applications have been removed from the app stores to prevent the spread of false information about Coronavirus, the demand for apps in many categories has increased rapidly due to the pandemic. 
One of these categories is News. In our previous article, we talked about how the app downloads of many news applications such as SmartNews and NewsBreak are skyrocketing due to COVID-19. (You can click here for the details.)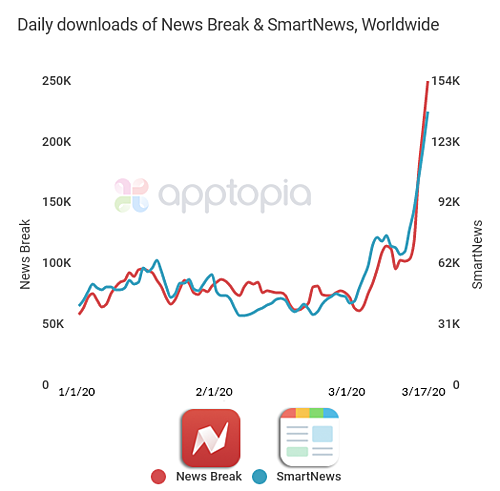 Also, the increase in app ratings of these apps is quite obvious.


These two news aggregator apps offer users the chance to easily view news from multiple sources in one place. Combining high demand and functionality, it was quite easy for SmartNews and NewsBreak, and other apps that have these two elements, to climb to the top.
Let's take a look at another category that the demand has increased for: Business
The fact that millions of employees started working from their homes has resulted in an increased need for video conferencing applications. Zoom Clouds Meeting is one of these apps.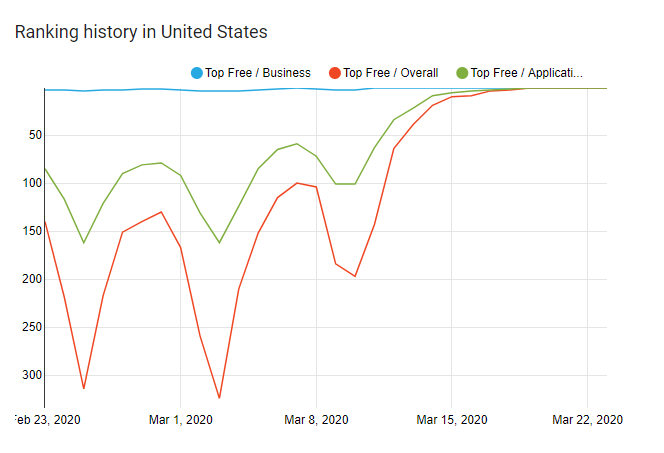 You can see the Google Play Store ranking history of the video conferencing app above. In the United States, the app is currently ranked first in the Top Free / Business, Top Free / Overall and Top Free / Applications categories.
But this increase has followed a rather irregular path. Although the demand is high, especially Android users were not satisfied with the many features of the application. The Zoom app had a 4.5 app rating before that, but this number fell to 2.0 after COVID-19.

But was it because Zoom was not good enough?
Although some users suggest that the app offers a bad experience, many comments summarize why the rating decreased so low.
Here are some of them:


Students who do not want to attend online classes targeted Zoom, hoping that the application would be removed from the Google Play Store.
This shows us that whether an application is functional or not, its ratings can be manipulated due to bad purposes.
However, this manipulation was short-lived for Zoom Clouds Meeting.

As of today, Zoom's Google Play Store rating is 4.0
There's also a difference in the number of app ratings. The Zoom app had 118,231 app ratings on March 17 but this number is now 92,386. This suggests that Google may have removed malicious comments.
In short, Coronavirus pandemic caused a huge increase in demand for applications. While apps that respond to this demand and provide functional answers have gained good ratings and can easily climb up the summit, some applications such as Zoom suffered from malicious comments. But apparently, Google is taking some precautions to prevent this. We hope the company takes more measures and rating manipulation will be minimized.
So what do you think? Feel free to leave a comment below.
Don't forget to visit Mobile Marketing Reads for more.