As business becomes increasingly digitized, free business apps on the Android platform offer powerful tools to business owners and professionals. These free business apps cover a wide range of services, from business management to financial tracking. Here are the best free business apps that empower business owners and professionals to manage their work more efficiently and effectively. These apps facilitate tasks such as tracking projects, communicating with clients, monitoring expenses, and more, optimizing business processes. For both independent entrepreneurs and large corporations, free business apps are transforming the way business is conducted and providing the key to success. Without further ado, here are the free business apps for Android!
Asana: Work in One Place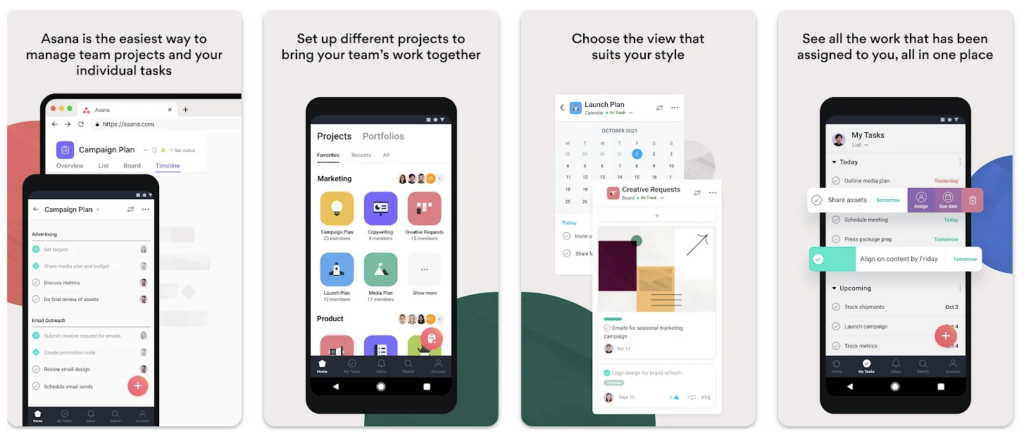 Asana emerges as the ultimate solution for streamlined project management and task organization. With a focus on simplicity and clarity, Asana empowers teams and individuals to effortlessly navigate projects, ensuring everyone knows what needs to be done, when, and how. Whether on mobile or the web, Asana's accessibility ensures work continues seamlessly, no matter your location. By creating distinct projects and assigning tasks with due dates, the app centralizes teamwork, offering customizable views like lists, Kanban boards, or calendars.
Also, boosting productivity is at the core of Asana's design, as exemplified by the My Tasks feature, which consolidates assigned work into a comprehensive to-do list. Users can stay connected through easy communication, likes, comments, and file attachments. Receive automatic updates in your Inbox, ensuring you're always up-to-date. With features like Portfolios for project progress tracking, Custom Fields for personalized task management, and timeline views for visualizing project timelines, Asana truly encompasses all you need in one tool. Discover Asana's website to learn more detailed information.
Asana: Work in One Place on Google Play
Google Drive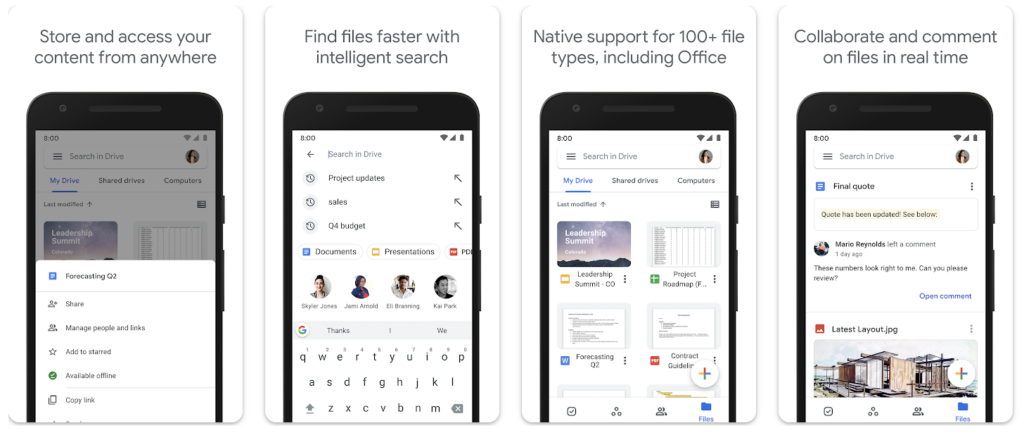 Google Drive is an indispensable player in the realm of free business apps for Android. This versatile app offers cloud storage, document collaboration, and file sharing at its finest. With its seamless integration with Google Workspace apps, businesses can access their files from any device while fostering efficient teamwork and secure data management. To learn more, browse Google Drive's website.
---
Also Read: The 8 Best Gig Apps
---
Freshbooks
FreshBooks revolutionizes business finance management with a suite of robust features, and it ranks among the free business apps for Android. Craft professional invoices that showcase completed work and employ automated payment reminders for timely settlements. Seamlessly track expenses by capturing receipts or importing bank transactions, streamlining tax preparation. A standout feature, mileage tracking, automatically records business trips for potential tax deductions.
Besides, The app allows users to ensure billable time is accurately logged through FreshBooks' time tracking, simplifying invoicing. Accelerate payment collection with online payment options, boosting cash flow. The mobile app facilitates on-the-go client management, granting freedom from the desk. Users can generate insightful reports to assess business performance, profitability, and spending habits. Go to the website of the app to learn more detailed information about Freshbooks.
Xero Accounting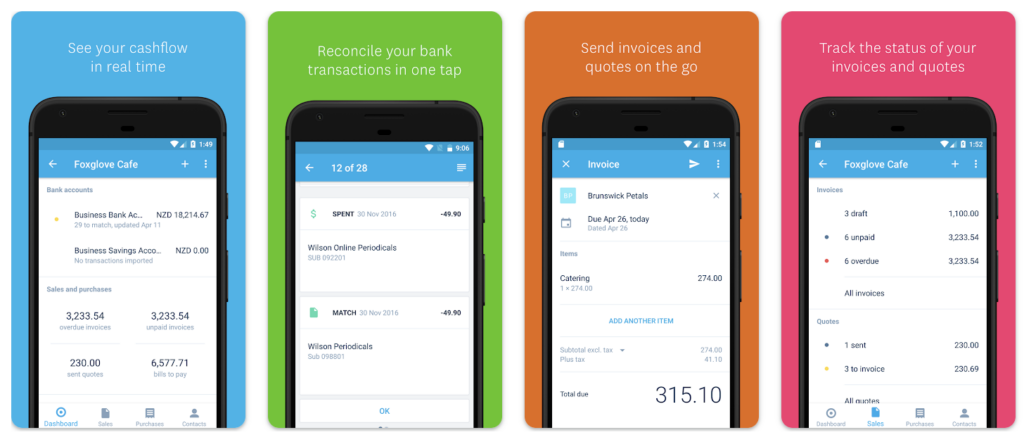 Xero Accounting is a game-changer for businesses seeking efficient financial management. As one of the top free business apps for Android, it offers features like invoices, purchase orders, quotes, contacts, bills, bank reconciliation, spending, bank account balances, profit and loss, cash flow, and real-time financial insights. With its user-friendly interface and cloud-based capabilities, Xero keeps businesses in control of their finances on the go. To learn more information about Xero Accounting, check out the website of the app.
Xero Accounting on Google Play
---
Also Read: The 5 Best Apps for Freelancers
---
PayPal Here
When it comes to mobile payments, PayPal Here takes the lead among free business apps for Android. Businesses can accept payments anywhere using an Android device. From card payments to contactless transactions, PayPal offers a secure and convenient way to manage transactions and keep sales flowing smoothly. Discover Paypal Here's website to learn more detailed information about the app.
Trello
Trello stands as the ultimate work management tool, empowering diverse teams to plan, track, and accomplish tasks with unparalleled flexibility. Whether steering website projects, orchestrating meetings, or welcoming new team members, Trello's adaptable boards, lists, and cards cater to all work types.
Moreover, the app allows users to unburden their minds by transforming to-dos into visual boards. The calendar view unveils today's tasks and upcoming deadlines, while the Timeline view gauges project and team progress. Experience work visualization through Map view, even in field settings. Explore Trello's website to learn more information.
---
Also Read: The 10 Best Job Search Apps
---
Slack
For streamlined communication and collaboration, Slack is a cornerstone among free business apps for Android. This messaging platform offers organized channels, direct messaging, and integrations with various tools. Businesses can keep conversations focused, share files, and stay connected regardless of location. To learn more about the app, visit Slack's website.
Microsoft OneDrive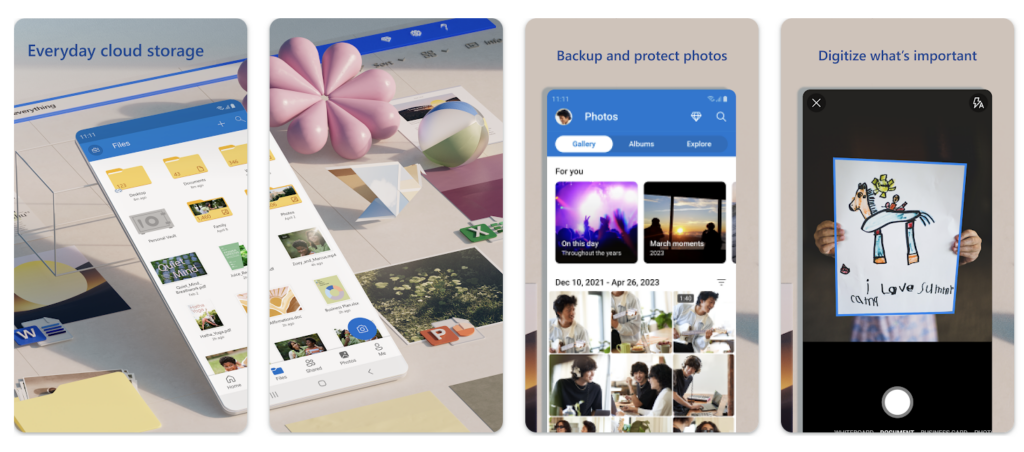 Microsoft OneDrive is a productivity powerhouse among free business apps for Android. With its cloud storage and synchronization capabilities, businesses can access files, documents, and presentations from any device. Seamless integration with Microsoft Office apps enhances collaboration, making work efficient and accessible. Explore Microsoft OneDrive's website to learn more.
Microsoft OneDrive on Google Play
---
Also Read: The 12 Best Business Apps for Android
---
QuickBooks Accounting
Price: Free/In-App Purchase: Up to $124.99
QuickBooks Accounting takes center stage among free business apps for Android for its comprehensive financial management solutions. Businesses can track expenses, create invoices, and generate reports on the go. With its range of features, QuickBooks ensures accurate financial tracking and informed decision-making. To learn more, visit QuickBooks' website.
QuickBooks Accounting on Google Play