E-mail marketing is one of the most powerful and popular marketing techniques. Steadily rising popularity of mobile phones also affected e-mail marketing industry and shaped the way users display their e-mails. Stats shows us that e-mails are now opened on mobile devices more than desktops.

What is E-mail Marketing?
Let's start with a brief definition of e-mail marketing first. E-mail marketing is a form of marketing where electronic mail is used as a direct marketing tool to deliver marketing messages to a certain audience.

After the first e-mail sent by Ray Tomlinson in the 1960s, e-mails have come a very long way. Over the time, use of e-mails for marketing purposes formed a new marketing technique called ''Email Marketing'' and this marketing technique have become very popular among marketers.

Why E-mail Marketing is Very Popular?

E-mail marketing provides many advantages to marketers. Let's have a look at them in details.
Low Costs
E-mail marketing is cheaper than almost any other digital marketing or traditional marketing activities. Since email marketing is generally sales oriented, the return of the spent budget is also possible.

Easy Targeting
In e-mail marketing, targeting is possible by categorizing the data (age, gender, location, education, etc.).

Personalization
Bulk e-mails have lost their effectiveness over the time. But don't worry. Thanks to new e-mail marketing tools, it is possible to send personalized e-mails very easily.

Tracking and Analysing Easily
In e-mail marketing, the process is very easy to follow. For example; you can easily find out which e-mail is opened or deleted by your audience, which users read your e-mails and who shows an action in your e-mails. In addition, you can also develope new e-mail marketing strategies by analyzing parameters such as gender, age, education level, country, province and more.
Instant Transmission
Since e-mail marketing is focused on a target audience, e-mails reach designated person or people instantly. This provides a great advantage for brands in our age where speed determines competition conditions.

These are the main reasons why marketers pave their way to e-mail marketing. Now, they had better to optimize their e-mail marketing works for mobile devices cause stats show us that e-mails are now viewed on mobile devices more than desktops.
E-Mails Are Now Opened Mostly on Mobile Devices
According to eMailmonday, mobile email open rates surpassed e-mail open rates on desktop devices.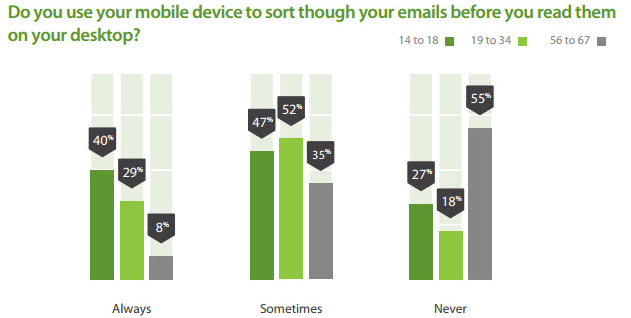 As you can see above, mobile device use for viewing e-mails is more popular among users between the ages of 14-34 while older users mostly use desktop devices for viewing e-mails. It's an another obvious proof that mobile keeps shaping the marketing world.

Keep reading us for the latest mobile marketing news and trends! 🙂