We have prepared a list that will be enjoyed by anyone who wants to delve deeper into the features of known video-sharing apps and learn about lesser-known video-sharing apps. Whether you are a creator, dancer, chef, or more, there are many unique apps like YouTube where you can freely share your videos. You can effortlessly share your videos so that you express yourself freely with video-sharing apps. With the videos you share, you can reach people with the same tastes as you. We have reviewed and listed the best video-sharing apps for you, where you can create your channel and share your unique videos. Here are the best!
Youtube
Price: Free/In-App Purchase: Up to $15.49
Youtube is a popular video platform with trending music, fashion, news, beauty, games, how-to videos, and more. Users can learn what's going on in the world in seconds and discover unique videos according to their mood with Youtube. YouTube offers users the opportunity to subscribe to their favorite channels, produce and share their content, and share their favorite videos with friends. The app provides users with personalized recommendations on the main page. Thus users can discover videos according to their tastes faster. Users can access the latest developments in their favorite channels from the Youtube subscriptions section. The app offers everyone the opportunity to create channels and share their videos. For more information, visit YouTube's website.
TikTok
Price: Free/In-App Purchase: Up to $99.99
TikTok is one of the best video-sharing apps where you can find various mobile videos. Users will have access to short-form funny, funny, exciting, and elegant videos with TikTok. Users will access videos in categories like sports, pets, DIY, food, dance, music, makeup, and more on TikTok. The app provides easy-to-use tools for viewing and capturing the moment and allows users to create personal videos. TikTok tracks what users are watching, liking, and sharing and offers a personalized video stream.
In addition, users can easily add their favorite music and sound to their videos for free. Users can create awesome and unique videos from the app and share them on TikTok with the integrated editing tools in the app. To learn more about the app, check out TikTok's website.
---
Also Read: The 6 Best Video Editing Apps for iPhone
Also Read: The 15 Best Video Editing Apps for Android
---
Dailymotion
Price: Free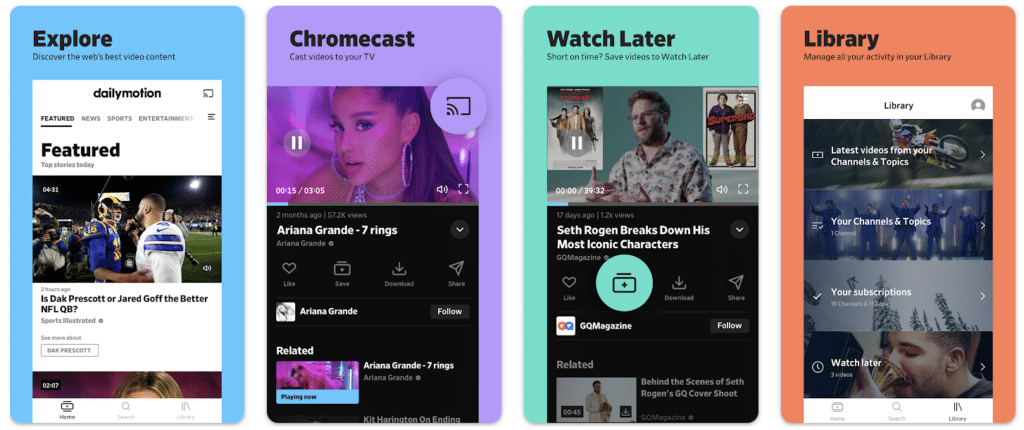 Dailymotion is an app used by video lovers and is among the best video-sharing apps. The app offers the opportunity to watch videos when there is no internet connection. Users can discover up-to-date news, sporting events and tournaments, music, food DIY, how-to videos, dance, and more with Dailymotion. The app has many videos from great publishers, and anyone can share their videos on Dailymotion. Users can find up-to-date information about the people, topics, and channels they love on Dailymotion. The app offers the possibility to save favorite videos for watching videos later. Users can create and update their video library with Dailymotion. To learn more about the app, browse Dailymotion's website.
Vimeo
Price: Free/In-App Purchase: Up to $239.99
Vimeo is an app to discover unique videos from entertaining creators and deserves to be among the best video-sharing apps. Users can post their own interesting videos on Vimeo from their phones or tablet. The app provides users with amazing, ad-free HD quality videos and allows them to save videos for offline watching. Users can easily upload, manage and share their videos on Vimeo. Users can share private videos with people they choose via Vimeo. Check out Vimeo's website for more detailed information about the app.
---
Also Read: The 7 Best Video Compressor Apps
---
Twitch
Price: Free/In-App Purchase: Up to $299.50
Twitch is an app that brings together thousands of communities, featuring entertaining streamers and popular game content. Users can access live games, music, sports, esports, chat, podcasts, cooking shows, and more with Twitch. The app offers communities in various categories, and users can follow and subscribe to communities they feel like. In the app, users can start their channel and broadcast live, record, and share live broadcast videos. Additionally, Twitch has a dark mode that offers a unique blend of black and purple. Visit Twitch's website to learn more detailed information about the app.