In spite of Apple's privacy changes and the global economic slowdown, social advertising, particularly short-form video, will see more Y/Y growth in ad spending in 2023 than any other channel, according to Mediaocean's new 2022 Market Report and 2023 Outlook for which the advertising company surveyed more than 600 customers and partners.
When asked how they will allocate their spending in 2023, the majority of respondents said that they plan to raise their social ad spending dramatically (25% or more) or moderately (1% – 25%). CTV investments are also expected to grow next year thanks to the new cheaper ad-supported tiers of streaming platforms like Netflix and Disney.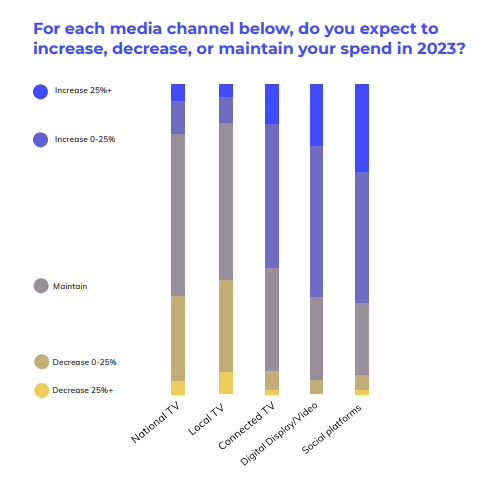 The company asked respondents to choose the top three consumer trends they're watching for 2023, and 63% of them replied saying TikTok / social video, 54% picked CTV / streaming, and 47% selected e-commerce.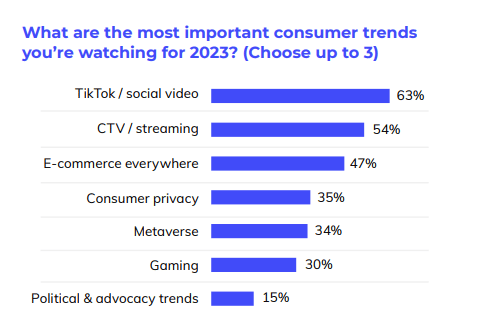 When asked about the biggest opportunities to improve social channel execution, 49% of the respondents said ''better creative & production tools'', 40% said ''better ad performance, and another 40% replied with ''resolving social identity across platforms.''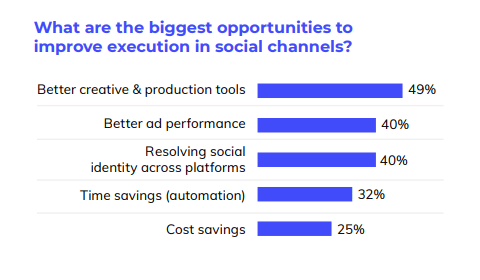 In addition, Mediaocean also asked them about their biggest concerns in their media and marketing initiatives. 37% of them said they're worried about not being prepared for the cookieless future and other data deprecation, 32% are concerned about a decline in the ability of measuring campaign performance, and another 32% are concerned about a loss of access to third-party data.