Mobile marketing measurement company Singular's seventh annual ROI Index report revealed that Apple Search Ads is now the second largest ad network for user acquisition on iOS by dollar volume and the number of conversions.
For the ROI 2023 report, the California-based company analyzed more than 10 trillion ad impressions, 100 billion ad clicks, 10 billion ad installs, as well as $10 billion in ad spend.
According to the report, iOS' share in ad spend by Singular customers was on a downward trend in the first half of 2022, largely because of the tech giant's IDFA changes and App Tracking Transparency framework, but it rose to 47% at the end of the year while that of Android dropped to 43%.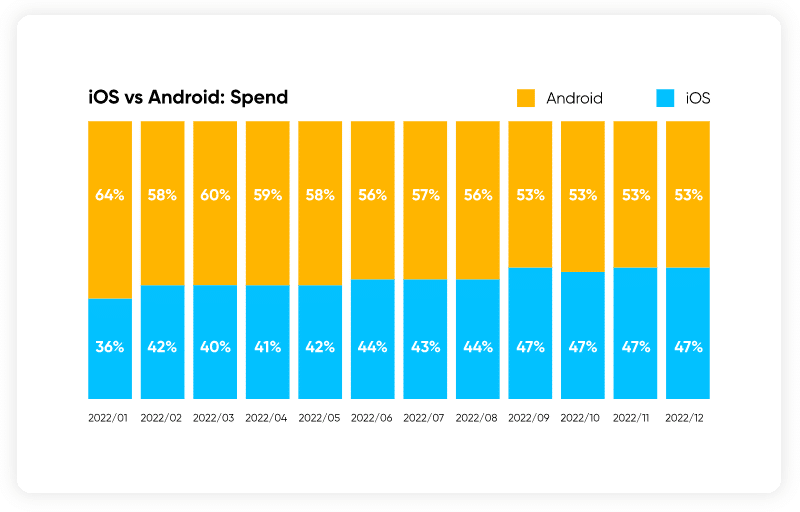 Singular attributes the increase in iOS ad spend to four main reasons, the concentration of its customers in iOS-dominated markets such as North America and Western Europe, Apple's global mobile market share reaching 21.9%, the tendency of advertisers to focus on iOS users as they generally spend more money than Android users, and marketers' growing trust in SKAdNetwork.
The report also revealed that while Meta and Google continue to be on the top of ad networks using Apple's SKAN, relatively smaller networks like Moloco are seeing significant growth as well.
Here are the top growing ad networks by ad spend on Singular. (from 2021 to 2022)
Moloco
Google Ads
---
Also Read: Top Mobile Ad Networks of 2023
---
Feel free to check out Singular's report for more details.