A new research revealed that the controversial App Tracking Transparency feature helped Apple to grow its Search Ads adoption.
The feature, which now requires developers to ask for user consent to show them personalized ads, first came into effect in April 2021, and saw a mass adoption in June of the same year. As it's over 1 year old now, performance insights platform Appsumer, which was acquired by Inmobi last year, conducted a research to make a Year-over-Year comparison of the impact of Apple's privacy changes
Between June 2021-2022, Apple's Search Ads adoption grew nearly 4% Y/Y to 94.8%, joining the duopoly of Google and Meta. While Google ads remained relatively stable, Meta's adoption fell 3% to 82.8%.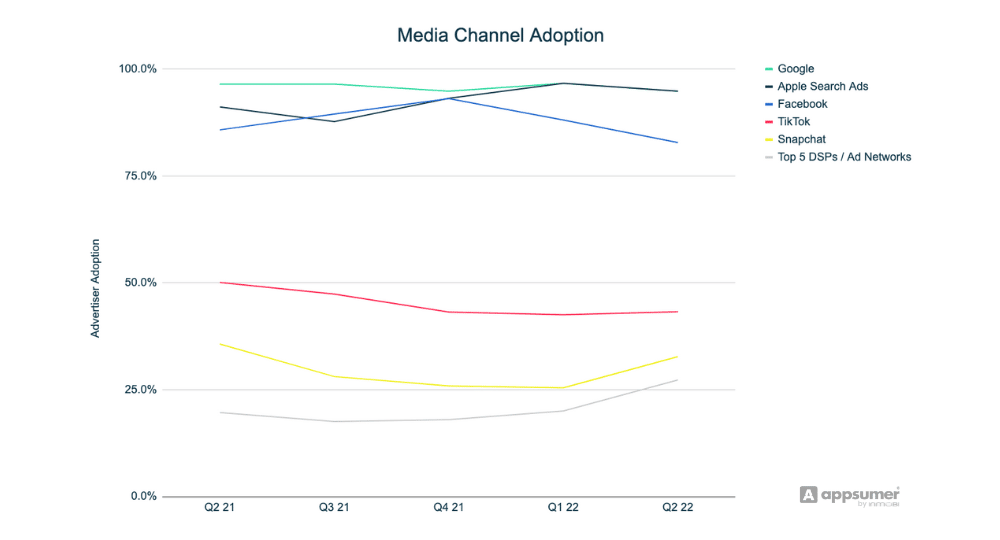 Meta, or formerly known as Facebook, has been quite vocal about Apple's ATT framework since it was first announced. Earlier this year, the company's CFO Dave Wehner said that the privacy changes would result in a $10 billion drop in Meta's ad sales in 2022. 
Apple's share-of-wallet also grew 5% Y/Y to 15%, while Meta's share decreased 4% to 28%. However, when comparing Q1 2021 to Q1 2022, Meta experienced a rebound which could be a sign of the company's recovery from the ATT headwinds. Google, once again, remained stable as it's been less affected by the iPhone-maker's privacy changes.

If Apple's demand-side platform rumours are true, this could allow the tech giant to further increase its ad adoption and share-of-wallet. Meanwhile, the company also recently expanded its App Store ads to other parts of the platform, and is reportedly planning to bring them to its other products including Maps and Books apps. 
TikTok outperforms Snapchat in ad adoption and share-of-wallet
AppSumer also revealed how the ATT framework influenced other companies including Snapchat-owner Snap and TikTok. Per report, TikTok has surpassed Snap in terms of both ad adoption and share-of-wallet. 
TikTok's ad adoption, on the other hand, dropped approximately 7% Y/Y to 43.2%, and its share-of-wallet remained at 3%, which could be due to TikTok being a new player in the ad ecosystem, according to the report.
Meanwhile, Snap's ad adoption fell 3% Y/Y to 32.7%, but it was still up from 25.4% in Q1 22. Its share-of-wallet, however, dropped from 4% to 2%. 
Snap's ad business also has been heavily impacted by Apple's iOS 14 changes and the current economic headwinds. In August, sources said that Snap was planning to lay off some of its employees after posting its Q2 results which missed analysts' revenue projections. Last week, the company confirmed that it decided to lay off 20% of its workforce.