In an impressive turn of events, Royal Match, a popular mobile puzzle game, has achieved a remarkable feat by surpassing Candy Crush Saga in both downloads and revenue, according to SensorTower. 
During the month of July, for the first time, Royal Match recorded 14.6 million downloads and grossed $112 million, outshining Candy Crush Saga's 14.4 million downloads and $104 million in revenue. This significant achievement can be attributed to Royal Match's aggressive approach to acquiring paid users, with a staggering 61.5% of its downloads coming through paid channels, a notable departure from Candy Crush's more conservative strategy, which only brings 15.4-25%.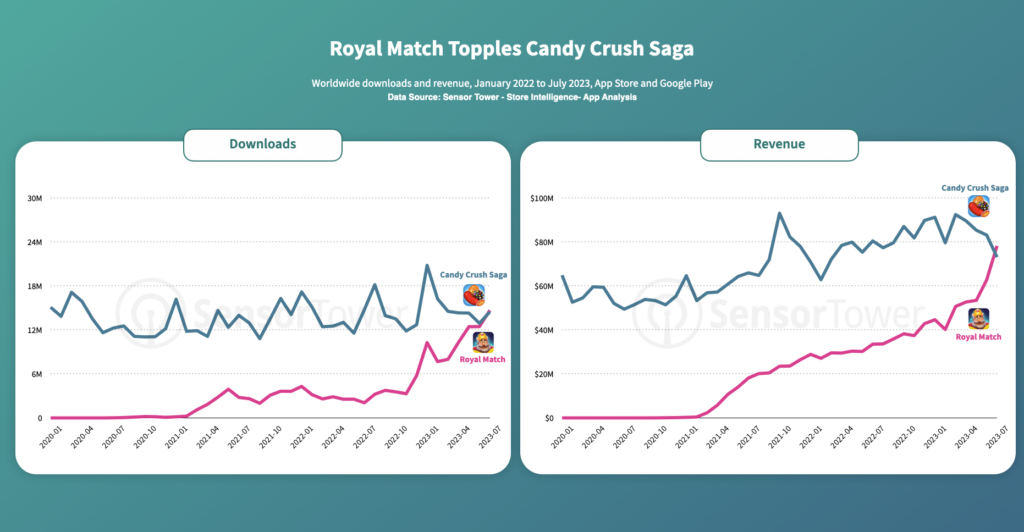 However, Royal Match's success isn't solely due to these numbers; it's also about keeping players engaged. The game consistently introduces exciting features such as the "Summer Pass" and the captivating "Hidden Temple" mini-game, which have substantially boosted player engagement.
Despite Candy Crush maintaining a lead in terms of daily active users (DAU), with 18 million compared to Royal Match's 15 million, the latter's impressive growth trajectory suggests a potential shift in this aspect. Royal Match could very well surpass Candy Crush Saga in DAU by the end of October, marking a significant milestone in the realm of mobile gaming.
A key factor that led to this achievement is its aggressive approach to user acquisition, with more than half of all downloads originating from users who click on ads and install the game. This percentage far exceeds Candy Crush Saga's typical range of 15.4% to 25% for downloads through paid sources.
It's evident that Royal Match has maintained a significantly higher share of voice compared to Candy Crush across various advertising networks, including Admob, Digital Turbine, Mintegral, Ironsource, and Unity. This substantial lead in share of voice has contributed to its impressive performance and growth in the mobile gaming industry.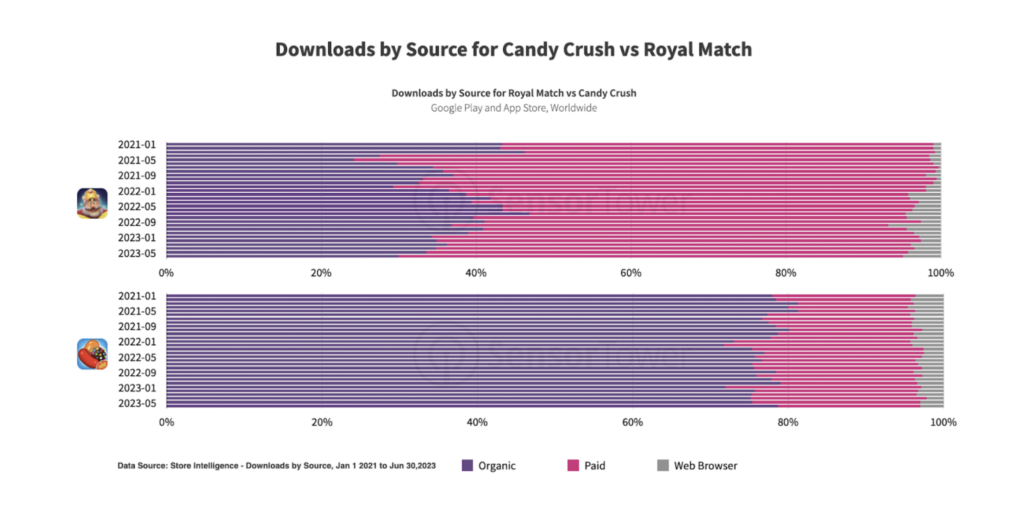 Furthermore, Royal Match has maintained a remarkable live operations schedule, consistently adding over a hundred new levels to the game every month since September 2022. This continuous addition of fresh content has significantly accelerated its ascent in the world of mobile gaming.
In summary, Royal Match's strategic approach to user acquisition, combined with its unwavering commitment to expanding game content, has propelled it to the forefront of the puzzle game genre. While it may have outperformed the competition, there's still ample room for growth, particularly in terms of daily active users, where it's well on its way to achieving another remarkable milestone.
Mobile gaming is a rapidly growing industry and that leads to various studies being conducted on it. 77% of players make in-app purchases within 14 days of downloading a game, and mobile games make up around 30% of all subscription-based apps. It is predicted to dominate global consumer spending this year, accounting for 56% of the total spending. It comes as no surprise that the industry is projected to grow by 2.6% in 2023.