In their latest joint report, data.ai and IDC delve into a detailed analysis of the gaming industry. Despite a dip in consumer spending on gaming, mobile gaming continues to shine as the biggest market opportunity for games.
Based on what data.ai and IDC predict, more than half (56%) of the money people spend on gaming worldwide will go to mobile games in 2023. This is way more than what console games (22%), PC/Mac games (21%), and handheld consoles (1%) will get.
In 2022, mobile games made less money overall, marking the first time their earnings went down since app stores became a thing. But this year seems to be a turning point, hinting at better times ahead, even if the total earnings in 2023 are a bit lower than last year. This report digs into what's happening in the gaming world this year and especially how mobile games fit into the bigger picture.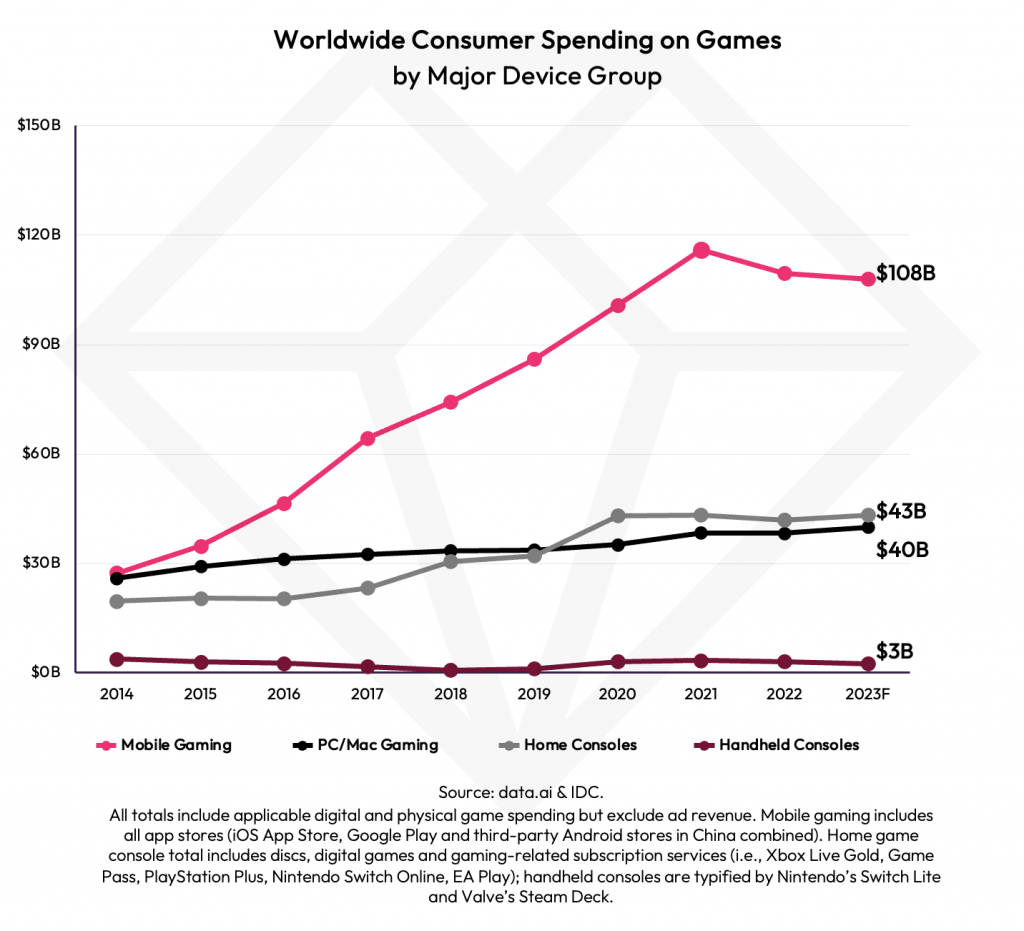 Another thing they looked at in this report is how different types of games are doing. This helps us see which ones are growing even when the whole gaming market isn't doing as well as before. Even though the changes in types of games were small, they still give us a clue about what people like, especially in mobile games.
In terms of downloads, genres like Driving and Sports Simulations stood out with substantial year-over-year growth. Meanwhile, revenue distribution shifted towards Team Battle and M3-Meta genres, led by successful titles like Honkai: Star Rail and Royal Match, respectively.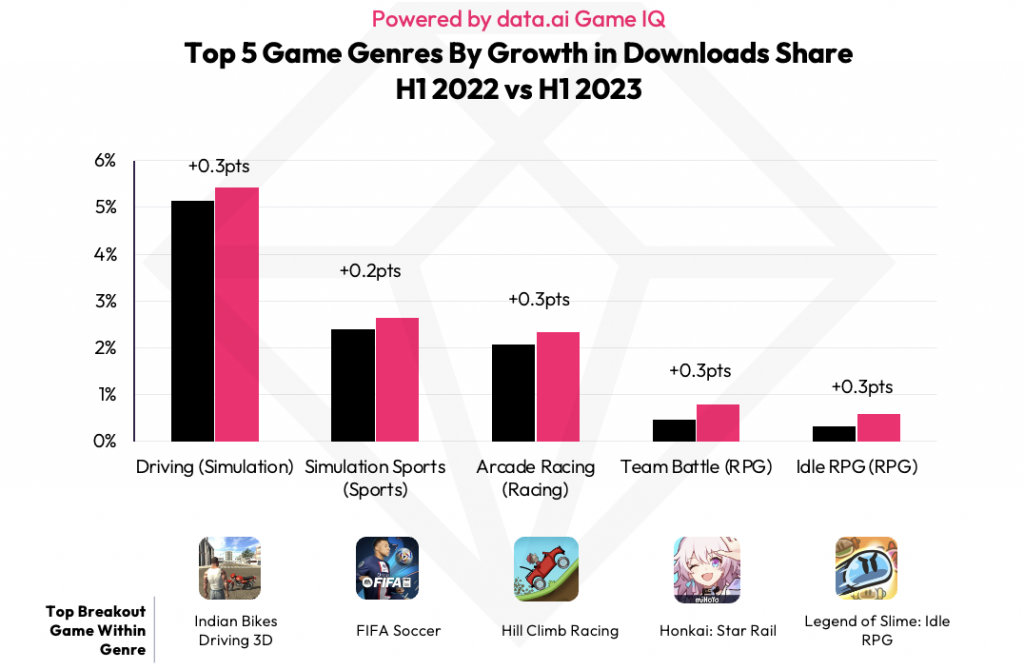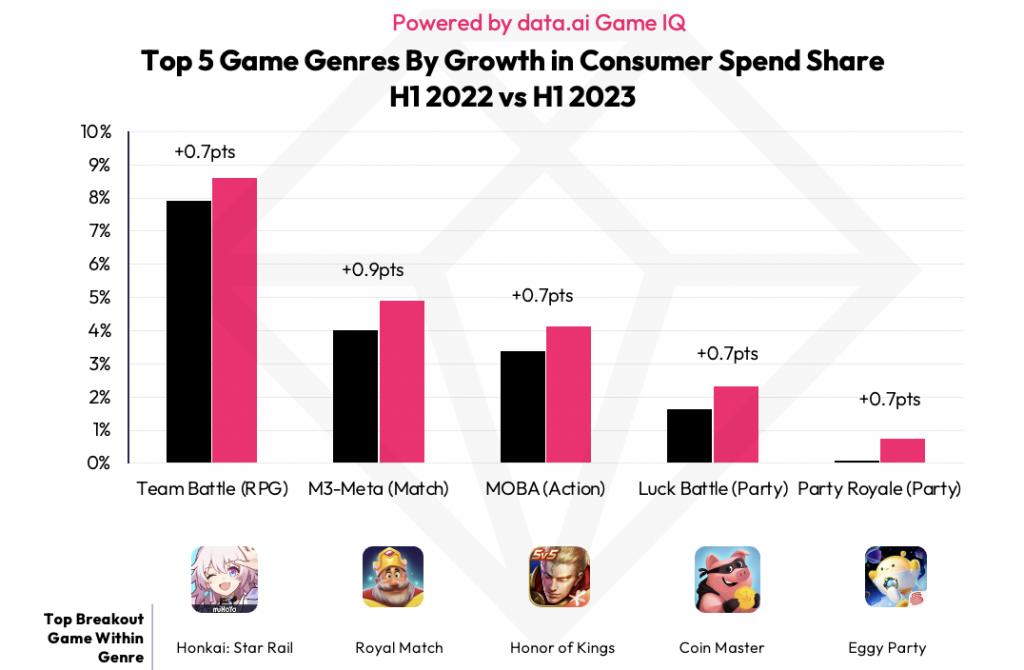 Beyond genres, the report's Gaming Spotlight zooms in on the breakout mobile game successes of 2023. This includes diverse games such as a mobile version of a popular board game, an anticipated RPG release building on the success of Genshin Impact, a strategic title disrupting the Match-3 market, and a cross-platform franchise tied to a major sport. Success themes include strong intellectual property, capitalizing on market trends, and leveraging significant events.
IDC's insights reveal that most mobile app and game users (in a ratio of 3:1) prefer seeing ads to access free content and services rather than paying to avoid ads. The report also highlights the impact of IDFA's changes on ad tracking, with users emphasizing the importance of privacy. For gamers, attitudes towards ads differ by type, with rewarded video ads remaining the most positively received. The report shows that many games are experimenting with hybrid models that include ads, aiming to broaden their audience and increase profitability.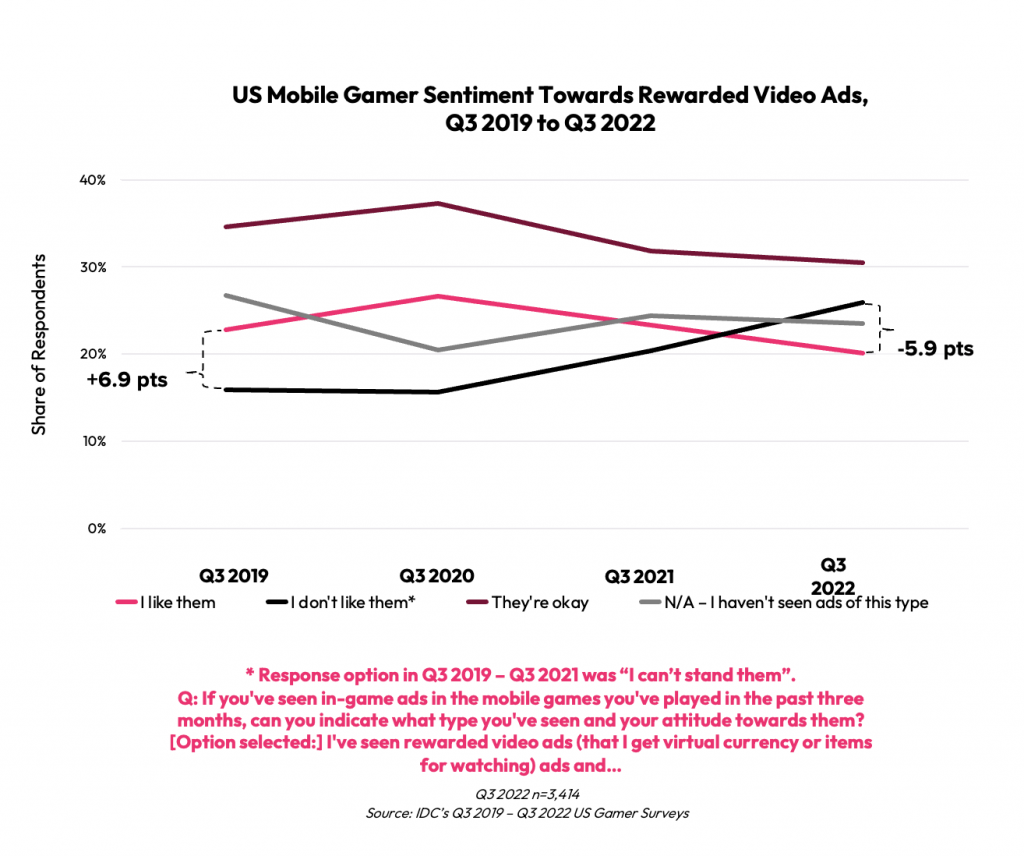 In conclusion, the report offers a comprehensive view of the mobile gaming landscape and sheds light on the ever-evolving dynamics of the gaming industry.
Additionally, a recent report shows the worldwide games market is expected to produce $187.7 billion in revenue this year, growing 2.6%. While another recent report indicates that mobile games make up around 30% of subscription apps.