Per a new report from data.ai compiled with IDC, the gaming market is set to hit $222 billion in 2022. The report reveals that mobile gaming will account for 61% of the overall gaming market.
The mobile game market, which is expected to exceed $136 billion in 2022, will grow 1.7x faster than the gaming market overall. In the first quarter of 2022, consumers spent over $1.6 billion per week on mobile games on the App Store and Google Play, up 30% from pre-pandemic levels.
According to the report, Asia Pacific saw the largest growth in market share for global consumer spending, while North America and Western Europe accounted for half of mobile gaming spending.
Core Games with real-time online features such as PvP (player-versus-player) among the most popular genres across the gaming spectrum, with Battle Royale and Shooting Games having a high presence on Mobile and PC charts.
On Mobile, genre preferences are more varied, with 8 distinct subgenres being represented among the top 10 games — proof of mobile's increasing acceptance as a primary gaming platform as well as the ability to capture new audiences.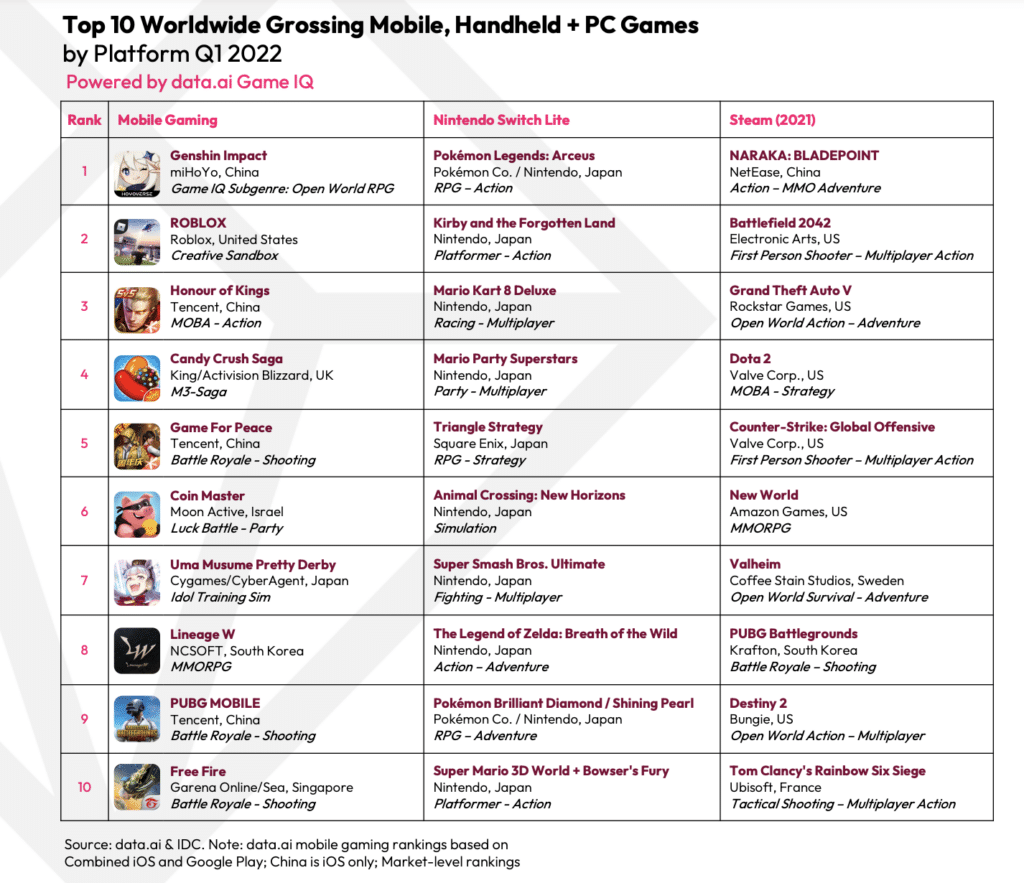 Genshin Impact, which generated 118 million downloads to date, was #1 game by worldwide consumer spend in March 2022. The game generated $2.8 billion consumer spend globally to date.
4x March-Battle Strategy games emerged as the most monetizable genre for mobile games in 2021, while open world RPG saw the biggest rise in consumer spend market share.
The report suggests cross-play features are becoming increasingly prominent in the top games — the ability to access the same game progress across devices (whether on mobile or console, for instance) appears to be on the rise, as is playing against players using different platform versions of the same game.
The report also found that, across the App Store and Google Play, apart from the United States, more than half of the top 1000 games by consumer spend leaned towards Gen Z users, and the share has been growing over the past two years as high as 29 percentage points (+94%).
The US represents a unique market compared to other top mobile gaming markets: games that skew towards Gen X / Baby Boomers (aged 45+) represent nearly 25% of the top grossing games and growing each year, up 6 percentage points from 2019 (+30%) — the fastest growing cohort in the US.
Global gaming market also saw a huge growth in dealmaking activity in Q1 2022. According to a recent report, 2022 started the year with a bang, already exceeding the entire deal value of the full year 2021 with a massive $98.7 billion in total value of announced ad / or closed deals for Q1 22.

Mobile has once again become the biggest segment in terms of number of M&A deals in Q1 2022, with 28. However, PC/Console became the top segment in M&A deal value with $72.9 billion.