Global gaming app install ad spend reached $26.7 billion last year, with the U.S. market accounting for nearly half of it, $12.2 billion.
That's according to AppsFlyer's new State of Gaming 2023 report, for which the mobile marketing analytics company analyzed 38 billion app installs, 18.6 thousand apps, and $13.9 billion in ad spend.
The report found that Android saw a 2% year-over-year growth in gaming app install ad spend while iOS saw a 20% jump, mainly due to rising CPIs.
Apart from much higher rates in certain countries, the average CPI on Android was in the range of $0.68-0.72 between Q3 2021 and Q4 2022. However, the average CPI on iOS hit $3.8 in the last quarter of 2022, with a 88% increase from $2 in early 2021.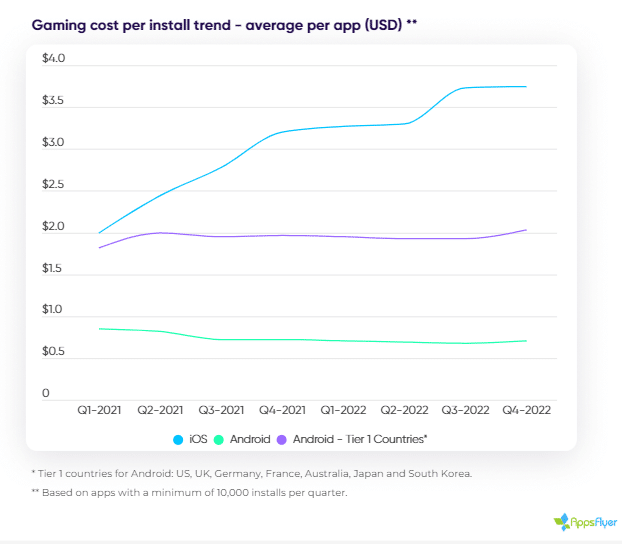 Android downloads up, iOS installs continue to drop
The report revealed that gaming app installs on Android increased by 7.9% year-over-year while they dropped by 5% Y/Y on iOS last year.
Downloads of both Android and iOS games skyrocketed during the pandemic as mobile users were actively looking for ways to spend their time under lockdowns. Although we have now returned to our normal lives and the pandemic-driven gaming hype has mostly faded, Android game installs still managed to maintain their year-over-year growth, but their growth rate has also slowed compared to previous years.
On the contrary, iOS game installs continued to drop last year, but Apple's controversial privacy changes could be the main reason in this case. However, the downward trend in iOS has also slowed down in 2022, which the report attributes to advertisers' adaptation to the new ecosystem.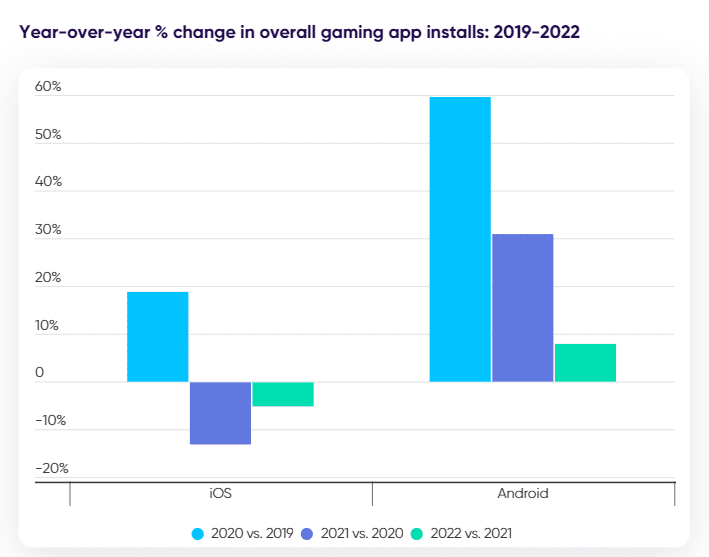 Meanwhile, the United States saw a 19% Y/Y increase in gaming app installs on Android, but a 1% drop on iOS. Asia, on the other hand, saw the most growth in downloads, with Android installs up 30% in Philippines and iOS installs up 64% in Indonesia.
In-app purchase revenue down amidst economic uncertainty
As many consumers are now more cautious about their spending amidst the economic uncertainty, mobile gaming apps' in-app purchase (IAP) revenue dropped on both Android and iOS last year.
According to the report, Android apps saw a 14% Y/Y decrease in IAP revenue while iOS apps experienced a 1% drop. However, when comparing the first and second halves of 2022, the decrease is more severe on iOS (13%), but less on Android (6%).
AppsFlyer said that RPG and Casino categories saw the biggest drop in spending on both Android and iOS.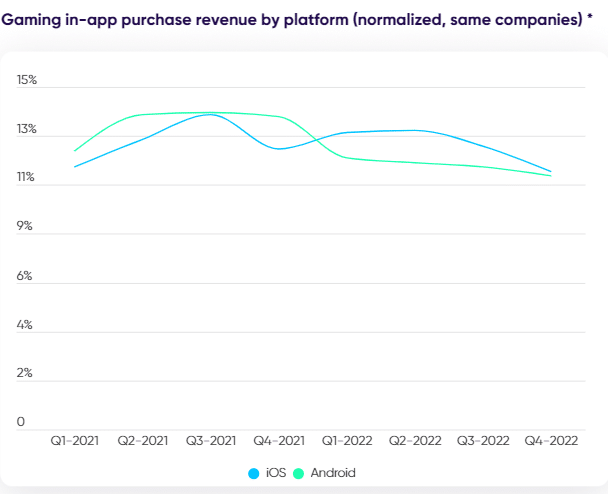 According to another recent report from AppsFlyer, 49% of Android apps were uninstalled within 30 days in 2022.