In 2022, 49% of Android apps were uninstalled within 30 days of downloads, and 49% of those uninstalls took place during the first 24 hours, according to AppsFlyer's new App Uninstall Report. 
Although one in two apps couldn't survive on mobile devices for more than a month last year, the average uninstall rate decreased by 8% compared to 2021.
Gaming apps had the highest uninstall rate with 65.87% of them being removed within 30 days after downloads. They were followed by Social (59.71%), Education (53.40%), Utilities (52.63%) and Finance apps (44.98%) respectively. Meanwhile Travel apps had the highest brand loyalty, and the lowest uninstall rate of 31.11%.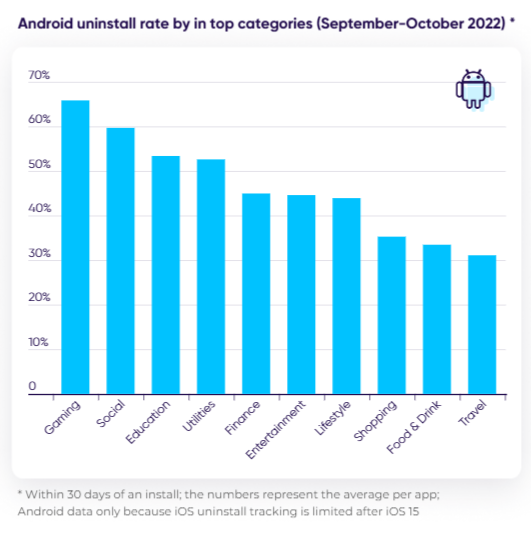 The report also revealed that there is an average 28% gap between the uninstall rates among organic and non-organic users, since the latter have less tendency to show loyalty to mobile apps. While the difference is around 13% in gaming apps, it's nearly 30% in non-gaming categories.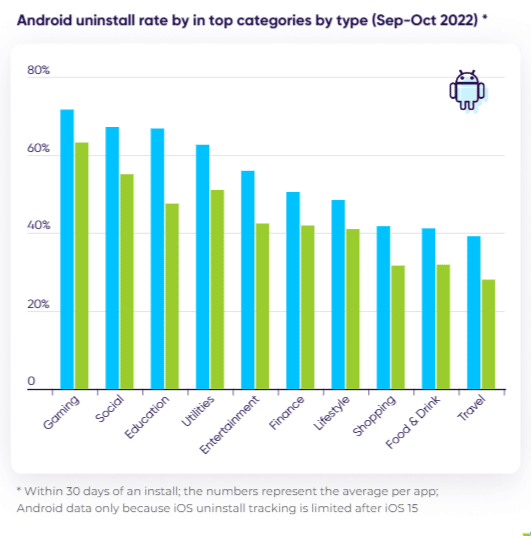 Lastly, AppsFlyer also found that the average uninstall rate in developing countries (26% to 43%) was 28% higher than developed countries (36%). This could be due to common usage of iOS devices and their higher storage that don't require users in developed ones to uninstall apps, the report suggests.