According to IAS's Media Quality Report for H1 2021, mobile app display viewability reached 73.2% worldwide in the first half of 2021, up from 70.8% in H1 2020. 
Mobile app display viewability increased most in Singapore, New Zealand, and the United States, while Italy and the United Kingdom were the only two markets with annual decreases.
On the other hand, ​​global display viewability was down 2.4pp on desktop and 3.3pp on mobile web year-over-year, reaching 69.5% and 64.3% respectively. The worldwide reductions were driven by drops across Asia Pacific, as New Zealand, Singapore, and India experienced the steepest losses in desktop environments, the report says.
---
Also Read: Mobile ad context increases memorability up to 40%
---
The report also found that worldwide average time-in-view for desktop display and mobile web display dropped 2% and 5% respectively, while mobile app display saw a nearly 25% reduction between H1 2020 and H1 2021.
Mobile app display impressions around the world remained in view 6.03 seconds less in H1 2021 compared to the same period a year earlier. India (-11.23 seconds), Australia (-8.82 seconds), and Italy (-6.85 seconds) posted the biggest time-in-view losses. France was the only market that showed gains, as mobile app display ads stayed in view an additional 1.34 seconds to reach 14.39 seconds.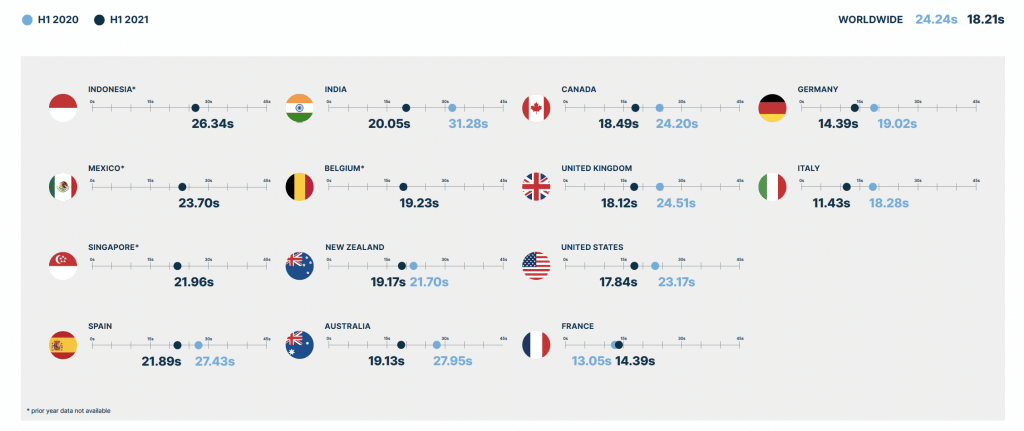 The report also says global ad fraud rates in mobile web display dropped from 0.5% to 0.4% between H1 2020 and H1 2021, including nine markets with lower optimized-against-ad-fraud rates than the global average.
Argentina, France, Poland, and Sweden were the safest markets when it comes to mobile web display ad fraud, each reaching only 0.1% in H1 2021. Japan remained the market with the highest ad fraud rates in mobile web environments, with display reaching 2.3% and video reaching 2.9%.