According to Sensor Tower, eight different mobile games have generated over $1 billion globally across the App Store and Google Play so far in 2021.
The titles that generated more than $1 billion in player spending include:
1. PUBG Mobile
2. Honor of Kings
4. Roblox
5. Coin Master
6. Pokémon Go
8. Garena Free Fire
PUBG Mobile and Honor of Kings are ranked #1 and #2 revenue generating mobile games worldwide in 2021, each accumulating $2.8 billion, up 9% and 14.7% YoY, respectively.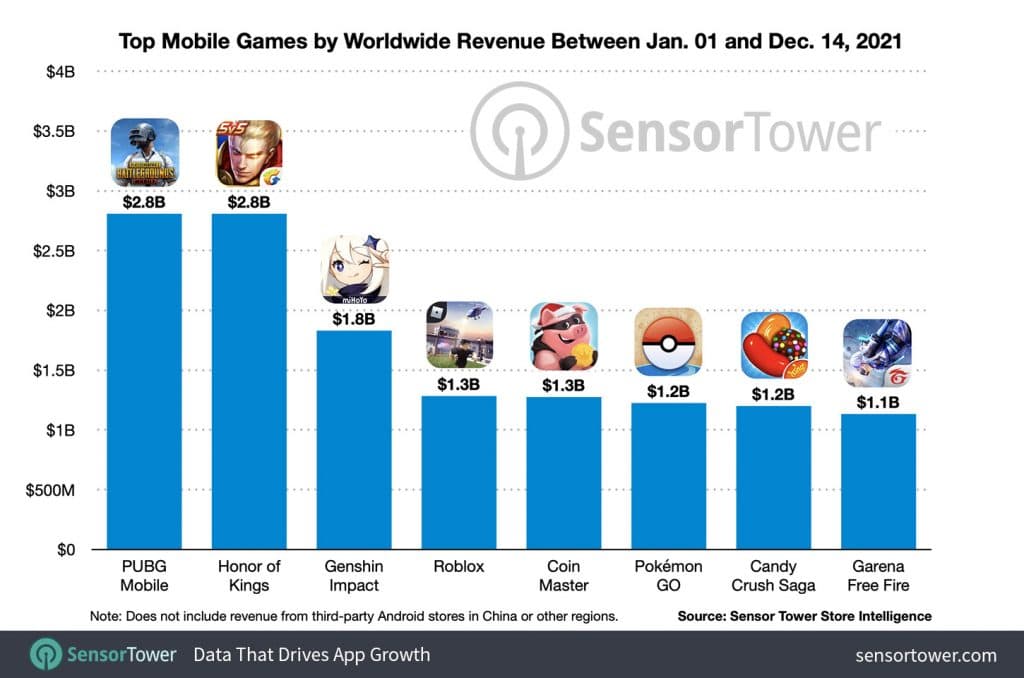 PUBG Mobile has already surpassed $7 billion in lifetime player spending worldwide, generating $8.1 million a day on average so far in 2021.
It is noted that there could yet be a ninth mobile title to cross the $1 billion milestone in 2021, with Uma Musume Pretty Derby from Cygames closing in on the landmark at close to $965 million for the year, despite launching in February this year and only being available in Japan.
Sensor Tower said the eight mobile titles to have already crossed $1 billion is up on the five games that hit the figure in 2020, and marks a significant increase from the three that achieved unicorn status in both 2019 and 2018.
The company forecasts that global consumer spending on mobile games will reach $89.6 billion in 2021 across the App Store and Google Play, up 12.6% year-over-year from $79.6 billion in 2020. It represents 67.4% of all in-app spending in 2021, down 6.7% from 74.1 percent in 2019. Despite this, mobile games still account for the majority of spend in both markets, representing 61.5% of revenue for iOS and 78% of revenue for Google Play.