According to Sensor Tower, player spending in mobile Strategy games in the U.S. increased by 23.5% to $4.2 billion in the past 12 months.
When it comes to game downloads, Strategy games accumulated 134.4 million installs between November 1, 2020 and October 31, 2021, up 3.6%.
The 4X Strategy subgenre was the top revenue generator among the seven Strategy subcategories during the period, with player spending up 32.5%YoY to $2.9 billion. The fastest-growing subgenre by revenue was MOBA, with player spending increasing by over 50% year-over-year to $168.4 million.
4X Strategy also garnered 53.3 million downloads, making it the #1 subgenre for downloads. Meanwhile, the fastest growing subcategory for downloads was MOBA, with downloads increasing 133.3% YoY to 19.4 million.
When it comes to revenue per download, Sensor Tower found that 4X Strategy was again the top subgenre, with around $54 per download, during the period, followed by Build & Battle and Empire Simulation.
---
Also Read: India was the largest mobile games market for downloads in H1 2021
---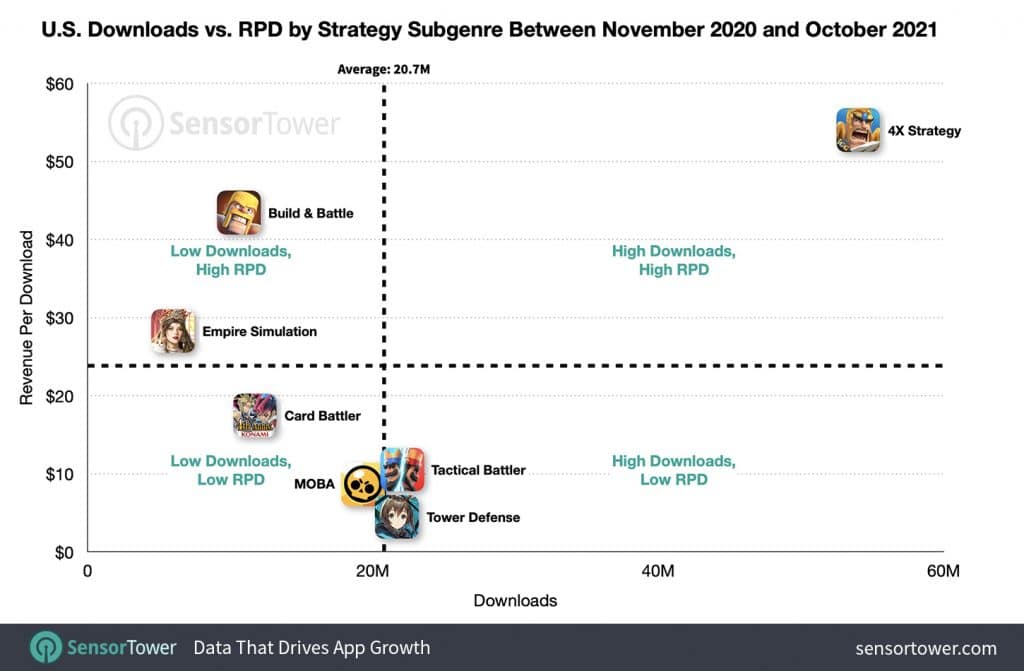 Strategy was the No. 3 revenue generating mobile game genre in the U.S. across the App Store and Google Play over the past year, behind Puzzle at No. 1 and Casino at No. 2. 4X Strategy is the clear driving force behind the genre's success, accumulating more than two-thirds of all player spending, while also picking up the most downloads.