Looking for the best makeup apps for Android? If you're eager to explore top-notch beauty applications that cater to your cosmetic needs, you've come to the right place. In this article, we covered Android makeup apps, highlighting the finest options available for you to enhance your beauty routines. From virtual makeup try-ons to expert tutorials and personalized recommendations, these apps are designed to revolutionize your makeup experience. So, without further ado, here are the best Android makeup apps that will leave you feeling glamorous and confident!
Pretty Makeup
Price: Free/In-App Purchase: Up to $9.99
Pretty Makeup, Beauty Photo Editor & Selfie Camera is an exceptional app that brings a virtual makeover experience right to your fingertips. With its extensive range of makeup effects and filters, this app allows you to enhance your photos effortlessly and achieve stunning results. The smart recognition technology ensures that the makeup looks precise and natural, giving your photos an added touch of beauty. Real-time beautifying effects and motion stickers add a fun and adorable element to your selfies, making them stand out from the crowd.
Moreover, one of the app's standout features is the ability to experiment with various hairstyles and colors, allowing you to stay on top of the latest trends. From foundation and lip color to eyebrows and eye shadows, Pretty Makeup offers a wide array of options to beautify every aspect of your face. Additionally, you can adorn your photos with fashionable eyewear, hats, necklaces, and earrings, giving you a cool and stylish look. The snappy camera and motion stickers provide an entertaining face-switching experience, ensuring you never run out of creative possibilities.
Sweet Selfie
Price: Free/In-App Purchase: Up to $29.99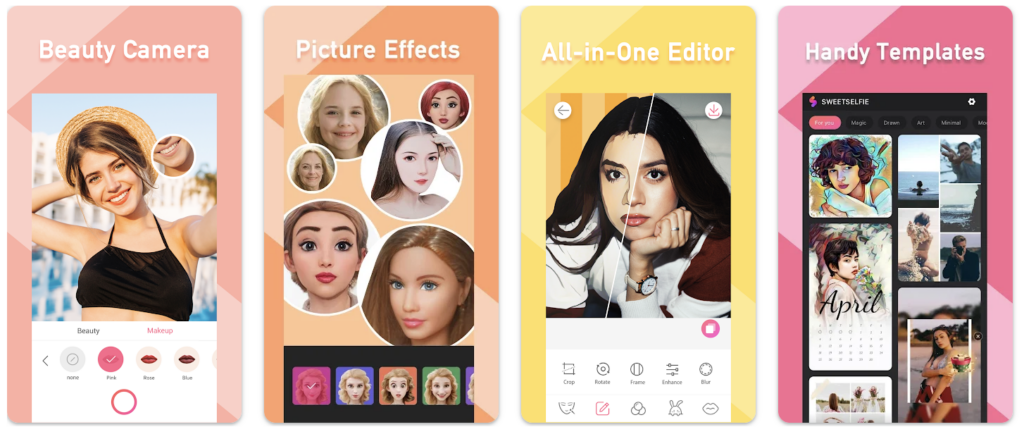 Sweet Selfie is an excellent makeup app for makeup enthusiasts, offering a wide range of features to enhance your selfies. With real-time beauty effects, photo stickers, and art filters, capturing the perfect selfie has never been easier. The app also includes a powerful photo editor with options to retouch skin, whiten teeth, and adjust facial features. With the app, users can reshape their bodies, create stunning photo collages, and even make music videos using their photos. The app's versatility, user-friendly interface, and ability to remove imperfections and blurred backgrounds make it one of the best makeup apps for Android. With Sweet Selfie, you can effortlessly capture, edit, and share flawless selfies on popular social media platforms.
---
Also Read: The 7 Best Instagram Story Apps
---
YouCam Makeup
Price: Free/In-App Purchase: Up to $29.99
YouCam Makeup is a leading makeup app for Android, offering a comprehensive range of features to enhance your photos and achieve the perfect look. With its virtual makeover and selfie retouching capabilities, you can effortlessly snap and edit gorgeous photos. The app boasts an impressive collection of beauty camera makeup filters from top brands, along with a hair color changer for a realistic virtual hair dye experience. The app provides retouch tools for a full face makeover, including eyes, nose, lips, teeth whitening, and airbrushing skin. YouCam Makeup offers a plethora of options for cosplay makeup, costume makeup, eyeliner, contouring, blush, eyebrows, and more.
Moreover, YouCam Makeup contains a live makeup cam, real-time AR makeovers, selfie editing, a beauty cam with various effects, and more. YouCam Makeup offers tools to airbrush flawless skin, retouch facial features, and highlight your best assets. You can try on different lip colors, experiment with eye makeup from top brands, and even change your eye color using contact lenses. The app also provides accessories like sunglasses, hats, and jewelry for a complete virtual makeover. With dress-up salon games, wedding makeovers, and options for festival and party looks, YouCam Makeup caters to all your beauty needs.
BeautyPlus
Price: Free/In-App Purchase: Up to $59.99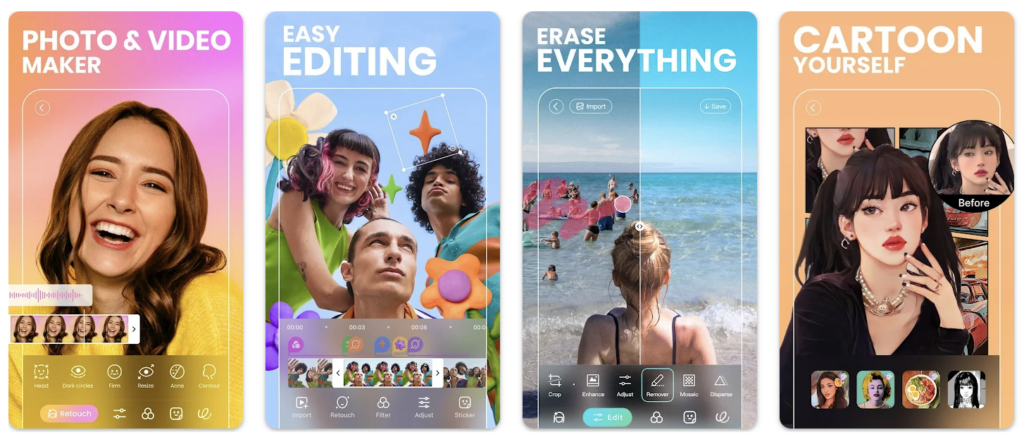 BeautyPlus is one of the best makeup apps for Android and a highly popular selfie camera and photo editor app, trusted by over 800 million users worldwide. It offers a range of features to help you capture the perfect photo every time. With its signature Auto-Beautification tool, you can instantly enhance your selfies and touch up your photos with ease. The app provides more than 30 editing tools, allowing you to remove acne, smooth skin, brighten eyes, whiten teeth, slim your face, reshape your body, try trendy makeup, and much more.
Also, Its easy yet powerful photo editor offers features like HD retouch, height adjustment, slimming, skin smoothing, facial touch-ups, acne removal, and teeth whitening. You can also utilize the app's photo editing functions, including object removal, auto enhancement, blur effects, collage making, and various filters. BeautyPlus offers a wide range of effects, such as adding text, stickers, doodles, and applying different filters to enhance your photos. The app also features a beauty selfie camera with real-time retouching and makeup effects, allowing you to achieve flawless skin and apply natural or stylish makeup in real-time.
---
Also Read: The 8 Best Hairstyle Apps
---
MakeupPlus
Price: Free/In-App Purchase: Up to $29.99
MakeupPlus marvelous makeup app for makeup lovers. The app offers a wide range of features to help you achieve gorgeous looks with just a few touches. Created in collaboration with industry professionals, including renowned makeup artists and photographers, The app serves as your beauty advisor. With its augmented reality camera, you can try on complete makeup looks and mix and match them with fun accessories. The app features exclusive looks crafted by top beauty experts like Bretman Rock, Nikkie Tutorials, and Lisa Eldridge. You can transform your appearance instantly, previewing glamorous full-face makeovers with accessories like retro sunglasses and angel halos. With the app, users can explore a variety of beautifully-crafted looks such as "Bella," "Brazen," or "Porcelain," and experiment to create their own unique style. The app allows users to show off their creativity by designing their signature look using the Touch-Up feature. From bold colors to changing hair shades, you can enhance your selfies and make them stand out. The app also includes a COUNTER function, allowing you to try on real beauty products using the AR camera and purchase your favorites directly within the app. It deserves to be one of the best makeup apps for Android.
YuFace
Price: Free/In-App Purchase: Up to $12.99
YuFace is an impressive AI-powered selfie camera and photo editing app designed for girls who seek a fresh and professional experience. Unlike ordinary AI cameras and makeup apps, YuFace offers a wide range of advanced features and diverse makeup effects to enhance your selfies. With thousands of themed filters and effects, including special ones like Halloween or Christmas makeup, you can effortlessly find the perfect look for any occasion. The app also provides face beauty filters and editing tools such as blemish remover, face slimming, contouring, teeth whitening, and even hair color changing. You can customize your features, from nose shape to eyebrow size, and experiment with eye colors and makeup styles.
Additionally, YuFace offers comprehensive photography features, including touchscreen capture, flash, and image size settings. You can edit both newly captured photos and existing ones, applying makeup and adding stickers to make them more vibrant. With a user-friendly interface and high-quality editing capabilities, YuFace stands out among the best makeup apps for Android users seeking professional results.
---
Also Read: The 9 Best Fertility Tracker Apps
---
Perfect365 Makeup Photo Editor
Price: Free/In-App Purchase: Up to $19.99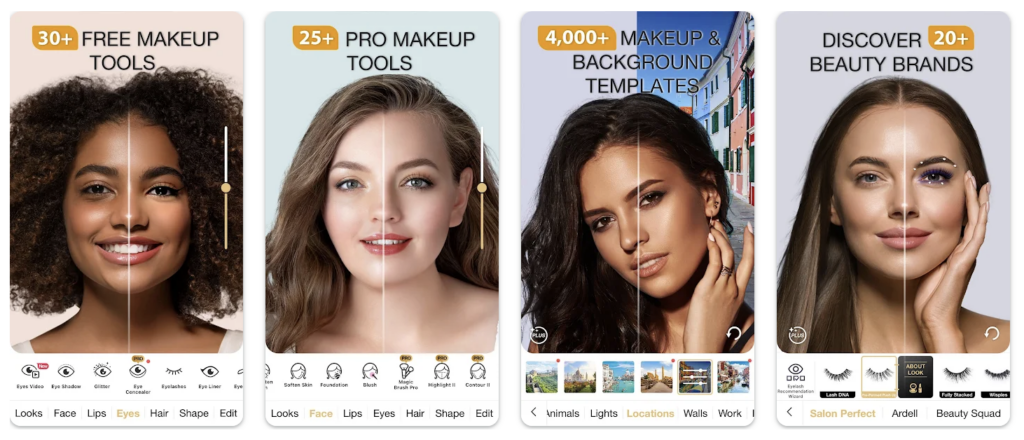 Perfect365 is a powerful virtual makeup app for Android that offers a comprehensive set of features. With its diverse collection of filters and effects, the app is considered among the best makeup apps for Android. The app provides numerous makeup options, including lipstick, cheek powder, eyebrow shaping, and more. The app allows you to change hair color, add accessories, and customize your makeup style. Also, Perfect365 offers a range of photography features, such as touchscreen capture and image quality settings. With its easy-to-use interface and professional tools, it's an excellent choice for anyone looking to enhance their photos with beautiful makeup effects.
Perfect365 Makeup Photo Editor on Google Play
Beauty Makeup Editor & Camera
Price: Free/In-App Purchase: Up to $59.99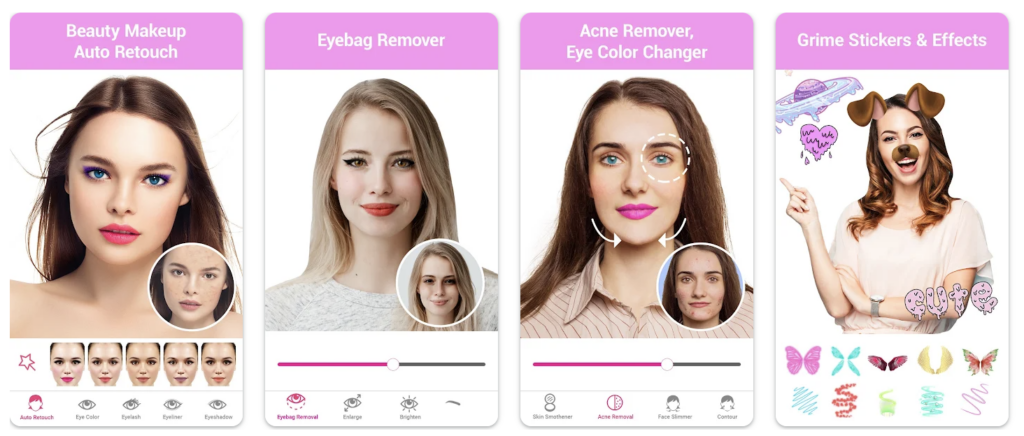 Beauty Makeup Editor & Camera is a comprehensive makeover app that allows users to retouch and enhance their selfies effortlessly. Powered by AI technology, this one-tap beauty makeup editor ensures flawless results. The app offers a range of impressive photo editing tools, including neon spirals and drip effects, to elevate the creativity of your pictures. With a beauty camera and selfie filters, capturing perfect selfies is a breeze. With the app, users can share their exquisite selfies on popular social media platforms like Instagram, Facebook, and Snapchat. The app also features customizable makeup options, such as eye color changes and teeth whitening, to personalize your look, and it ranks among the best makeup apps for Android.
Beauty Makeup Editor & Camera on Google Play
---
Also Read: The 6 Best Face Yoga Apps
---
Makeup Tutorial Step by Step
Price: Free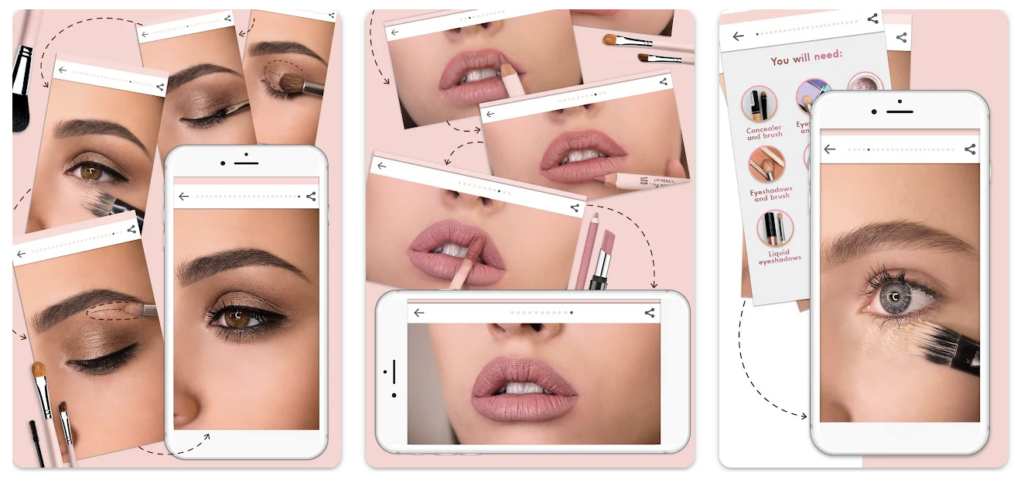 Makeup Tutorial Step by Step is a fantastic app that provides detailed and easy-to-follow makeup tutorials for women and girls. Whether you're a beginner or looking for makeup ideas for different occasions, the app has you covered. With step-by-step instructions for eye makeup, lip makeup, and facial makeup, you'll learn how to create various looks effortlessly. The app works offline, so you can access the tutorials anytime, anywhere. It's completely free and user-friendly, making it suitable for everyone. From everyday makeup to office, school, and party looks, you'll find a wide range of tutorials to choose from. The app caters to different age groups, offering tutorials for women, girls, and teens. Whether you prefer classic or modern makeup styles, the app has tutorials to match your preferences.
Makeup Tutorial Step by Step on Google Play