Are you ready to embark on a musical journey right from your Android device? Whether you're a seasoned musician or an aspiring beatmaker, the world of music creation has never been more accessible. In this digital age, a plethora of music-making apps await at your fingertips, promising to transform your ideas into harmonious melodies.
In this article, we covered the best free music-making apps for Android, each offering its own unique set of features and tools to ignite your creative spark. From virtual turntables to versatile studio environments, these apps cater to all skill levels, allowing you to compose, remix, and share your musical creations effortlessly. Without further ado, here are the best free music-making apps for Android!
Groovepad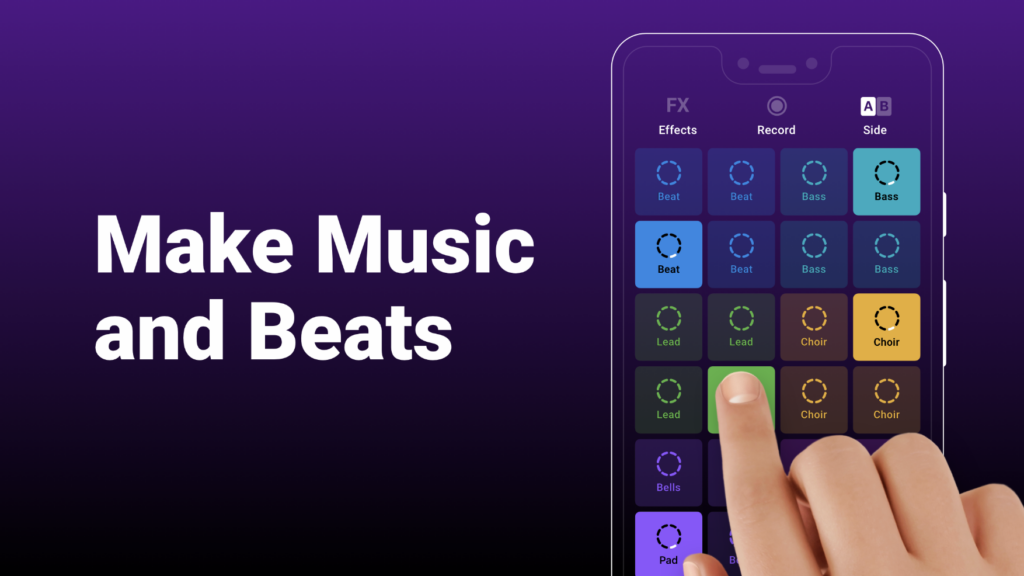 Groovepad is a fantastic Android app for music enthusiasts looking to become DJs. With Groovepad, you can easily bring your musical dreams to life and craft smooth, groovy music effortlessly. This beat-making app provides a simple platform to create your own songs and experiment with various music tracks. You can choose from a diverse range of genres, such as Hip-hop, EDM, House, Dubstep, and more. Groovepad boasts an extensive library of unique soundtracks for you to explore.
One standout feature is the Live Loops functionality, which seamlessly blends different sounds together. Plus, Groovepad offers incredible FX effects like filters, flangers, and reverbs to elevate your music. You can even share your creations with friends and family to showcase your DJing skills. Visit Groovepad's website to learn more.
BandLab
BandLab, one of the best free music-making apps for Android, is perfect for music creators and enthusiasts. This app, with over 60 million users, offers a comprehensive platform for creating, sharing, and discovering music. BandLab's multi-track Studio serves as a full-fledged music maker and DAW (Digital Audio Workstation). It allows you to record, edit, and remix music effortlessly. You can craft beats, add effects, and access a wide range of loops and samples from royalty-free sound packs.
Additionally, what sets BandLab apart is its unlimited cloud storage and cross-device accessibility, making it ideal for music makers on the go. It also provides a platform to discover millions of tracks, create playlists, and watch live music performances. Check out BandLab's website for more detailed information.
---
Also Read: 9 Free Offline Music Apps for Android
---
Music Maker JAM

Music Maker JAM is a must-have free music app for Android that caters to music creators, DJs, and producers of all levels. This user-friendly app allows you to create, remix, and craft amazing music beats and tracks using a wide variety of musical genres, including Trap, EDM, Hip-Hop, and more.
Also, with over 300 Mix Packs and 500,000 loops at your fingertips, you can unleash your creativity and make music that suits your style. The app features an 8-track mixer and ten customizable sample pads, and even supports vocal recording, making it a versatile tool for music production. Whether you want to record your voice, mix vocals, or add autotune effects, Music Maker JAM has you covered. You can easily share your creations on platforms like YouTube, SoundCloud, Facebook, TikTok, and more.
Music Maker JAM on Google Play
n-Track Studio DAW
Transform your Android device into a powerful music production studio with the n-Track Studio DAW. This feature-packed app is designed for musicians, beatmakers, and producers looking to create, record, and edit music on the go. n-Track Studio allows you to record an unlimited number of audio, instrument, and beat tracks. You can mix and enhance your music with various effects, from guitar amps to vocal tuning and reverb. The app even provides tools like a metronome, a tuner, and an on-screen keyboard with virtual instruments.
n-Track Studio DAW on Google Play
---
Also Read: The 9 Best Audio Editor Apps
---
DJ Studio 5
DJ Studio 5 is a remarkable free virtual turntable app for Android that brings the world of DJing to your fingertips. With this app, you can mix, remix, scratch, loop, and pitch your music with ease, making it an ideal choice for both aspiring and experienced DJs.
Moreover, what sets DJ Studio 5 apart is its user-friendly approach, comprehensive features, and respect for user privacy. It offers two virtual turntables with a crossfader and customizable decks with up to seven skins. The unique scratch engine and disc physics provide an authentic DJing experience, and it stands out among the best free music-making apps for Android.
Song Maker
Song Maker is a free and user-friendly music app that empowers you to create your music effortlessly. Whether you're a budding musician or just looking for a fun way to compose tunes, this app has you covered. With a vast library of thousands of free sounds, beats, and loops, Song Maker provides an extensive palette for your creativity. You can mix and match different elements, modify loops, and record your voice to add a personal touch to your songs.
In addition, Song Maker supports various musical genres, including Trap, EDM, Rap, Hip-Hop, and more. It also offers a music editor for fine-tuning your sounds and loops. The app's simplicity makes it accessible to music enthusiasts of all levels.
---
Also Read: The 8 Best Equalizer Apps for Android
---
Drum Pad Machine
Drum Pad Machine is a popular DJ beat music mixer that brings music production to your Android device. Whether you're an experienced beatmaker or just starting, this app offers a creative platform for making beats and melodies. With Drum Pad Machine, you can mix loops, record your melodies, and experiment with a variety of sound effects. It's incredibly user-friendly, making it suitable for users of all skill levels. The app provides a wide range of instruments, from bass to guitar, to suit your musical preferences.
Additionally, what sets Drum Pad Machine apart is its versatility and ease of use. You can even record your mixes and share them with friends. Whether you're a professional musician or just jamming for fun, Drum Pad Machine has the tools you need to create captivating music, and it is considered one of the best free music-making apps for Android.
Drum Pad Machine on Google Play
MuseScore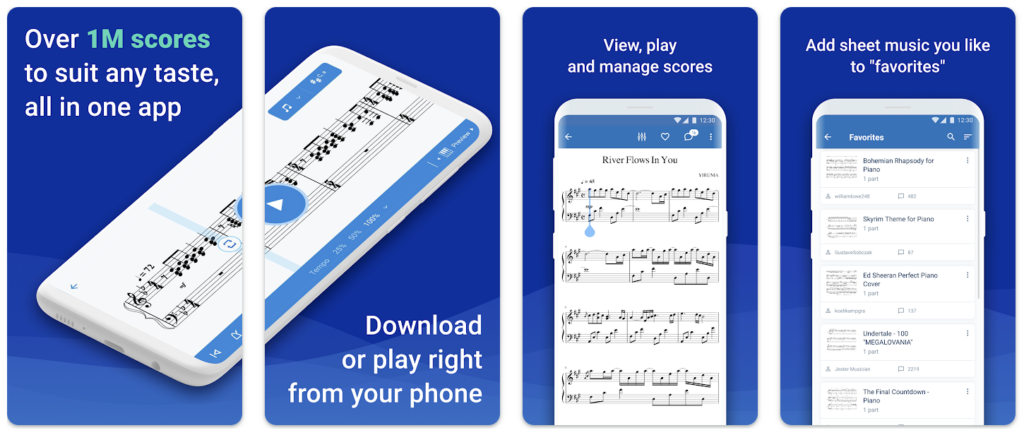 MuseScore is a remarkable Android app for music enthusiasts, offering access to a vast collection of free sheet music for various instruments. MuseScore serves as your digital sheet music library on the go, and it ranks among the best free music apps for Android. Users can browse, view, and play their favorite sheet music online or offline. The app provides an intuitive and user-friendly interface, making it easy to navigate and discover new sheet music.
Besides, what sets MuseScore apart is its extensive catalog of sheet music, covering classical, pop, rock, jazz, and more. Users can create playlists, mark their favorite scores, and even annotate their sheet music. Browse MuseScore's website to learn more.
---
Also Read: The 8 Best Volume Booster Apps for Android
---
Cross DJ
Cross DJ is the ultimate Android app for DJs and music enthusiasts looking to mix and perform DJ sets on the go. This app, with its powerful features and intuitive interface, delivers an exceptional DJing experience. With a 2-deck DJ setup, advanced audio engine, and a wide range of features like hot cues, loops, and real-time FXs, Cross DJ empowers you to craft seamless mixes and electrify the dancefloor. The app offers precise BPM analysis and synchronization, ensuring your tracks are in perfect harmony.
Also, what sets Cross DJ apart is its compatibility with various music formats and its robust library management system. You can access your music library effortlessly, apply effects like Flanger and Echo, and record your mixes for sharing or playback.
MilkyTracker
MilkyTracker is an open-source Android app designed for music enthusiasts who appreciate tracker module files. This unique music creation tool pays homage to programs like Fasttracker II, offering a vintage tracker module experience on your mobile device. Users can experiment with .MOD and .XM tracker module files, making it a fantastic choice for those who love classic tracker-style music creation. The app provides a tracker interface with patterns, samples, and instruments, just like the iconic trackers of the past.
Furthermore, what sets MilkyTracker apart is its dedication to preserving the tracker module format and its compatibility with various platforms. You can import and export your tracker creations and even share them with the MilkyTracker community. Go to MilkyTracker's website for more information.