The equalizer is a ubiquitous system related to music. Usually, the equalizer is used to make the sound of music better and more open. Equalizers are also a notion used in mobile phones, watches, music players, cars, and televisions.
Furthermore, thanks to this system, scratchy sounds are prevented. This situation is quite beneficial for ear health. Equalizers help to put mixed sound frequencies in the right place, so some frequencies can stand out and be more functional on sound sources.
Moreover, most equalizer apps do an aural test first and then let you adjust the sound system based on personalized sound data. Who does not want to use the app for such a useful concept? We have listed the best equalizer apps for Android for you.
Volume Booster – Equalizer Pro
Price: Free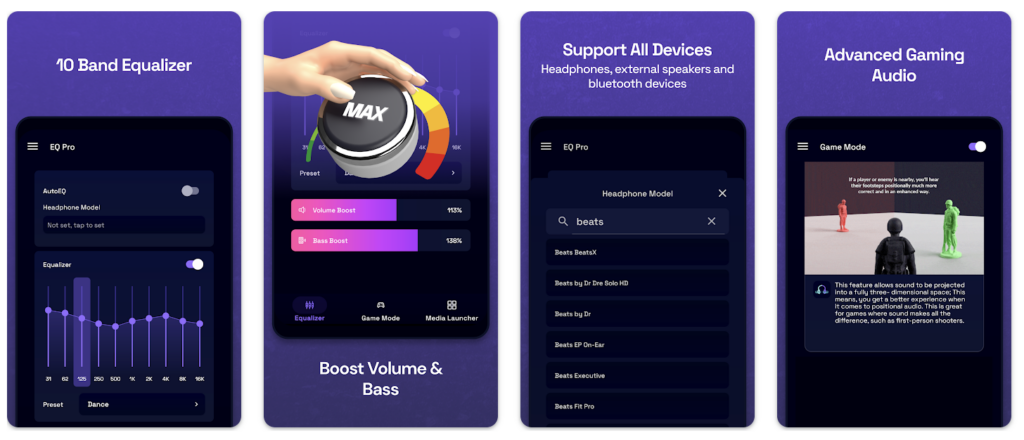 Volume Booster is a must-have app for anyone seeking to enhance their audio experience on Android devices, and it stands out among the best equalizer apps for Android. If you've ever found yourself frustrated by low sound volume, this app has the solution. With its intuitive interface and straightforward functionality, it's easy to increase your phone's or tablet's volume and boost the bass to levels you didn't think were possible.
One of the standout features of EQ Pro is its 10-band equalizer, complete with presets for various music genres like Metal, House, R&B, and more. You can also customize your presets, fine-tuning the audio to your liking and saving them for future use. Whether you're a fan of immersive stereo and surround sound effects or you want to enhance your gaming experience, EQ Pro has you covered.
Volume Booster – Equalizer Pro on Google Play
Equalizer FX
Price: Free
Equalizer FX is the go-to app for fine-tuning and enhancing your music experience on your Android device. This app provides you with a suite of powerful audio tools designed to prioritize sound quality and deliver an exceptional auditory journey. At its core, the Music Equalizer is a versatile audio filter that enables you to tweak the frequency envelope of your music. This means you can customize your sound to match your exact preferences, ensuring that every note and beat resonates perfectly with your ears.
Moreover, for those who relish deep, immersive bass, the Bass Boost effect is a game-changer. It accentuates low frequencies, delivering a richer and more captivating bass experience. Additionally, the Virtualization effect expands audio channels, creating a broader stereo effect that envelops you in a captivating soundscape. The Volume Booster feature, available on Android 4.4 and higher, elevates your music's loudness, allowing you to savor your tunes at just the right volume level. To make things even more convenient, Equalizer FX offers 12 presets tailored to different music genres, along with the option to create personalized presets.
---
Also Read: The 5 Best Music Apps for Apple Watch
---
Music Volume EQ + Equalizer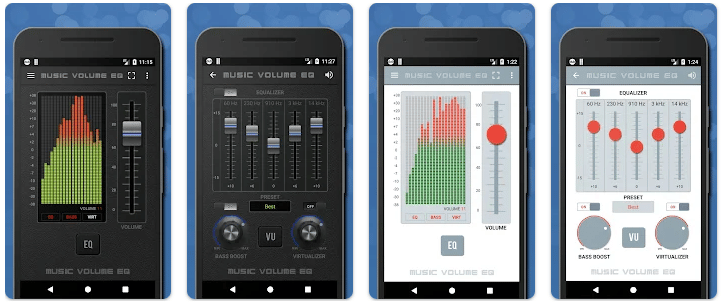 Price: Free
Pair the Music Volume EQ app with your headphones or speakers, then control your music volume, boost your music, and enjoy listening to music! Music Volume EQ is among the best equalizer apps for Android, with multiple features. With its easy use, you can effortlessly adapt it to your daily life. Also, the app has many features, such as nine equalizer presets with Custom Presets, media volume control, a five-band music equalizer, a 3D Virtualizer effect, a bass booster effect (speaker booster), a stereo VU meter, a loudness booster, an audible sound spectrum, and circular music hit bars.
Music Volume EQ + Equalizer on Google Play
---
​​Also Read: The Best Music Recognition Apps for iPhone and Android
---
Neutralizer
Price: Free
Neutralizer is an equalizer app that prioritizes sound restoration over distortion, and it is considered to be among the best equalizer apps for Android. Unlike others that offer preset sound profiles, it tailors your audio experience based on your unique hearing capabilities. Its user-friendly interface requires minimal explanation, focusing on simplicity and elegance. Neutralizer addresses the complexities of sound enhancement by allowing users to fine-tune settings wisely, catering to individual hearing abilities. While it may not work on all mobile devices due to compatibility limitations, the app strives to provide a personalized solution for better auditory experiences.
Equalizer Music Player Booster
Price: Free
Equalizer Music Player Booster is one of the best equalizer apps for Android. With ten professional sound presets based on various genres and a 7-band equalizer, the app offers the possibility to adjust the sound to your liking. You can edit and save your personal presets. Equalizer Music Player Booster gives the possibility to increase the bass volume with the app level control.
Also, the app becomes more fun with the DJ mode. You can list your favorite tracks with the queue system and listen to them in any condition with the background play mode. With the shuffle function, you can get the songs in your list in random mode.
Equalizer Music Player Booster on Google Play
---
Also Read: The Best DJ Apps for Android and iPhone
---
SoundID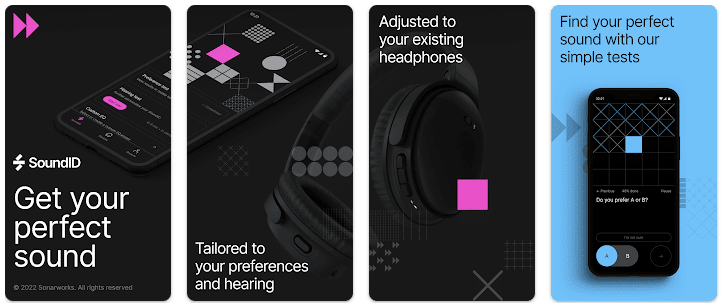 Price: Free
SoundID is based on Sonarworks' industry-leading technology (patent-pending data-driven technology) used for recording in over 100,000 professional recording studios, making it one of the best equalizer apps for Android.
Moreover, you can test your hearing with a simple and intuitive test and adjust it according to the test result. Get your personalized sound effortlessly and enjoy your music more efficiently. Plus, the app is supported by Spotify, YouTube Music, Apple Music, Deezer, and more, and you can check the app's website for more details.
Flat Equalizer – Bass Booster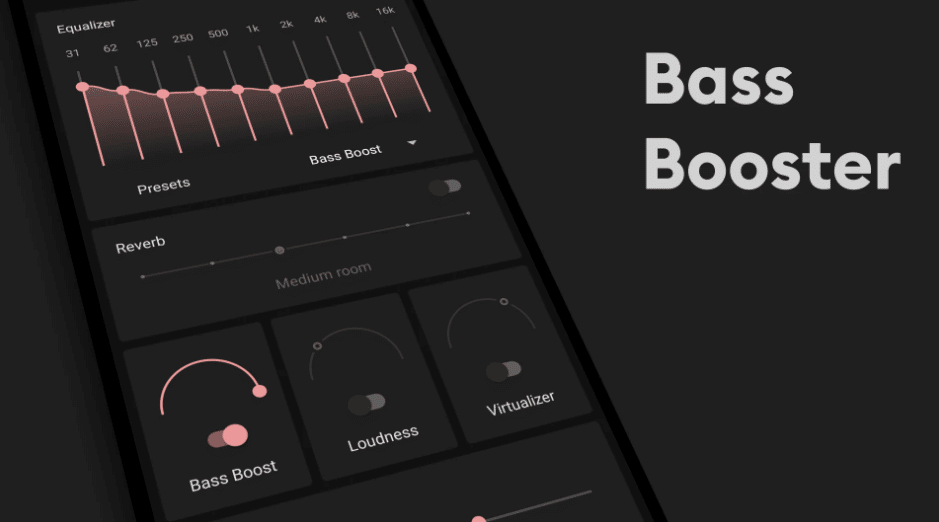 Price: Free
Flat Equalizer has a Minimal Flat User Interface, (Which follows Google's Material Design), Dark and Light Themes, Regular Updates, presets (Classical, Dance, Flat, Folk, Heavy Metal, Hip Hop, Jazz, Pop, Rock), Bass Boost Effect, Sound Booster Effect, Surround Sound Effect, 10 Bands, and more.
The app also works with all music and video players and is very simple to set up. Turn on the song you choose, adjust your volume and frequency on the app, plug in your headphones for efficient results, and enjoy the music.
Flat Equalizer – Bass Booster on Google Play
---
​​Also Read: The 9 Best Music Streaming Apps
---
EQ Bass Music Player- KX Music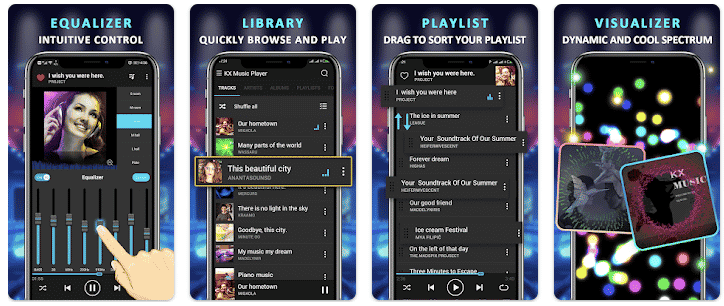 EQ Bass Music Player- KX Music is a professional equalizer app, indispensable for music lovers' devices. A few of the app's features are 17 kinds of preset music tones, notification status support, reverberation, media volume control, 3D surround sound, a VU meter with stereo LED, and a band equalizer. Plus, the app supports MP3, MP4, MP2, MP1, OGG, WAV, AIFF, MIDI, AAC, MO3, M4A, OTA, 3GP, XM, IT, S3M, MOD, MTM, and UMX.
EQ Bass Music Player- KX Music on Google Play