Did you know that keeping a diary has many benefits? A few of these benefits are easy focus, organization, stress reduction, creativity enhancement, and memory enhancement. Thus psychologists recommend keeping a diary and doing therapy based on those diaries. In addition to our daily life, we can keep a diary in many fields such as work diary, diet diary, travel diary, and daily expenditure diary, and we discover our habits and get to know ourselves much better thanks to these diaries. Have you ever considered using a digital diary instead of writing pages in a notebook? A lockable digital diary that you can edit as you wish is always with you. Check out the best diary apps we've listed for you while you sip your coffee.
---
Also Read: The Best To Do List Apps for Android
---
Day One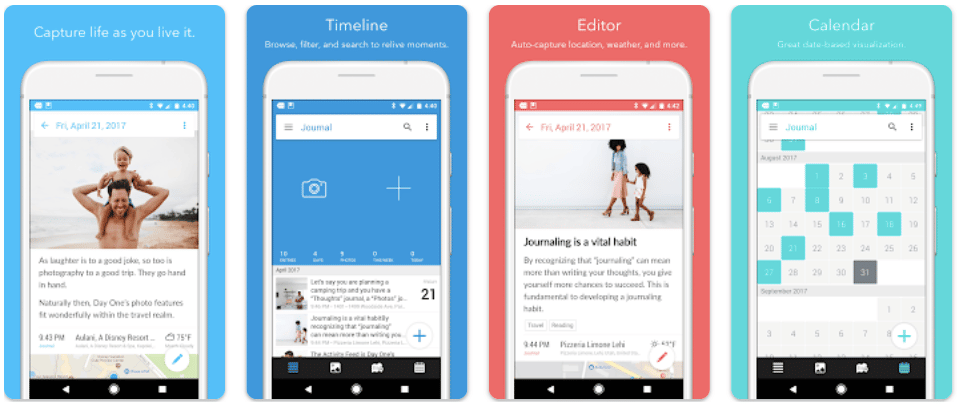 Price: Free / In-App Purchases: $0.99 – $34.99
Day One is a popular diary app where you can safely record your every moment. This app, which has an elegant interface, makes it a habit to keep a diary for its users. You can access your good memories whenever you want. With the IFTTT integration of the app, you can save your memories from social media.
In addition, users who want to keep their memories safe can protect their memories with passwords and fingerprint locks. With end-to-end encryption and synchronization with all devices, your memories can be safe with you anywhere. Also, Day One has a cross-platform support system and users can use it from the desktop or the web if they wish. The app adds location, time, date, and weather information to your log independently of you.
The premium version of Day One has many features such as unlimited storage, unlimited magazines, and priority customer support. For more detailed information, you can visit Day One's website.
---
Also Read: The 7 Best To Do List Apps for iPhone
---
Daylio
Price: Free/ In-App Purchases: $2.99 – $29.99
Besides being a diary app, Daylio accompanies you like a life coach. Unlike other diary apps, this app is versatile. Daylio asks about your daily mood and asks you to record your activities during the day. By interpreting this data statistically and graphically, you have the opportunity to discover your habits and observe yourself better.
You can also write down important details or events that you should not forget. Daylio offers a personalization experience to its users with its color theme option and dark mode. Users can put a PIN lock on their personal diaries and keep their memories safe. Also, you can visit the website of the app to examine and explore the application in detail.
---
Also Read: The 5 Best Reminder Apps for iOS and Android
---
My Diary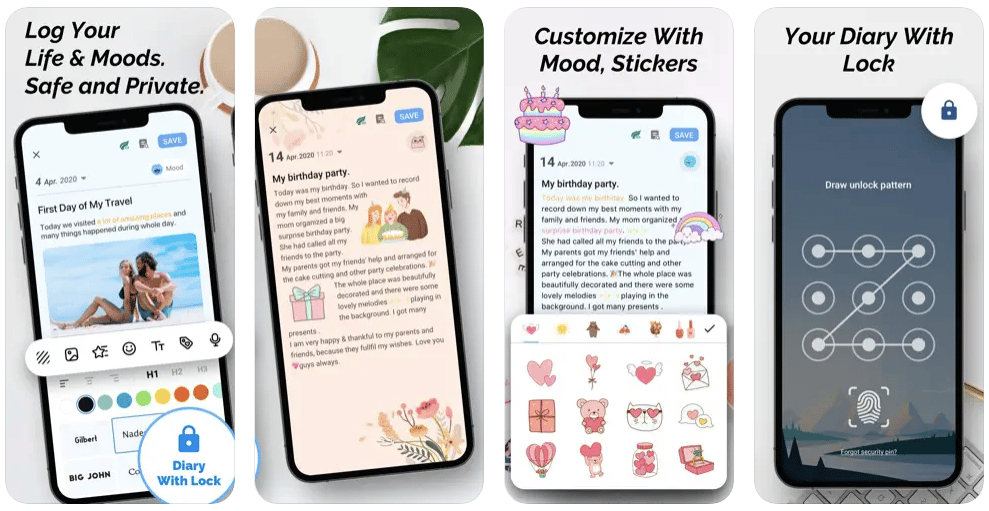 Price: Free/ ​​In-App Purchases: $3.59 – $59.99
My Diary is a stylish diary app that is easy to use. Besides the beautiful and varied themes of the app, the app also has a dark mode available for those who like to keep a diary at night. The app provides an easy diary start and note-taking experience with its simple page designs. Also, users can beautify their diaries with rich text effects and mod stickers. Whether it's a personal or professional diet diary, you can write anything you want in this personal diary. It's all up to you!
Moreover, you can show your daily mood through symbols with the mood tracker in the app. Track your mood on the mood calendar and review statistical results. In short, My Diary also takes on the role of your mental health tracker, and these features put the app on the list of best diary apps for Android and iPhone.
---
Also Read: ​​The 7 Best Habit Tracker Apps
---
Daybook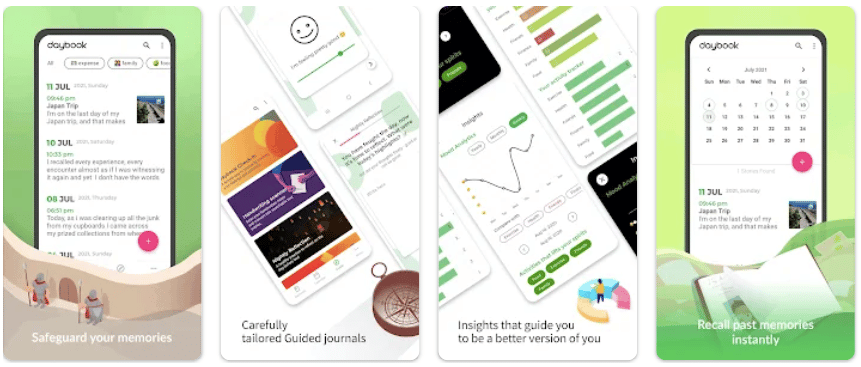 Price: Free
Daybook is a free password-protected personal diary and notes app. It allows you to organize the notes you take from the diary/journal or the past in the most efficient way. The Daybook helps to record activities, hobbies, ideas, and thoughts throughout the day. The app is pretty easy to use. Thus anyone can use the app. Additionally, Daybook protects the stored data securely with the locked log, all you have to do is to encrypt the app.
Furthermore, the app has many premium features such as access to custom templates, elegant themes, access to all guided journals, and more photo uploads. Subscriptions are $4.49 per month and $29.99 per year, and a one-time purchase of $94.49 (prices may vary by country). For more detailed information, you can visit the app's website.
Diaro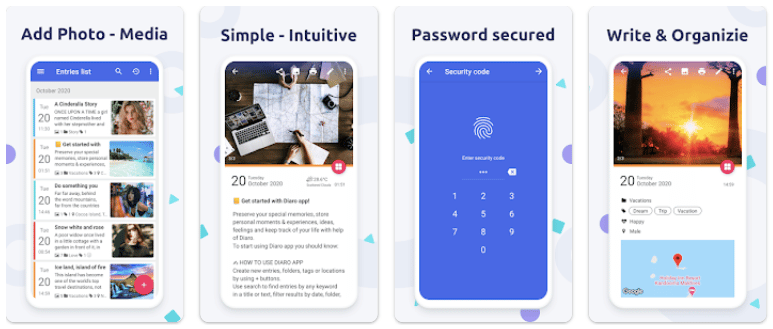 Price: Free
Diaro is a journal, diary, and mood tracking app. It is a great app to record your daily activities, activities during the day, appointments, thoughts, experiences, feelings, ideas, and secrets. If you want to ensure that no one but you can access your diary, you can Lock your log entries with a PIN, Security code, or fingerprint. Customizable with UI colors and unique themes, this app has more than 30 language options.
Additionally, the app allows you to export your diary as PDF, Docx, or Txt and print it via Diaro App or Diaro Online (PDF, DOCX, CSV & TXT).
Also, Diaro PRO membership is $5.99/year (varies by location). For more information and images, check out the app's website.