Hello to everyone from a brand new morning. I'm Maya from MMR and today we're going to be talking about a rising Android app called Remind – School Communication covering its rankings, reviews and more. If you're visiting our Hot Apps category for the first time, you can examine our previous articles first.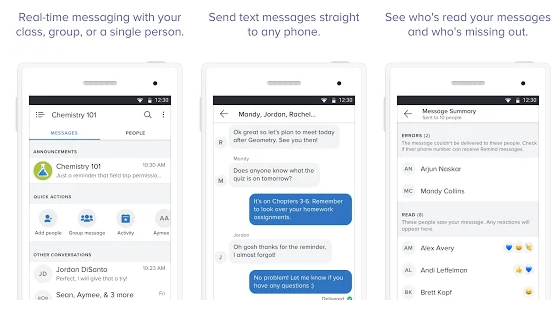 Today's best android app is currently the 3rd application in the US – School category. Let's start and learn more about this application.
What is Remind – School Communication?
Remind is a texting app aiming at ''building relationships between school, student and parents'' as CNBC says.
No matter where you are, this school app makes it very easy for you to be connected with your school community. You can easily send messages, photos, handouts and many other files to any phone using the app.
Also, language is not a problem with this trending Android app. Cause you can translate messages into over 85 languages!
More than 10 million Android users are already using the app. Now, let's see its app rankings. 
App Rankings of the Remind App
The school app is now widely used, especially in the United States.
As you can see above, Remind – School Communication is currently ranking #3 in the Education category in the United States, and 12th in the same category in Canada. 
App Reviews & Ratings of The Remind App
Of course, for an app to be this successful, having positive app ratings & reviews is a must.

By the time I'm writing this, the Remind app has a total of 170,397 app ratings and most of the reviews are quite positive. The average rating is 4.6.
System Requirements
What do you need to download this school app on your Android device? Nothing much, just a device with Android 4.4 or up and 35MB free storage! 🙂
How To Download The Remind App
Our best Android app of the day is just a click away from you. And here is the website of the developer. 
We're looking forward to your comments! Let us know your opinions or recommendations, or if you want us to examine a specific mobile app! Don't forget to visit MMR for more.