Kingdom defense, which is a very strong sub-genre among strategy games, has a serious fan base. In this list, we have brought together the best kingdom defense games for iPhone that will allow you to have fun while defending and fortifying your castle against enemy forces.
The Best Tower Defense Games for iPhone
Kingdom Rush
Clash Royale
Lords Mobile
Bloons TD 6
Plants vs. Zombies 2
Green the Planet 2
Fieldrunners 2
Realm Defense
Radiant Defense
Kingdom Rush
Developed by Ironhide Game Studio in 2011 and published by Armor Games for PC, Kingdom Rush is a castle defense game that peaked in popularity when Android and iOS versions were released in 2013. Although it has simple graphics and an easy-to-play game system, you can still meet many Kingdom Rush lovers even after years.
As you achieve success against dozens of different monsters that you will fight in turn, you gain stars and you make your castle much stronger with these stars.
---
Also Read: The 8 Best Battle Royale Games Like PUBG
---
Clash Royale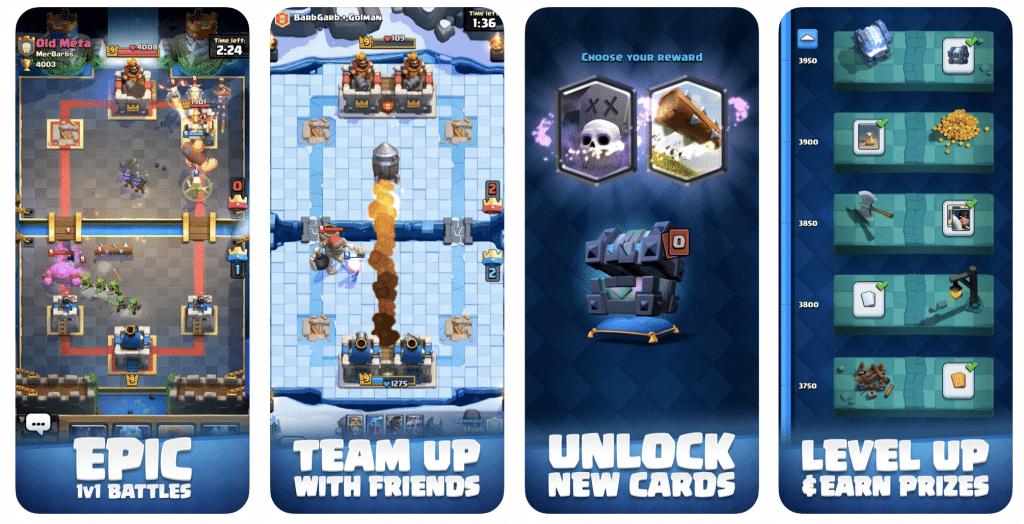 Supercell's iconic strategy game Clash Royale is one of the best tower defense games for iPhone and Android as it successfully combines tower defense elements with card and battle royale elements. 
In the popular game, you can join or create a clan with other players to share cards and battle in Clan Wars in order to earn big rewards. You can also join Global Tournaments to match against the best Clash Royale players in the world.
---
Also Read: The 14 Best Free Survival Games
---
Lords Mobile
In this popular tower defense game, you form your army by recruiting heroes from various backgrounds, from dwarves and mermaids to dark elves and steampunk robots, and try to become a true Lord to unite the fallen Kingdoms.
Bloons TD 6
Bloons TD series is one of the most creative defense games in general. Don't be fooled by the fact that the heroes or the tower are basically monkeys and the defense is against the balloons. It causes you to spend long hours at the beginning after trying it once.
---
Also Read: The 10 Best Offline Games for iPhone
---
Plants vs. Zombies 2
Amassed more than 200 million downloads, Plants vs. Zombies 2 is one of the best tower games for iOS. In the award-winning game, you are fighting a relentless fight against zombies with an army of plants.
Plants vs. Zombies 2 on the App Store
Green the Planet 2
If you are looking for a much more relaxing alternative to typical tower defense games, Green the Planet 2 is the best iOS tower defense game for you. In the game you focus on finding the best combinations of cannons, lasers and missiles to defend your planet while enjoying and relaxing with the art.
Green the Planet 2 on the App Store
Fieldrunners 2
Fieldrunners is really a game that requires you to put up a relentless defense against the hordes of soldiers pouring in on you. In terms of strategy, Fieldrunners, which comes to the fore with a little more freedom to the player, is formed by the progress of the enemies on their general maps through the towers you put.
Fieldrunners 2 on the App Store
Realm Defense
Realm Defense is a defense game where you and your heroes fight against fantastic monsters. The fact that your heroes are so important, especially with the towers you set up, makes the game more fun.
Realm Defense on the App Store
---
Also Read: The 10 Best iOS Idle Games
---
Radiant Defense
Radiant Defense is one of the best tower defense games for iOS, which is the most vivid and colorful form of defense games. Set in a neon world, Radiant Defense is a game where you defend against aliens invading you with various weapons and traps. Radiant Defense has become one of the most interesting defense games in a short time with its lively world and entertaining graphics.