While many fans have been shocked by Apex Legends Mobile's cancellation news, new data from Sensor Tower revealed a more clear picture of the reason behind Electronic Arts' decision.
EA soft launched the soon to be gone game in select countries in March last year, and released it globally two months after that. Despite being named as the best game of 2022 by both Apple and Google, the battle royale shooter title couldn't maintain the success it caught around the time of its launch, and its downloads continued to decrease until the developer's shutdown announcement.
---
Also Read: The 10 Best Battle Royale Games Like PUBG
---
''Following a strong start, the content pipeline for Apex Legends Mobile has begun to fall short of that bar for quality, quantity, and cadence. It is for this reason, after months of working with our development partner, that we have made the mutual decision to sunset our mobile game,'' the developer said in a statement last week, adding that it will be discontinued on May 1st, 2023.
Since its launch, Apex Legends Mobile has garnered around 37 million downloads worldwide, nearly one third of which happened within its first month, according to Sensor Tower. Its net bookings, meanwhile, managed to reach only $37 million.
However, Sensor Tower suggests that the game might have also been affected by the general downward trend in the shooter category, which saw a 25% Y/Y decrease in overall bookings in the fourth quarter of 2022.
But there were also shooter titles that experienced growth while EA's game was going down. According to the data, net bookings of Apex Legends Mobile had dropped by 96% around 8 months after its launch, when Activision's Call of Duty saw a 7% increase.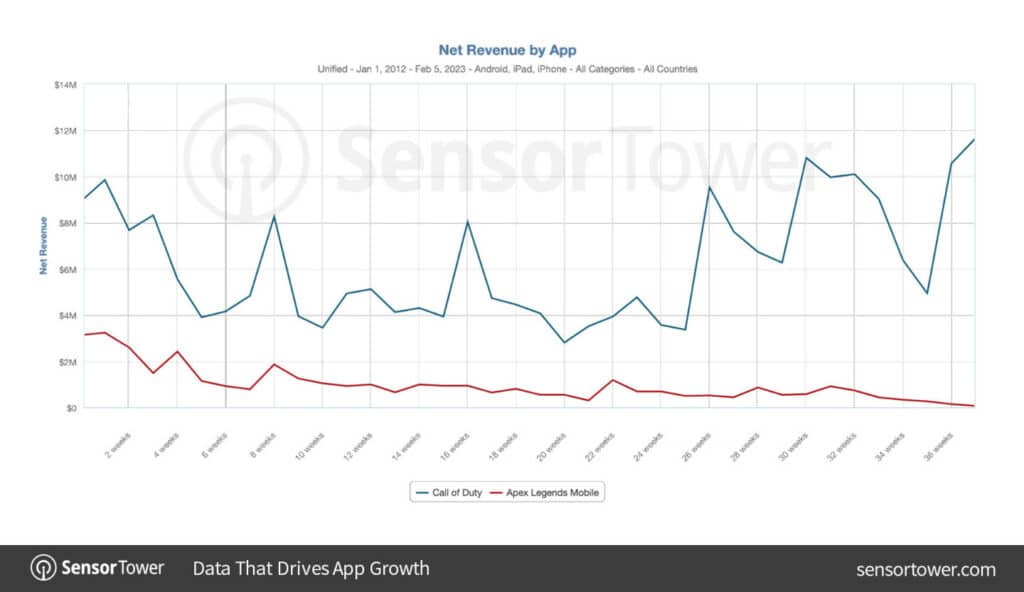 Meanwhile, Sensor Tower also revealed that some other EA titles, developed by Glu Mobile which it acquired for $2.1 billion in 2021, saw a sharp decrease in revenue too.
Per report, net bookings of Glu-made MLB Tap Baseball and Kim Kardashian: Hollywood dropped to $11 million in Q4 2022, down 64% from the second quarter of 2021, when the acquisition took place.
Two months after the Glu deal, Electronic Arts also acquired mobile game studio Playdemic for $1.4 billion.