The shopping app craze ignited during the COVID-19 pandemic continues to gain unparalleled momentum. It's not just a passing trend; it's a transformative shift in consumer behavior. In 2023, Android users alone are projected to collectively invest a staggering 50 billion hours in shopping apps. This marks a substantial 42% increase compared to the pivotal year 2020, underlining the profound changes in how consumers shop and interact with brands.
The latest comprehensive report from data.ai reveals a notable contributor to this mobile shopping revolution: companies adopting a mobile-centric approach. These businesses have effectively met consumers where they are, aligning with their preferences and habits. Retailers, supermarkets, and pharmacies have also harnessed the digital momentum, experiencing remarkable growth in their associated shopping apps.
The realm of buy-now-pay-later (BNPL) apps, though witnessing a slight dip in the first half of 2023, showcases a surge in downloads. This reflects how consumers continue to explore flexible payment options, reinforcing the staying power of app-based shopping in the post-pandemic world.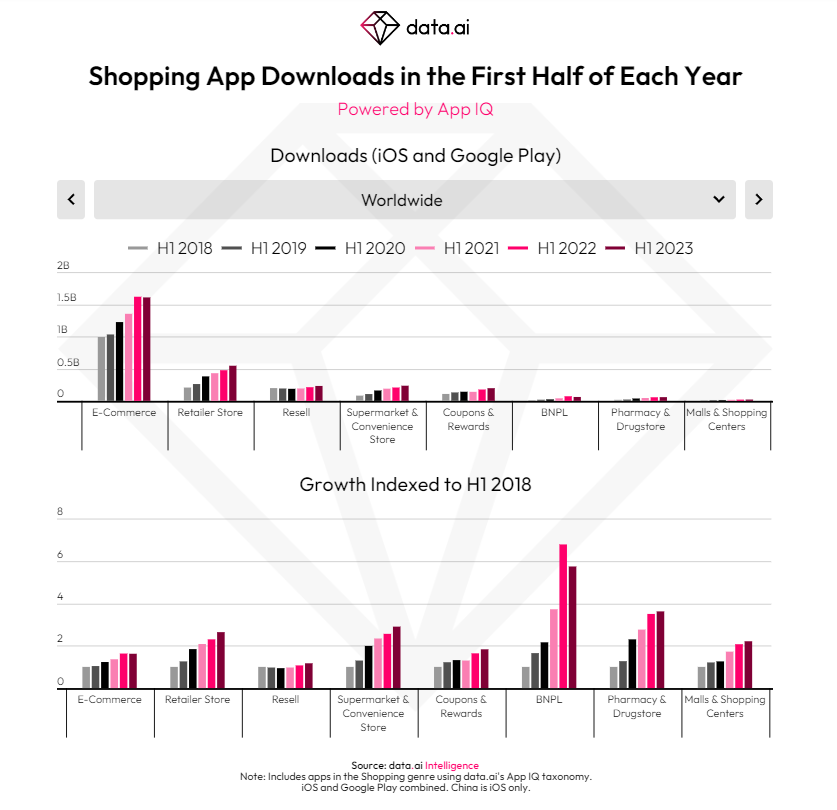 The top 10 shopping apps distinguish themselves by offering a wide array of features not found in the top 30 apps. These features include third-party payment options, curated shopping content, daily or hourly deals, flexible buy-now-pay-later options, and loyalty programs. Their unwavering dedication to optimizing these features keeps them innovative and user-centric, cementing their prominence in the mobile shopping landscape.
The report highlights significant growth in user engagement among the top 10 shopping apps, with nine of them experiencing substantial increases in global activity from H1 2022 to H1 2023. Key players in this surge include e-commerce giants SHEIN, AliExpress, and Temu. Notably, Temu has outshone the competition in 2023, surpassing even SHEIN. In August 2023, Temu secured the highest number of global downloads on both iOS and Google Play, solidifying its leadership in the mobile shopping sector.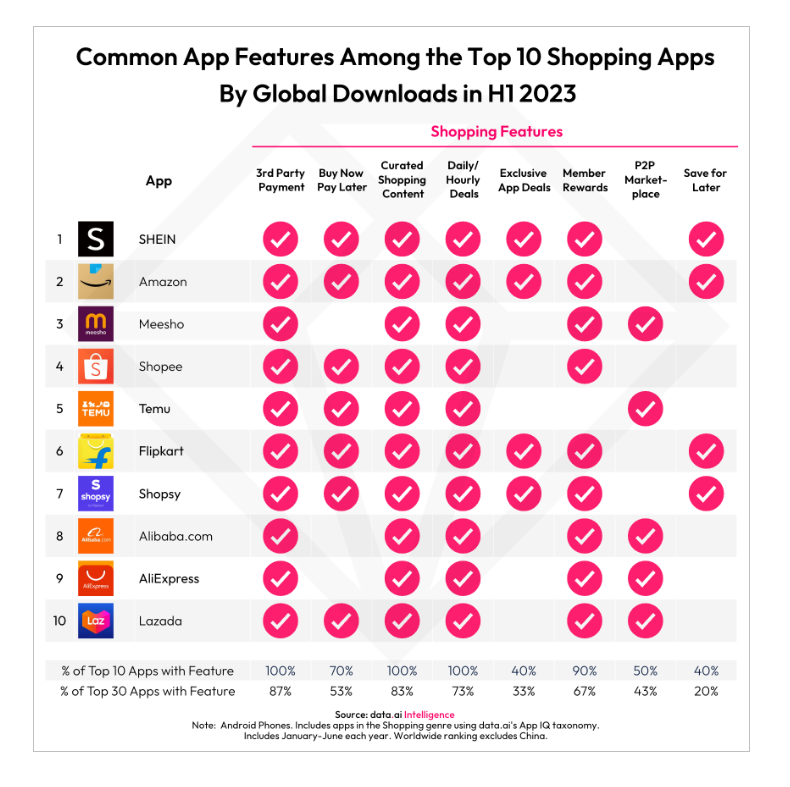 These top 10 apps have not only succeeded in attracting a vast user base but have also retained their audience for extended periods. This robust user engagement reaffirms its central role in shaping the mobile shopping industry. It underscores the dynamic and competitive nature of the market, and as consumers continue to spend billions of hours, it's clear that shopping apps are here to stay, redefining the way we shop and connect with brands.
According to a study conducted in July, during the initial four months of 2022 and 2023, there was a notable rise in consumer expenditure within subscription-based apps. Specifically, on iOS, spending increased by 35%, while on Android, it saw a 24% growth. These improvements occurred despite the mobile industry grappling with several challenges. Additionally, conversion rates from app installations to subscriptions demonstrated growth, with a 15% increase on iOS and a 20% increase on Android.