Mobile consumers are expected to spend 1 billion hours on Android shopping apps during the week of Amazon Prime Day 2021, according to App Annie. 
---
The coronavirus pandemic has skyrocketed online shopping industry as physical stores remained closed for a very long time that we're not used to and people turned to e-commerce & m-commerce platforms to meet their needs without leaving home. So much so that, digital commerce spending is expected to reach $11.6 trillion by the end of this year. 
More than 50 million people joined Amazon's Prime service alone during the closure of physical stores. As we're approaching the company's Prime Day 2021 event which will take place on June 21-22, time spent in mobile shopping apps has increased by 30% compared to the same period of the last year, App Annie reported.
According to the mobile data and analytics company, during the week of Prime Day 2021, Android users out of China are expected to spend a total of 1 billion hours on mobile shopping apps.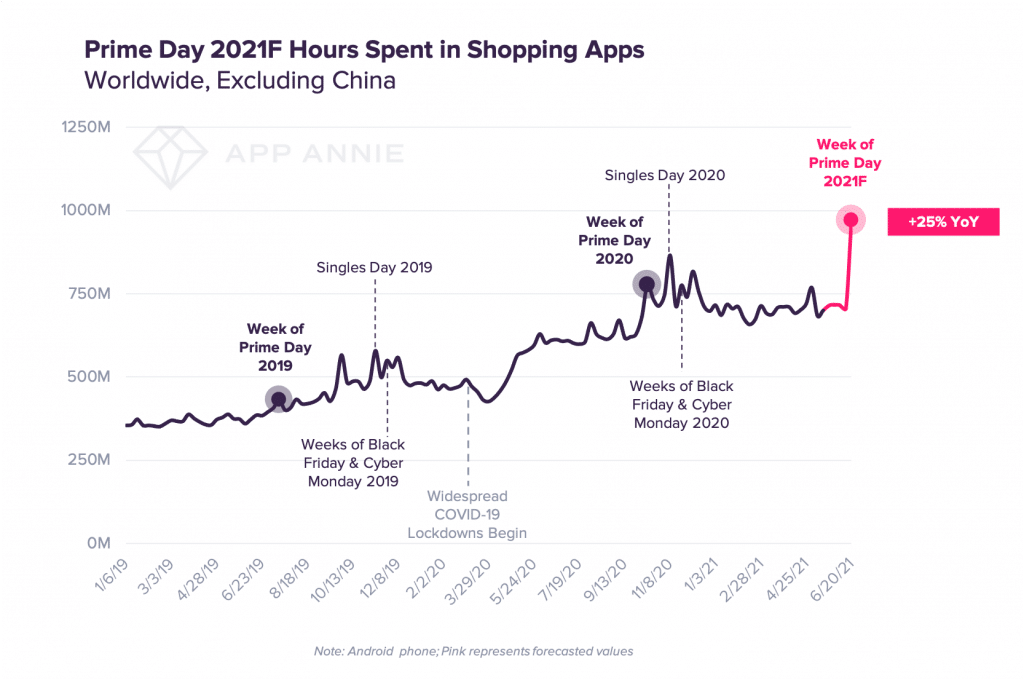 Other commerce giants including Walmart and Target, which hosted similar events before that ran concurrently with Amazon's Prime Day, are also expected to run similar events this year.
While Amazon's Prime Day is a huge traffic source for the company's own mobile app, rival apps also see a huge increase in downloads thanks to the heightened demand in promotions.
For example; during the week of Prime Day 2020, SHEIN saw a 20% week-over-week growth and became the 4th most downloaded shopping app in the United States.
At the same time, Nike saw 75% growth and ranked No.7 while Target saw 20% growth and ranked No.10.