According to the latest research of Adjust and Liftoff, shopping apps user acquisition (UA) costs significantly dropped, while user engagement rates skyrocketed.
Industry leaders Adjust & Liftoff teamed up and shed light on the current state of mobile-commerce, analyzing 123 apps, 53B ad impressions, 55M clicks, 10M clicks and 2M first-time events, between April 2019 and April 2020.
According to the report, the cost to acquire a user, who makes a first purchase decreased from $39.38 to $19.47, who registers decreased from $13.81 to $8.76, while the average CPI (cost-per-install) is down one-third from the last year.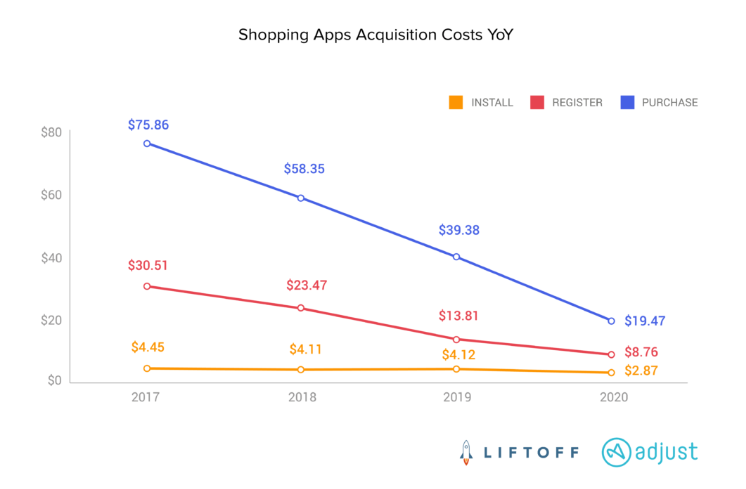 Meanwhile, install-to-purchase rate increased by 40% compared to 2019. Mobile users complete registrations in 16 minutes after downloading an app, and they make a decision to purchase within 9 hours, the research suggests.

Last year, our analysis found that the rise of sales bonanzas from retail giants like Amazon, Flipkart and Alibaba were tilling the soil for other retailers, priming mobile users to shop year-round, and this trend is only continuing.

As consumers adapt to the changing retail landscape, they're leaning on mobile more than ever. It's never been a better time to be a retail app marketer.

Mark Ellis, Liftoff Co-founder & CEO
Of course, this growth was largely driven by COVID19 lockdowns due to the increasing number of people that want to meet their needs online.
Pre-Corona, millions of people used their smartphones for shopping purposes too, but most of them were window shoppers.
Check out the 2020 Mobile Shopping Apps Report for more details.