Instagram today announced that it launches new tools in order to protect users from unwanted contact, offensive comments, and abusive messages.
In mid-March, Instagram announced that it'll ban adults from DM'ing teens under the age of 18 who don't follow them. A couple of days later, it is reported that Facebook is building an Instagram for kids under 13.
Following its update on its work to combat hate speech and abuse on February 10, Instagram now aims to protect its users from seeing abusive DMs in the first place, as well as the ability to prevent someone a user has blocked from contacting them from a new account.
DM Request Filters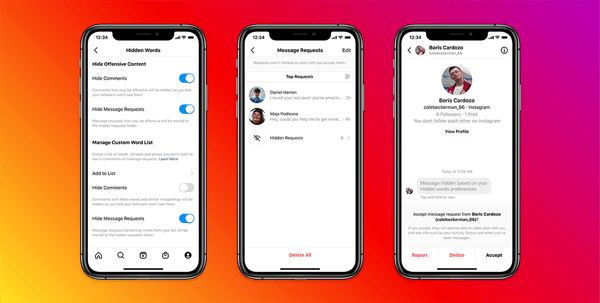 The first feature Instagram has introduced is to filter abusive DM requests containing offensive words, phrases and emojis. The feature will work like its already-have comment filters, which allow you to hide offensive comments and choose what terms you don't want people to use in comments under your posts. Users will be able to turn DM request filters on and off in a new session of Privacy Settings called Hidden Words.
Instagram said it worked with anti-bullying anti-discrimination organizations for the feature to develop a predefined list of offensive terms that will be filtered from DM requests when the feature is turned on. Users will also be able to create their own custom list of words, emojis, and phrases.
---
Also read: TikTok sued over child privacy concerns on behalf of millions of European children
---
The feature will roll out in several countries in the upcoming weeks, Instagram says. A spokesperson told Techcrunch that Instagram will roll out the feature in the UK, France, Germany, Ireland, Canada, Australia, and New Zealand before becoming available in more countries over the next few months.
Blocking someone and new accounts they may create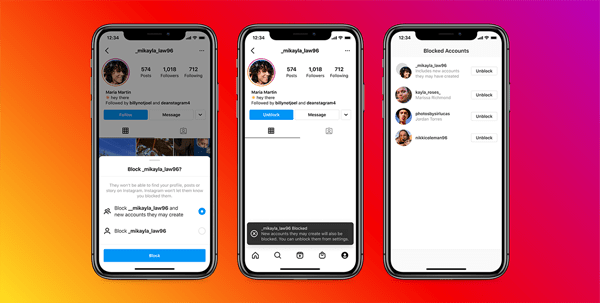 Instagram also introduced a new feature that allows users to block someone and the new accounts they may create. When a user decides to block someone, they will have an option to both block their account and preemptively block new accounts that person may create.
Instagram plans to roll out the feature globally in the next few weeks.
The spokesperson also said to Techcrunch that Facebook hopes to bring these features to other apps including Messenger and WhatsApp in the stable later this year.