Facebook has published an article on its Newsroom today and announced that it is rolling out a new update to enable Instagram and Messenger users to communicate with each other app-to-app. The new integration will bring along more than 10 Messenger-like features to Instagram including emoji reactions, watching videos together with friends and changing chat colors.
"People are communicating in private spaces now more than ever. More than a billion people already use Messenger as a place to share, hang out and express themselves with family and friends. That's why we're connecting the Messenger and Instagram experience to bring some of the best Messenger features to Instagram – so you have access to the best messaging experience, no matter which app you use."
The company said that over 100 billion messages are sent each day on Facebook's family apps. The new integration will allow users to communicate with the other users without having to download and switch to another app. It will work even if the Instagram users don't have a Facebook account or if Facebook users don't have an IG account.  
With the new Messenger-inspired features coming to Instagram soon, users will be able to watch Facebook Watch, IGTV, Reels and other videos together with their family and friends, send vanishing messages that will disappear after they're seen or when users close the chat, create boomerang stickers with a selfie, customize their chat colors, create shortcuts for their favorite emojis and send custom emoji reactions, forward content up to 5 users, reply a specific message, add animated message effects and more.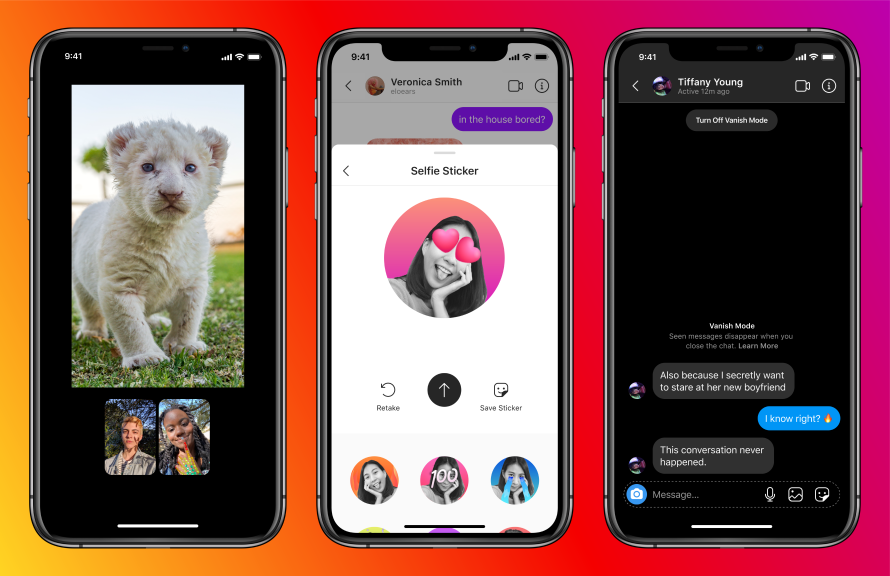 They will also be able to choose who can message them directly and who can't, report full conversations as well as single messages and receive blocking suggestions if they add their accounts in Facebook's new Account Center. 
"With this new update, you'll have choice and controls to manage your privacy, including whether message requests go to your Chats list, your Message Requests folder, or whether you receive them at all. We offer tools for people to report suspicious activity, and take action to block someone across apps to stop unwanted messages and calls when something doesn't feel right."
Facebook said it is rolling out the new integration in a few countries around the world for now and will expand it globally soon. Users in these selected countries can decide if they want to update immediately or not.