For iPhone users, free puzzle games that combine intellect and entertainment have become an essential part of the mobile gaming world. Under the title 'Free Puzzle Games for iPhone,' we are here to introduce you to the most exciting free puzzle games you can play on your iPhone and to delve into each of them in detail. These games offer a perfect opportunity to test your logical abilities, solve puzzles, and engage in some brain exercises. Get acquainted with each one, as they each provide a unique experience, and start enjoying hours of fun on your iPhone! Without further ado, here are the free puzzle games for iPhone!
Free Puzzle Games for iPhone
Flow Free
Flow Free is a delightful puzzle game for iPhone users. This free-to-play game offers over 2,500 levels in free-play mode and introduces new Puzzles every day, ensuring a continuous challenge. With ten different board sizes and various level packs, including Classic, Bonus, Bridges, Mania, Extreme, and Jumbo, Flow Free offers hours of entertainment.
Also, the game's touch controls are smooth and responsive, enhancing the overall gameplay experience. Whether you're aiming for accuracy in Free Play mode or testing your speed in Time Trial mode, Flow Free caters to both casual and competitive players. With its colorful UI and fun sound effects, it's a visually appealing and engaging choice for puzzle enthusiasts.
Two Dots
Two Dots is a captivating puzzle game that comes completely free of charge. With over 5,000 addictively fun levels, it offers an endless adventure for your brain. The game's minimalist art and soothing colors provide a smart and enjoyable puzzle-solving experience. Two Dots is suitable for players of all ages and is an excellent way for families to connect through challenging puzzles.
Moreover, the gameplay is relaxing and rewarding, allowing you to create perfect matches and connect colors at your own pace. You can play for free or opt to purchase power-ups, ensuring you collect all the fabulous rewards without ever feeling pressured to make in-game purchases.
---
Also Read: The 10 Best Block Puzzle Games for iPhone
---
Candy Crush Saga
Candy Crush Saga, the game that keeps you craving for more, offers thousands of exciting levels and puzzles in the Candy Kingdom, and it stands out among the free puzzle games for iPhone. With new levels added every two weeks, it ensures you never run out of sweet challenges. The game provides various ways to win rewards, including the Daily Booster Wheel for tasty bonuses and time-limited challenges that grant valuable boosters. Players can engage in different game modes, such as Target Score, Clear the Jelly, Collect the Ingredients, and Order Mode, adding variety to the gameplay. Whether you choose to play alone or with friends, Candy Crush Saga offers leaderboards to compare scores and compete. The game's difficulty ranges from easy to hard, making it accessible to adults of all skill levels. You can enjoy Candy Crush Saga on the go, both online and offline, and easily sync your progress across devices for a seamless gaming experience.
Candy Crush Saga on the App Store
Unblock Me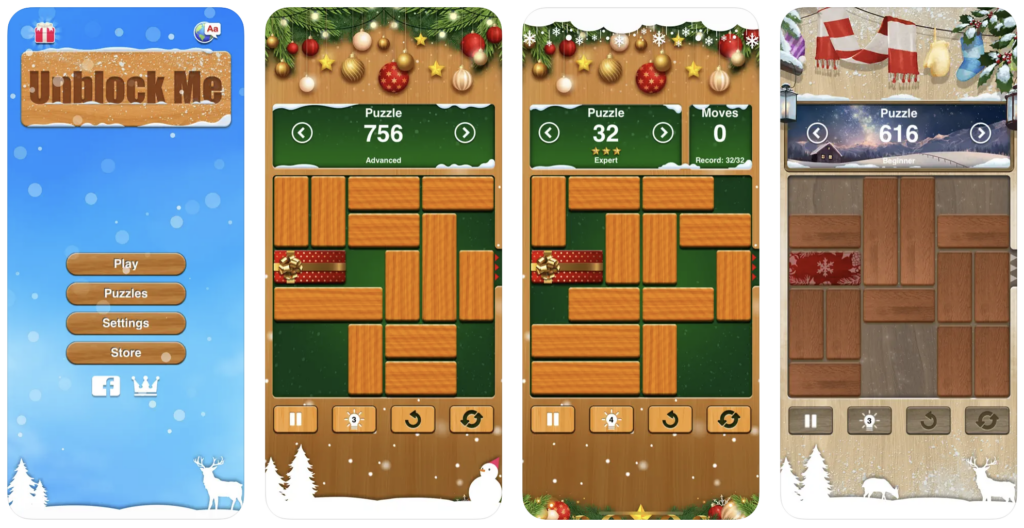 Unblock Me presents players with a variety of modes to test their puzzle-solving skills. In Relax Mode, you can enjoy a pressure-free gaming experience, perfect for unwinding. Challenge Mode challenges you to find the best solution with the fewest moves possible, while Daily Puzzle Mode offers a fresh challenge every day, featuring blocks that can't be moved and new exits. With over 18,000 puzzles, Unblock Me provides endless entertainment and caters to players of all levels.
Furthermore, the game offers easy tutorials and daily rewards in the form of free hints. Seasonal and festive themes keep the game visually appealing and engaging. Unblock Me's family-friendly nature ensures that players of all ages can enjoy its puzzles. Whether you're a casual player looking for relaxation or a competitive player aiming for efficiency, this game has something for everyone.
---
Also Read: The 15 Best Free Offline iPhone Games
---
Brain It On!
Brain It On is a deceptively challenging physics puzzle game that will put your brain to the test, and it deserves to be one of the free puzzle games for iPhone. The game features dozens of brain-busting puzzles, with new ones added regularly to keep you engaged. You can share your unique solutions and compare them with your friends, adding a competitive edge to the game.
In addition, Brain It On offers smooth touch interactions, colorful graphics, and fun sound effects that enhance the overall gaming experience. As a tiny indie developer, the game thrives on player feedback, making it a community-driven project. Whether you're a puzzle enthusiast or just looking for a fun way to exercise your brain, Brain It On offers a unique and engaging gameplay experience.
Jigsaw Puzzles Epic

Jigsaw Puzzles Epic is a puzzle lover's paradise, boasting over 10,000 beautiful, high-definition photographs across more than 250 different packs, and it stands out among the free puzzle games for iPhone. With a new free puzzle available daily and regular additions to puzzle packs, players will never run out of challenges. The game offers 11 difficulty settings, ranging up to 625 pieces, ensuring there's a suitable puzzle for everyone. What sets Jigsaw Puzzles Epic apart is its ability to create custom puzzles from your own photo collection, guaranteeing a unique experience every time.
Also, the game's puzzles feature different piece shapes with each assembly, adding an extra layer of challenge. It saves all your progress, allowing you to work on multiple puzzles simultaneously. Jigsaw Puzzles Epic also introduces goals for players to complete, providing a sense of accomplishment. The game's fully HD-optimized graphics make it visually stunning, and Game Center integration brings achievements and leaderboards to the mix. If you're a fan of jigsaw puzzles, this app is a must-have for your iPhone.
Jigsaw Puzzles Epic on the App Store
---
Also Read: 14 Upcoming iOS Games
---
Block! Hexa Puzzle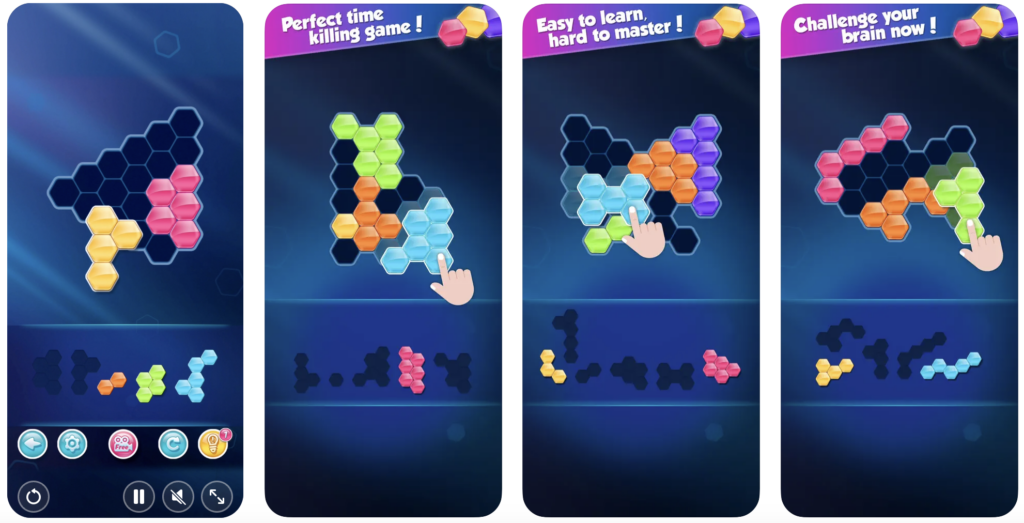 Block! Hexa Puzzle is a simple yet addictive block puzzle game that offers hours of fun. The objective is straightforward: drag the blocks to fit them all into the frame without the ability to rotate them. With over 300 unique puzzles of varying difficulties, the game provides a wide range of challenges to suit different players. Its easy-to-learn gameplay is complemented by stunning graphics and soothing sound effects, creating an enjoyable gaming experience. Block! Hexa Puzzle is designed for players of all ages and can be played offline, making it a perfect choice for on-the-go entertainment. The game's support for universal apps means you can enjoy it on various devices, ensuring flexibility and convenience. If you're seeking a relaxing yet stimulating puzzle game, Block! Hexa Puzzle is an excellent choice.
Block! Hexa Puzzle™ on the App Store
Water Sort Puzzle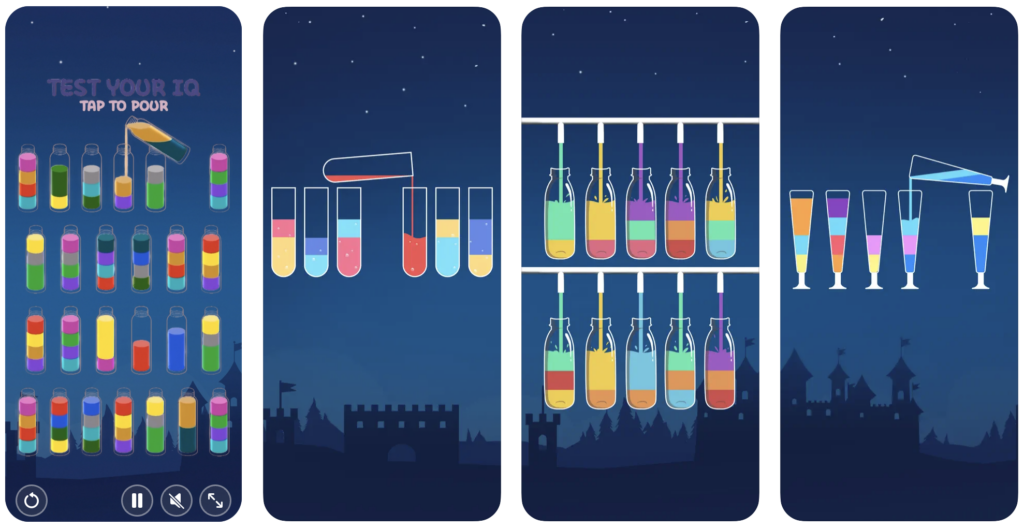 Water Sort Puzzle is a delightful and addictive brain-teaser that challenges players to sort colored water into glasses until all the colors are separated. The gameplay is easy to grasp: tap any glass to pour water into another, following specific rules. You can only pour water if it matches the color and there's enough space in the target glass.
Besides, the game's one-finger control and multiple unique levels provide a straightforward yet entertaining experience. There are no penalties or time limits, allowing you to enjoy it at your own pace. With multiple levels and the freedom to restart anytime, Water Sort Puzzle offers a relaxing way to exercise your brain. It's a terrific choice for casual gamers looking for a fun and satisfying puzzle experience.
Water Sort Puzzle on the App Store
---
Also Read: The 10 Best Pool Games for iPhone
---
Fishdom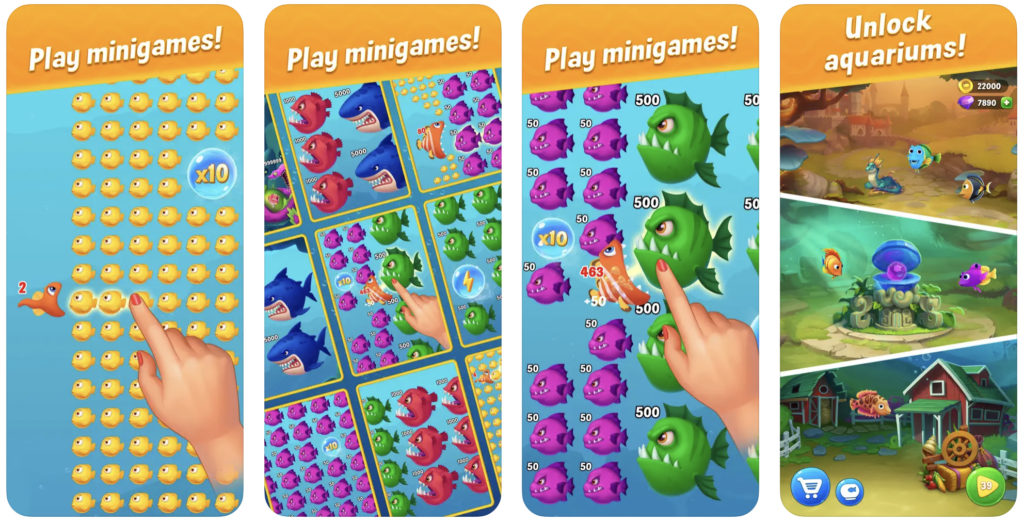 Fishdom invites players to dive into an underwater world of match-3 fun. Engage in challenging and entertaining match-3 gameplay with unique twists as you decorate fish tanks and create cozy homes for your fish. The game boasts hundreds of levels, each offering a blend of puzzle-solving and creativity. Players can explore an exciting aquatic world populated by charming 3D fish, each with its own personality. Customize your fish tanks with stunning underwater decor, enhancing their visual appeal. Fishdom offers amazing graphics optimized for Retina devices, ensuring a visually stunning experience. Additionally, you can connect with your Facebook friends, adding a social element to the game. Dive into the world of Fishdom and embark on a delightful journey of match-3 puzzles and fish care.
Gardenscapes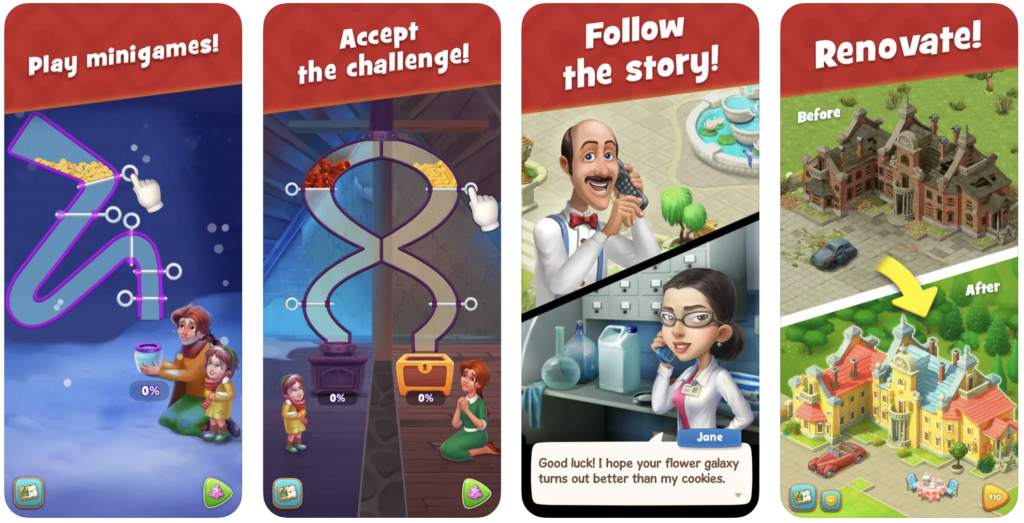 Gardenscapes invites players on an adventurous journey where they can beat match-3 levels, restore and decorate different areas within a garden, uncover its secrets, and interact with amusing in-game characters, including Austin, your butler. The game features a unique blend of match-3 gameplay, garden decoration, and a captivating storyline, creating an all-in-one gaming experience. With hundreds of unique match-3 levels, players can enjoy challenging puzzles while gradually transforming the garden. The game introduces a lovely pet to keep you company and a social network to stay updated on the latest events. Each area of the garden features unique structures to restore, from broken fountains to mysterious mazes. Gardenscapes is considered one of the free puzzle games for iPhone.
---
Also Read: The 18 Best Racing Games for iOS
---
Where's My Water? 2
Where's My Water? 2 offers players an exciting adventure with Swampy, Allie, Cranky, and Mystery Duck in the Gator universe. The game features over 100 levels and challenges with a refreshed look and promising hours of fun. Challenge Modes introduce new ways to replay levels explosively, including the fast-paced 'Duck Rush' levels. The game's unique mechanics are tailored to each character, providing diverse gameplay experiences.
Also, players can earn themed duckies as rewards, from gladiator duckies to astronaut duckies, adding a delightful touch to the game. If you ever find yourself stuck on a level, hints are available to help you solve the puzzles. Where's My Water? 2 combines creativity and problem-solving, making it a must-play for fans of physics-based puzzle games.
Where's My Water? 2 on the App Store
Zuzu Binary Puzzle Game
Price: Free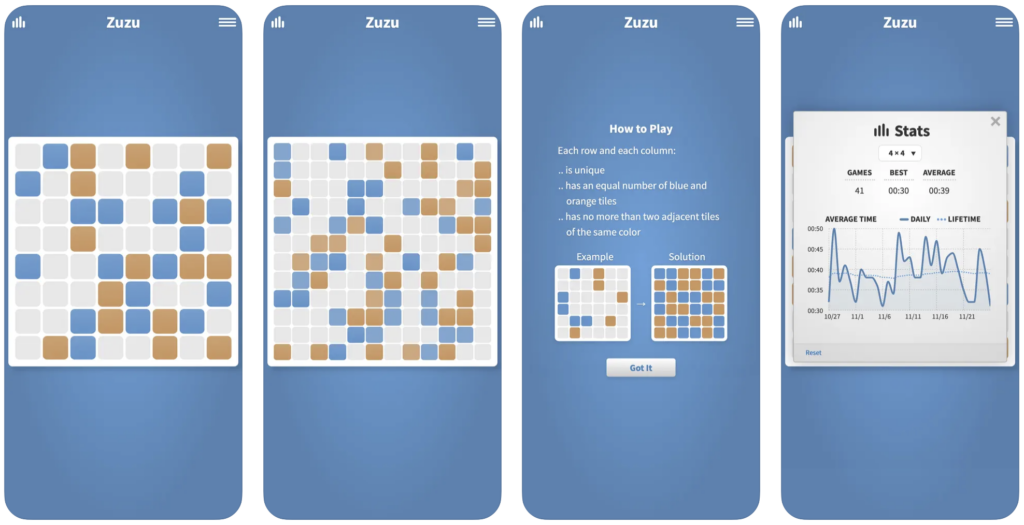 Zuzu is a captivating binary puzzle game that challenges players to fill in the board using logical determination, much like Sudoku. The game employs two tile colors, orange (0) and blue (1), in a grid that must adhere to specific rules. Each row and column must be unique, have an equal number of red and blue tiles, and contain no more than two adjacent tiles of the same color. Zuzu offers strategies of varying complexity to solve its binary puzzles, ensuring a diverse gameplay experience. The game provides a "How to Play" section with video tutorials outlining successful problem-solving strategies, making it accessible to both beginners and seasoned puzzle enthusiasts. With stat tracking, you can monitor your best and average solve times over time. Zuzu offers flexibility, allowing you to enjoy it online or offline, making it an excellent choice for puzzle aficionados.
Zuzu · Binary Puzzle Game on the App Store