CapCut, ByteDance's video editing app, has achieved something remarkable. As of September 11, 2023, it has crossed the $100 million mark in user spending on both iOS and Google Play, according to data.ai. CapCut was first launched in China in 2019, and it has been on a global rise, thanks in part to its famous sibling app, TikTok. In August 2023, CapCut had a massive user base of 490 million people, which is nearly a quarter of TikTok's 2.1 billion users.
While CapCut has been popular in China, the United States, and Southeast Asia, the first half of 2023 saw a significant increase in downloads in new regions. In the UK, downloads surged by 51%, Germany by 25%, Egypt by a staggering 99%, Saudi Arabia by 29%, Mexico by 98%, and Brazil by 27% compared to the first half of 2022. The top three markets for CapCut downloads in the first half of 2023 were China, Indonesia, and Brazil. The US, Bangladesh, and China had the highest growth rates in downloads, with increases of 67%, 73%, and 31%, respectively, compared to the second half of 2022.
CapCut's success goes beyond downloads. It earned the title of the most profitable video editing app in the global Photo & Video category in the first half of 2023, bringing in a whopping $50 million in user spending. This represents a remarkable 180% increase compared to the second half of 2022. This trend highlights the growing trend of mobile-based video editing and consumption, with users willing to invest in these services. Other video editing apps like Splice and GoPro Quik also experienced revenue growth during this period.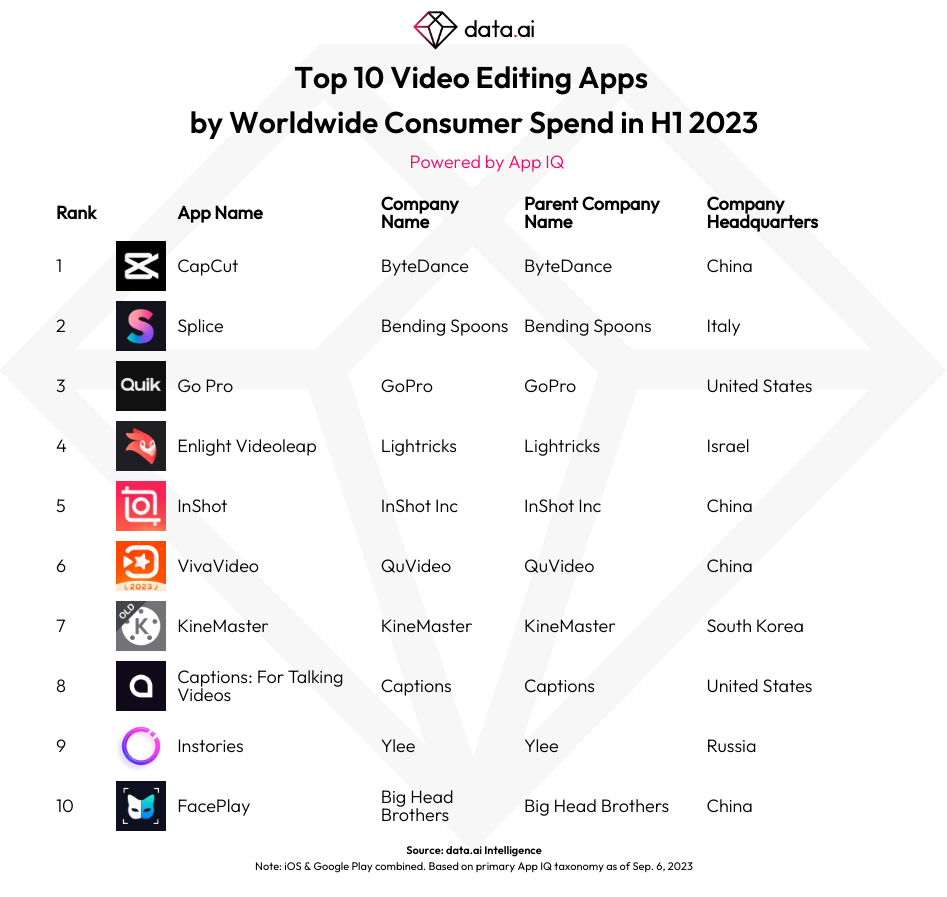 Subscriptions played a crucial role in CapCut's monetization strategy. According to data from data.ai's In-App Purchase (IAP) Behavior, the "One-year PRO" annual subscription, priced at $74.99, was the most profitable option for CapCut on the US iOS App Store in the first half of 2023, making up nearly 34% of total user spending. The "Monthly Subscription" at $7.99 accounted for 26% of total user spending. Opting for an annual subscription suggests that many users see significant value in the premium features and plan to use the service for at least a year.
In terms of global consumer spending in the Photo & Video genre during the first half of 2023, CapCut secured the fourth position. It followed FaceApp, Facetune Editor, and PicsArt Photo & Video Editor.
CapCut's rapid rise was fueled by its early adoption of Artificial Intelligence (AI) in its offerings, including templates, effects, and filters. After introducing generative AI templates and effects in its iOS app in April 2023, CapCut experienced a surge in downloads and sustained revenue growth. ByteDance, CapCut's parent company, also introduced a CapCut plugin for ChatGPT users, enhancing the creation of polished video content through AI technology.
One key factor contributing to CapCut's success is its seamless integration with TikTok, one of the world's most popular social media platforms. Users can easily log in to CapCut using their TikTok accounts and effortlessly share their creative content on TikTok and other social media platforms. According to data.ai Intelligence, TikTok has a strong connection with CapCut, with 62% of users using both apps, surpassing Snapchat by 15 points and Instagram by 19 points.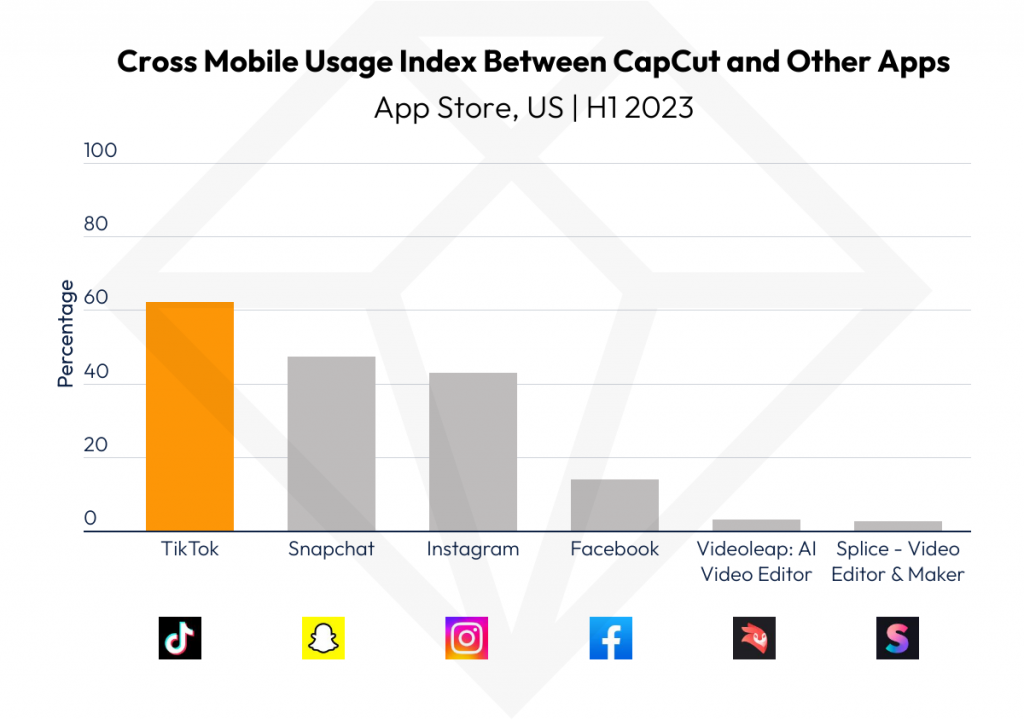 In addition, a recent report shows that Instagram is the top choice among content creators while TikTok gains more popularity.