Are you a teacher looking for the best iPad apps to enhance your teaching experience? If your answer is yes, you're at the right place! In this article, we covered the handy iPad apps specifically designed for educators. From interactive learning tools to productivity enhancers, these apps are guaranteed to make your teaching journey smoother and more effective. So, without further ado, here are the best iPad apps for teachers.
ClassDojo
Price: Free/In-App Purchase: Up to $71.99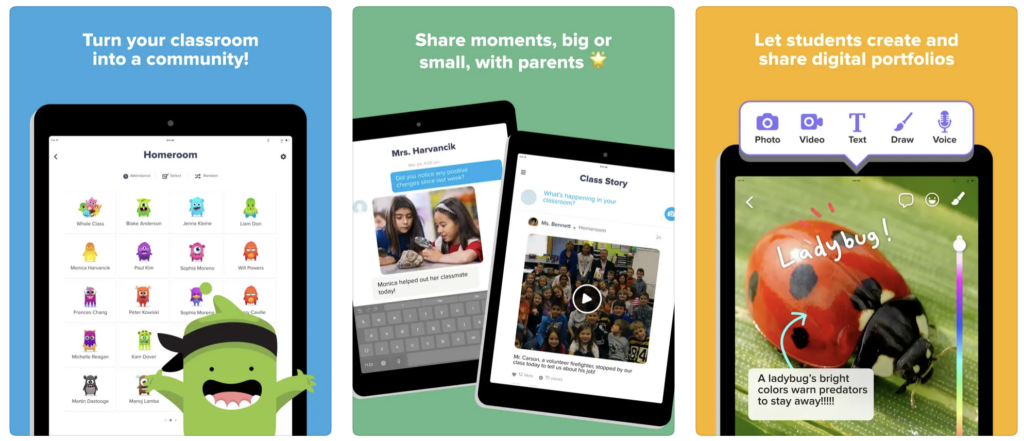 ClassDojo is one of the best iPad apps for teachers, empowering them to build an amazing classroom community. This beautiful and user-friendly communication app fosters a positive classroom culture by encouraging students and facilitating seamless communication with parents. With ClassDojo, teachers can easily acknowledge and motivate students for their skills and achievements, be it "Working hard" or "Teamwork." Also, they can involve parents in the classroom experience by sharing updates, photos, videos, and announcements, creating a collaborative environment. The app also provides a secure messaging feature, enabling instant communication between teachers and parents. Trusted by educators, parents, and students in over 180 countries, ClassDojo is a free, versatile app compatible with various devices, including iPhones, iPads, tablets, phones, and smartboards. Visit ClassDojo's website for more information.
Groovy Grader
Price: Free/In-App Purchase: $4.99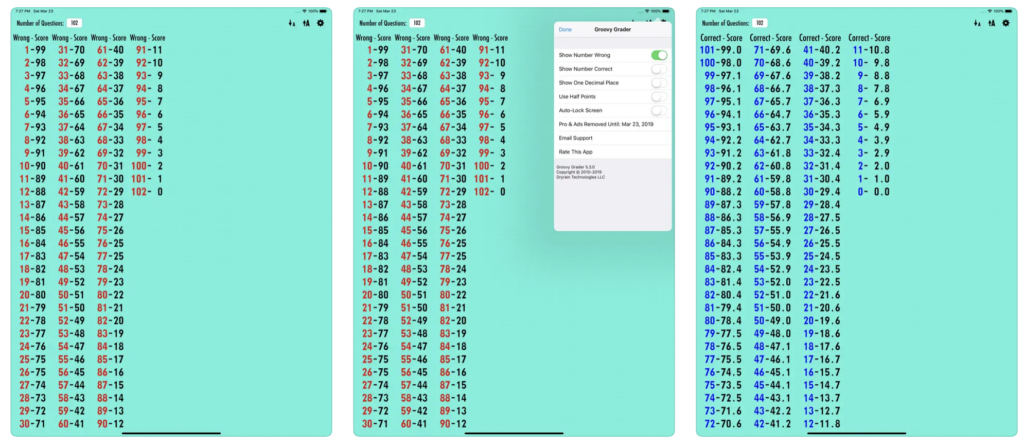 Groovy Grader is a convenient and flexible iPad app that simplifies the grading process in a classroom. This app, which can adapt to hundreds of questions and display grades as whole numbers or decimals, is an ideal choice for teachers. Unlike other apps, Groovy Grader allows you to view 50 or more grades on the same screen and disable the auto-dimming feature. Optimized for iOS 12, Groovy Grader delivers excellent performance on iPhones, iPods, and iPads. Teachers can streamline the grading process in their classrooms with the app.
Groovy Grader on the App Store
---
Also Read: The 7 Best Apps for Teachers
---
Brightwheel: Child Care App
Price: Free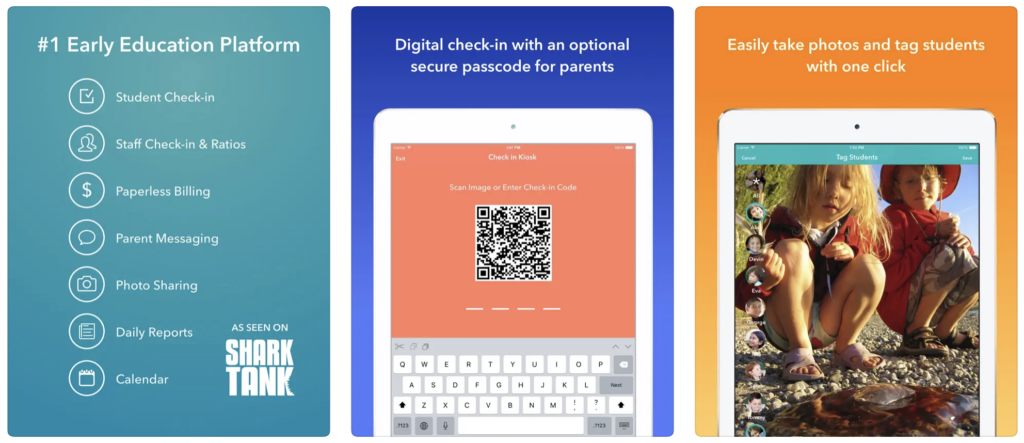 Brightwheel is the ultimate solution for preschools, childcare providers, camps, and after-school programs. It combines all the essential features in one app, including sign-in/out, messaging, learning assessments, daily reports, photos, videos, calendars, scheduling, attendance, and online bill payment for parents. With Brightwheel, teachers can efficiently manage their centers, streamline workflows, and engage with parents, saving time, reducing costs, and increasing parent satisfaction. This all-in-one preschool and child care management app has garnered the love of tens of thousands of centers worldwide. Experience the power of Brightwheel and revolutionize your childcare operations. Brightwheel is among the best iPad apps for teachers, delivering convenience, efficiency, and exceptional functionality for the modern classroom. To learn more about the app, go to Brightwheel's website.
Brightwheel: Child Care App on the App Store
Canvas Teacher
Price: Free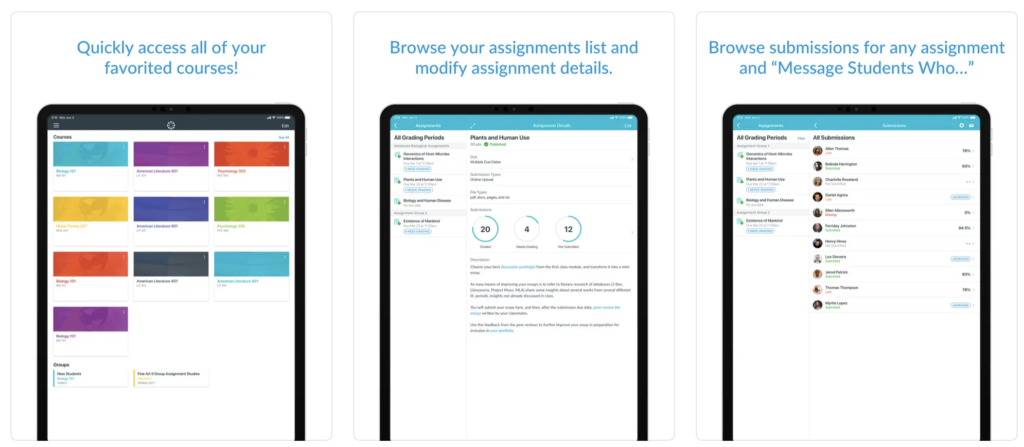 Canvas Teacher is an excellent time-saving tool for teachers. As time is a teacher's most valuable resource, this app allows educators to efficiently use Canvas from their mobile devices. With Canvas Teacher, teachers can seamlessly manage their courses both inside and outside the classroom. The app offers quick access to essential course facilitation tasks, making it easier than ever to grade student submissions and provide feedback through the improved mobile SpeedGrader feature. Additionally, teachers can effortlessly communicate with students through announcements, messages, and course discussions, all conveniently accessible from the palm of their hand. Canvas Teacher also empowers teachers to make updates to course content, such as changing due dates, publishing assignments, or fixing errors. As the best iPad app for teachers, Canvas Teacher serves as the perfect companion for course facilitation, ensuring educators can optimize their time and enhance their teaching experience.
Canvas Teacher on the App Store
---
Also Read: The 6 Best Educational Apps
---
ZipGrade
Price: Free/In-App Purchase: Up to $6.99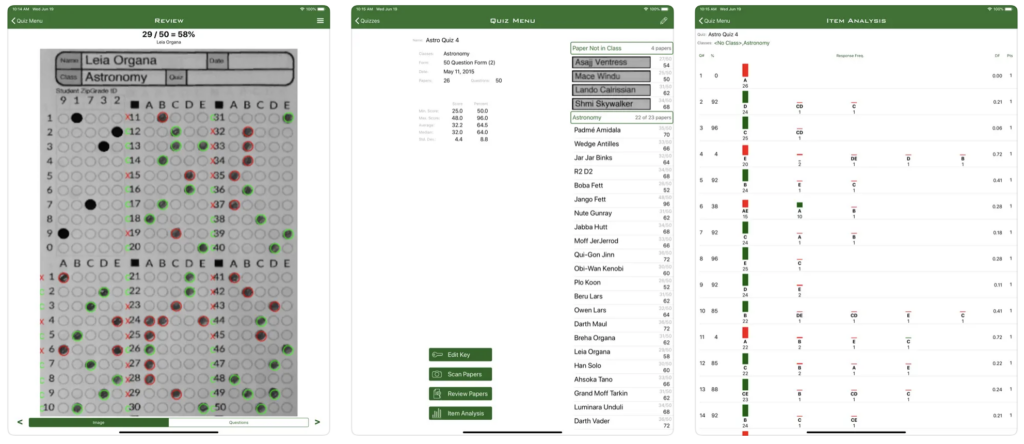 ZipGrade is a powerful iPad app that allows teachers to grade multiple-choice tests instantly using their device's camera. With free answer sheets and comprehensive reporting features, the app simplifies the grading process and provides valuable feedback. The app supports student ID numbers or written names for reporting purposes and offers a companion website for data management and analysis. ZipGrade is perfect for exit tickets, formative assessments, and regular quizzes, helping teachers focus their lessons effectively. The app is available for free with limited scans per month, and users can unlock unlimited scanning through a one-time in-app purchase. ZipGrade is a must-have tool for teachers seeking convenience, accuracy, and efficiency in grading. Check out ZipGrade's website for more detailed information.
TeacherKit Classroom Manager
Price: Free/In-App Purchase: Up to $39.99
TeacherKit Classroom Manager stands out among the best iPad apps for teachers. It streamlines tasks like grade book management, attendance tracking, behavior monitoring, and progress reporting. With an intuitive interface, teachers can easily navigate through functions and generate real-time visualizations for individual students and entire classes.
Moreover, the app features student profiles for seamless communication with parents and offers a premium version for detailed progress reports. Key features include class organization, timetable management, behavior notes, customizable grading, and parent communication. TeacherKit is available for free with essential features, while the premium version offers enhanced capabilities. To learn more, browse TeacherKit Classroom Manager's website.
TeacherKit Classroom Manager on the App Store
---
Also Read: The 7 Best Geography Apps
---
Seesaw
Price: Free/In-App Purchase: $12.99
Seesaw is a game-changing educational resource that allows students to showcase their creativity and growth. The app offers multimodal tools for engagement, such as video, audio, and drawing. Students can create class journals and gradually take ownership of their learning. For families, Seesaw enables easy communication with teachers, providing insights into their child's progress and the ability to view and comment on their work. Teachers benefit from lesson design, a vast library of ready-to-teach activities, effective communication, and progress monitoring features. Administrators can align resources, make announcements, and access data. Seesaw is a highly acclaimed iPad app for teachers that fosters meaningful learning communities. Go to Seesaw's website for more information.
iStudiez Pro Legendary Planner
Price: Free/In-App Purchase: Up to $9.99
iStudiez Pro Legendary Planner is a terrific app among the best iPad apps for teachers. With a built-in planner, you can easily manage various types of schedules and customize details like instructors' information and holiday periods. The app's dedicated homework section allows you to track assignments by date, course, priority, and completion status. The real-time Today view keeps you updated on your current schedule, including online classes, assignments, and past classes. Integration with third-party calendars and the ability to share your schedule with others adds convenience. Additionally, iStudiez Pro offers grade and GPA tracking, and exam preparation alerts, and even supports Apple Watch for on-the-go access.
iStudiez Pro Legendary Planner on the App Store
---
Also Read: The 12 Best Apps for Students
---
Kahoot
Price: Free/In-App Purchase: Up to $35.99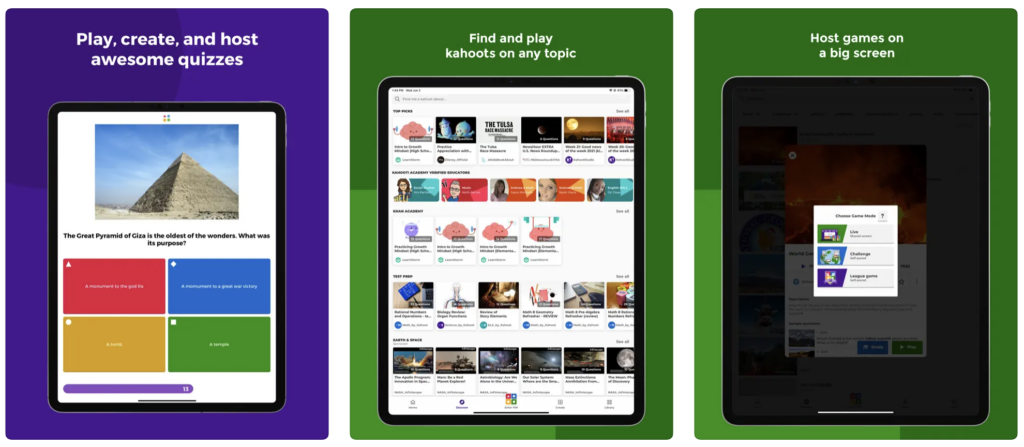 Kahoot is an innovative app that brings interactive quiz-based games to the world of learning. The app offers a wide range of features for students, teachers, families, and even company employees. With Kahoot, students can participate in live quizzes, complete self-paced activities, and study on the go with flashcards. Teachers can access millions of ready-to-play kahoots, create engaging quizzes, and assess learning outcomes through reports. Families and friends can also join in the fun by hosting live Kahoot sessions and challenging each other. The app offers premium features for advanced customization and access to an extensive image library. Visit Kahoot's website for more information about the app.