One of the most popular social media trends of recent times is Autonomous Sensory Meridian Response, aka ASMR. It is so popular that there are millions of ASMR videos on social media platforms, especially on Youtube. You might be wondering why are these videos so trending? Well, ASMR videos are famous for giving a sense of relaxation usually with tingling. The mobile app we will introduce you today promises to give you the same feeling via a game.

Let's get started and review the best iOS game of the day: ASMR Slicing.
What is ASMR Slicing – Knife Cutting Kinetic Sand?
If you're following Mobile Marketing News, you know that people who stay at home due to COVID-19 are now using mobile apps more than ever, and these days, one of the favourite games of iOS users is ASMR Slicing, developed by Crazy Labs.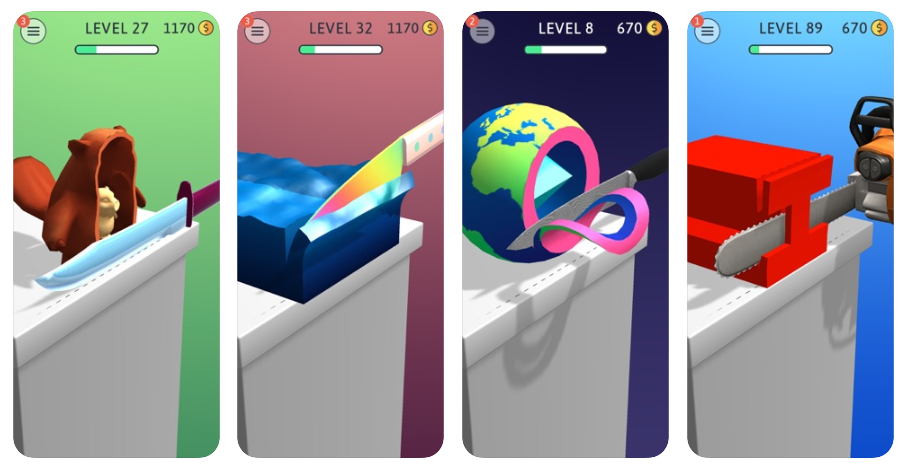 ASMR, the reason for the rise of Mukbang videos, managed to attract the attention of users in a very short time thanks to the relaxation feeling it gives. As we mentioned above, this app promises to give you the same feeling, but in a different way.
There are different forms of objects in the game and you can cut these objects with different tools such as knives and chainsaws. While you are doing these, relaxing sounds accompany you. Seems interesting, right?
App Store – Top Rankings
Let's take a look at the top rankings of ASMR Slicing.
The game app is currently very trending in the United States and Brazil. Its rankings for these countries are as follows:

Meanwhile, it is the top mobile game worldwide for May 2020 according to SensorTower. Last month, it was installed for 36.5 million times in total. 12% of these downloads were in the USA while 9.6% were in Brazil.
User Reviews
The ASMR game owned by Crazy Labs currently has 135K app ratings.

The average is 4.6 out of 5 which clearly shows us that most iOS users who downloaded it, loved it.
App Requirements
You can play the ASMR Slicing game on your devices with iOS 10 or above, for free. The app size of the latest versions (1.4.1) is 181.1 MB.
When we first reviewed this app in April, it only supported English. But now, it also supports Chinese, Traditional Chinese, German, Russian, Turkish, Italian, French, Korean, Japanese, Portuguese and Spanish.
Download On The App Store
Click here to download the free ASMR Slicing game directly from the App Store. 
If you want to learn more and take a look at the other applications of Crazy Labs, you can click here.
Have you ever played it before? Share your experiences with us by leaving a comment below.
If you want us to promote your Android or iOS app and grow your audience, contact us.