Hello! I'm Maya. We keep reviewing the most trending apps on the Google Play Store & App Store and introducing them to you. Today's guest is going to be one of the best iOS shopping apps helping users to know where their deliveries are: Arrive – Package Tracker.
In this blog post, we're going to be talking about what the Arrive app is, its user reviews, App Store rankings and more. 
Let's start!
What is Arrive – Package Tracker?
In the past, we had to go to stores to buy something. But thanks to online shopping, we can now meet all our needs from home. Especially in these days when we shouldn't go out and stay home, online shopping is one of our biggest helpers.
But when we get something on the internet, we may have some concerns about the transfer process. Our deliveries are sometimes delayed for days or even weeks, and we, as customers, want to know where they are. Arrive – Package Tracker makes this much easier.
The Arrive app, developed by Shopify, allows you to track your deliveries and know where they are.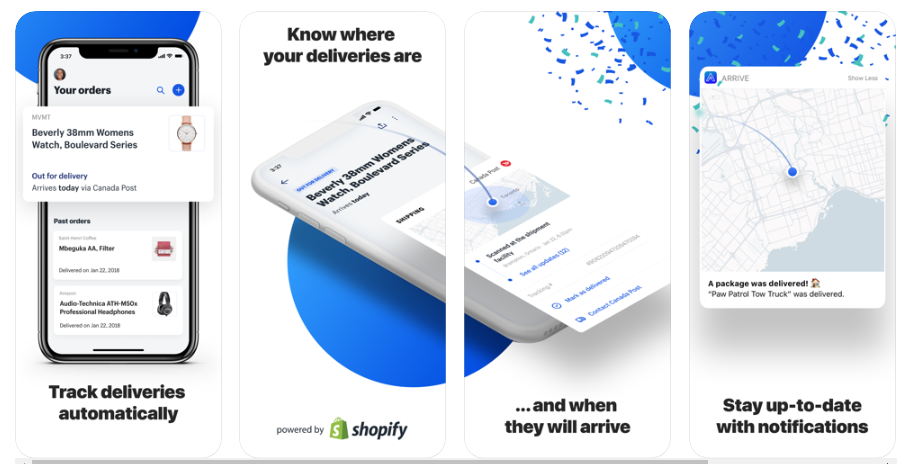 What companies use Arrive?
Using the Arrive app, you can track your deliveries from many retailers such as Nike, Kylie, Apple, Wallmart, eBay, Fashion Nova, Adidas, H&M, Sephora, Disney, Zara, MAC and more!
And the service supports more than 600 carriers such as UPS, Amazon, USPUS, FedEx, Canada Post and DHL.
Is the Arrive app free?
Yes, the iOS and Android versions of Arrive – Package Tracker are both free.
App Store Rankings

As of April 17, it is;
#1 shopping app in Australia and Canada,
#2 shopping app in the United States.
As you can see above, there is an increase in the rankings starting from the middle of March. This may be related to the current lockdowns in many countries due to the Coronavirus pandemic.
User Reviews
Currently, Arrive – Package Tracker has 415.2K ratings. Its average rating is 4.8.

App Requirements
To download the best iOS shopping app of the day, you need iOS 10.3 or above.
Make sure you have 94.5 MB free storage.
Get It From App Store
You can click here to download the Arrive app from the App Store.
If you'd like to get further info, check out tryarrive.com
We're waiting for your comments!
Do you want us to promote your mobile app? Click here.