Tech giant Apple announced on Tuesday that it has updated its App Store pricing capabilities introducing 700 new price points and tools so that app developers can manage their pricing in an easier way.
With the addition of the new tiers, of which the prices range from $0.29 to $10,000, developers will now be able to choose from a total of 900 price points, which marks an approximately tenfold increase over the number of tiers previously accessible for the majority of apps.
''This includes 600 new price points to choose from, with an additional 100 higher price points available upon request,'' the iPhone-maker said in its announcement. ''To provide developers around the world with even more flexibility, price points — which will start as low as $0.29 and, upon request, go up to $10,000 — will offer an enhanced selection of price points, increasing incrementally across price ranges (for example, every $0.10 up to $10; every $0.50 between $10 and $50; etc.).''
Below you can find the App Store price flexibility chart for the USD markets.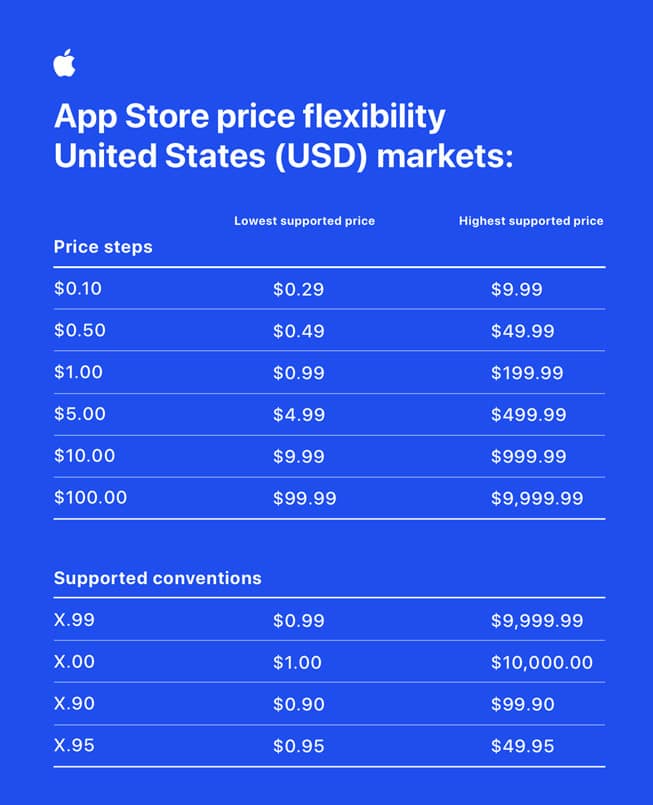 Developers of apps that offer auto-renewed subscriptions are now able to use the upgraded price points, however, they will be available for all the other apps and in-app purchases in the spring of 2023.
The announcement comes at a time Apple is, once again, coming under fire for its App Store policies. Last week, Twitter's new CEO Elon Musk took aim at the company's 30% in-app purchase fee, saying: ''Did you know Apple puts a secret 30% tax on everything you buy through their App Store?''
He also said that Apple mostly stopped advertising on Twitter and threatened to withhold its app from the App Store. However, after having a meeting with Tim Cook at Apple Park, he revealed that the iPhone-maker fully resumed advertising on the social media platform, and that the removal was just a misunderstanding.