Zynga reported its second quarter financial results recently, beating expectations with 59% year-over-year revenue growth to $720 million and bookings of $712 million, an increase of 37% year-over-year.
The San-Francisco based company also reported an all-time best advertising revenue and bookings performance of $133 million, up 110% and 111% year-over-year, respectively.
In the Q2 earnings call, Zynga noted that adoption of Apple's privacy changes resulted in a higher cost to acquire new players.
"Toward the end of Q2, as communities began to reopen and reduce their COVID-19 restrictions, we saw softness in our bookings primarily driven by declines in player cohorts who installed our games in the early part of 2021. At the same time, the adoption of Apple's privacy changes resulted in a higher cost to acquire our players. In response, we scaled back our UA spend to maintain target returns, resulting in fewer players installing our games during this period." said Zynga CEO Frank Gibeau.
According to a recent analysis, global cost per click (CPC) and cost per mille (CPM) prices keep going up largely due to data privacy changes and Apple's iOS 14.5 update which brought new rules to the game.
"We saw a reduction in audience from the great reopening. We were also not aggressively acquiring new players because we didn't think it was the right thing to do at that time. So that put a little bit of a softening on our revenue run rates for the second half. As a result, what we've done is we've taken the top line bookings number down 3%." Gibeau said.
Per an Apptopia report. , weekly downloads and in-app purchase revenues of iOS games remained almost unchanged when the IDFA adoption surpassed 70%.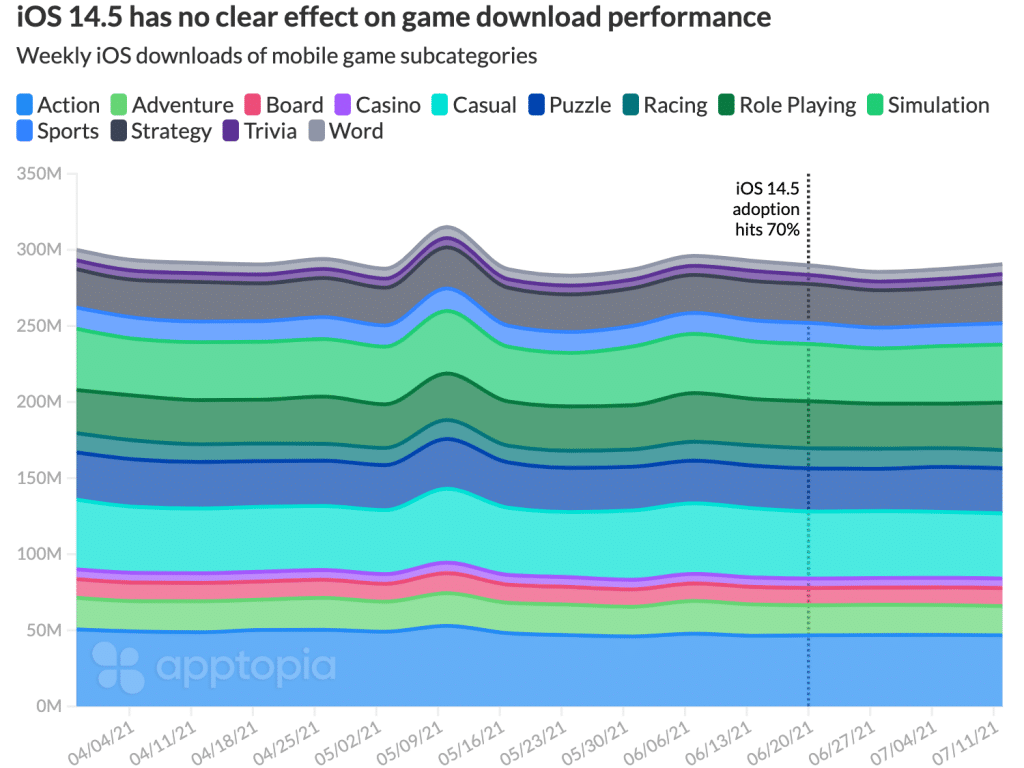 Zynga also noted that Apple's privacy changes made the company more cautious about its forecasts for Q3. In the third quarter, the company expects $665 million in revenue, up 32% year-over-year, with bookings of $660 million, up 5% year-over-year.
"From an advertising perspective, given that the broader adoption of Apple's privacy changes occurred toward the end of June, we expect the short-term pressure on advertising revenue and bookings to be more pronounced in Q3 than in Q2."
Zynga closed the acquisition of mobile ad and monetization platform Chartboost in August. The company said it does not expect Chartboost to be a material revenue and bookings contributor to Zynga in 2021, but expect it to unlock more meaningful growth opportunities and margin expansion synergies in 2022 and beyond.
So far in 2021, Zynga acquired Torchlight III maker Echtra Games, Uncosoft, StarLark, and the mobile golf title Golf Rival.