If you have a mobile application, you definitely know how big the competition is in the mobile app marketing world. You have an app, you want to make it stand out in the app markets. But there is more than 4 million apps there and it makes it really tough to make your app more visible. But don't worry. There are many things you can do to promote your app and today we are going to be talking about one of them: User Generated Contents.

Using the power of content is a very effective and widely-used way of promoting brands/products. As the results are usually satisfying, it has become powerful promotion tool that is widely used in the world of mobile app marketing, too.

There are many types of content and you need to decide which one you're going to include in your content marketing strategy for your mobile apps. In this blog post, we'll give you some tips for promoting your mobile app with User Generated Contents, in other words, UGCs. Before we start, let's have a look at the definition of UGC.

What is User Generated Content (UGC)?
User generated content is considered by many people to be the most valuable content type today. The use of advertising sometimes makes it more difficult for consumers to choose which brand or product they are going to prefer.
Which gym offers true hygiene? Which cafe should be preferred? Which mobile application offers the best experience to its users? Most of the brands claim they are the best ones in their area. So, it makes it tough sometimes for customers to decide.

This is where UGC comes in the game. As you can understand from its name, user generated contents are the contents that are generated by users telling their experiences about a brand or a product. There are also many types of user generated contents. It might be a Facebook Post, Instagram Story or a Youtube Video.
Why User Generated Content Matters
UGC Encourages Users
User Generated Contents are like bridges between you and your audience. A study shows us that %90 of US users thinks UGC is the most effective part in their decision process. The number might be a little different for other countries but it is a known fact that UGC usually encourages users to make a purchase or use a service. So, use the power of it and promote your mobile app.
UGC Offers Personalized Customer Experience
In the marketing world, it is a known fact that you should provide your every customer with a personalized experience to leave the best impression. You can do it with UGC very easily.
UGC Increases Engagement
Engaging with your customers will help you gain a remarkable place in their minds.
UGC is Economical
Advertising for your app might cost more than you expect sometimes. But using User Generated Content is a very good solution for this problem. You don't need to advertise your app. Just let your users promote your app to other users with their contents.
We talked about what is UGC and why you include it in your content marketing strategy. Now let's have a look at some tips for promoting your mobile app with user generated contents.
Tips For Promoting Apps With UGC
Here are some tips we highly recommend you to include in your user-generated content marketing strategy.
Use the power of communities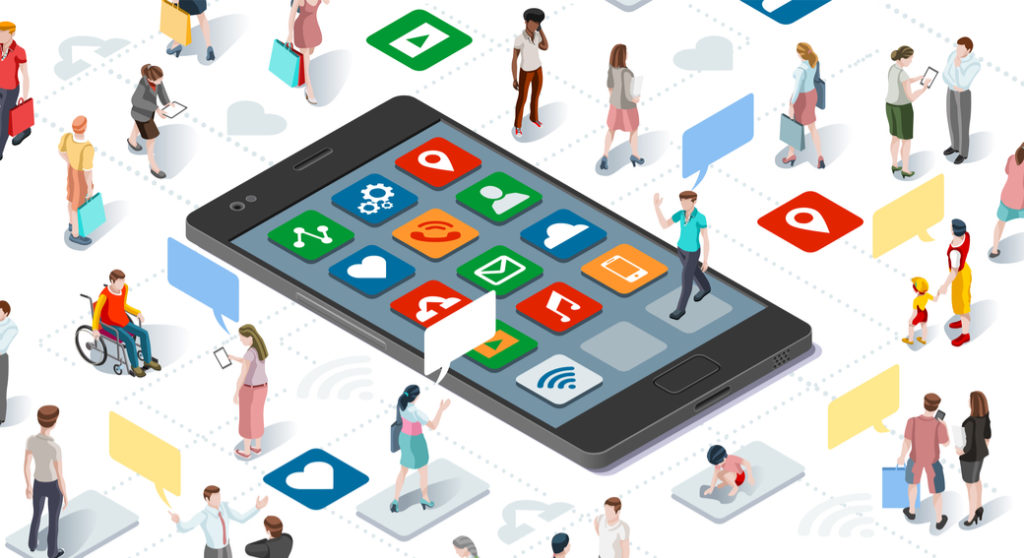 Communities are where people with same or similar interests come together and share their ideas with each other. If you think that members of a community might be interested in your mobile app, why don't you give a try and promote your app in that community?
You can do it on web forums, groups on social media platforms such as Facebook, Linkedin and etc. For example, if a user shares a post about your app on a Facebook group about mobile applications, the other members of the group also may download your app.
Be Unique
Make sure that your campaign is unique. Don't copy any campaign of other brands, app etc.
If your campaign is ordinary, it won't seem attractive to your users and give them a reason to promote your app with their contents. Do your best and be creative. Make the whole journey fun for your users.
Get Yourself Involved
You need to be involved in all the processes to get the most effective results. For example, if you're encouraging your users to share something about your app on social media, why don't you ask them to tag you on their posts? But don't forget that you shouldn't ask too much to bore them. If you're going to do it, give them something in return.

In this blog post, we talked about the importance of user generated contents and why you should include them in your content marketing strategy. Don't forget to share your opininons with us in the comment section below and check out our website to get to know about mobile marketing more.