Metaverse players are younger than other players, according to Newzoo's survey among 5,521 gamers, based on the three biggest metaverse titles, Fortnite, Roblox, and Minecraft.
The study found that, with an average age of around 27, the metaverse players surveyed were visibly younger than the average player who doesn't play any of these three metaverse games (average age 38).
It's not surprising to see this result, as Roblox, Minecraft, and Fortnite are more kid-friendly than many other popular games. It's also pretty clear that Gen Z and Gen Alpha have already grown in proto-metaverses. For example, 54.86% of Roblox daily active users were under the age of 13 in 2020. The company also announced in July 2020 that over half of US kids and teens under 16 play Roblox. "These positive early experiences mean they will be the inhabitants and architects of future metaverses." Newzoo says.
Newzoo also found that over half of the metaverse players surveyed said they used games to socialize in the past three months, including 62% who played Roblox, 58% who played Fortnite, and 57% who played Minecraft.
And as is often the case, these social players spent more money on the three metaverse games than average gamers in the past six months.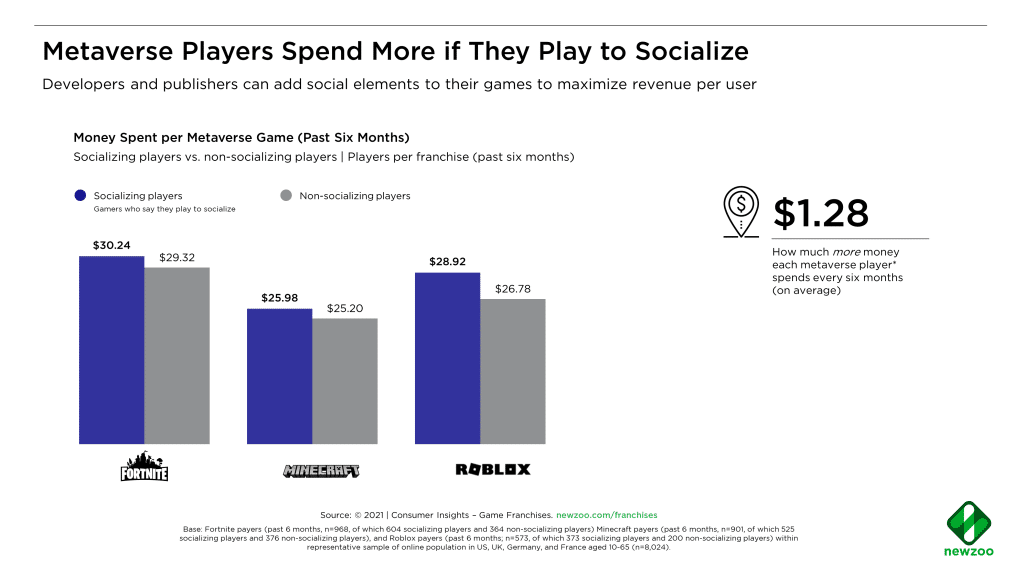 The study found metaverse players spend an average of two hours longer a month playing games and each player spent an average of $1.28 more in the past six months. According to a recent report, metaverse mobile games are poised to see over $3.1 billion in annual consumer spending in 2022. 
Metaverse players are also more likely to use the newer social media platforms like TikTok and Snapchat. For 21-35-year-olds, 42% of the metaverse players use TikTok, whereas only 24% of the average non-metaverse players use it.