Welcome back to "Last Week's Top Mobile Marketing Reads series that recap the most read industry news and insights on gaming, business of apps, and mobile advertising.
Funding and M&A
AppLovin filed for an IPO. Mobile app technology company AppLovin announced last week that it has publicly filed for an initial public offering. According to its S-1 filing, the company reached $1.45 billion in revenue in 2020, up 46% year-over-year. 
Istanbul's Dream Games has raised $50 million. Istanbul-based mobile gaming studio Dream Games has raised $50 million in a Series A funding round led by Index Ventures and supported by Balderton Capital and Makers Fund, venture capital companies that supported the studio in its $7.5 million seed round in November 2020. 
Klarna has secured $1 billion at a $31B valuation. Buy now, pay later company Klarna nearly tripled its valuation to $31B in less than six months after announcing a new $1B funding round last week. The company completed a $ 650 million funding round in September 2020, at a valuation of $ 11 billion.
Epic acquired Tonic Games Group. Epic Games announced the acquisition of Tonic Games Group and as part of the acquisition Fall Guys developer Mediatonic joined Epic. 
Mediatonic said in a statement that Fall Guys will remain available on the PlayStation and Steam and the gameplay will not change.
Zynga acquired Echtra Games. Zynga today announced that it has acquired the Echtra Games team led by developers of Diablo and Torchlight franchises, to "strengthen Zynga's development capabilities for future cross-platform projects." Financial terms of the deal were not disclosed.
Square has acquired Tidal for $297 million. The US-based financial services & mobile payment company Square, Inc. founded by Twitter CEO Jack Dorsey, announced last week that it's acquiring a majority ownership stake in Jay-Z's music streaming service Tidal in a $297 million cash and stock deal. 
Ad Tech News
Facebook launched an ad campaign against Apple's IDFA change. Facebook announced a new ad campaign named 'Good Ideas Deserved to Be Found' to defend the importance of personalized advertising for SMBs ahead of Apple's upcoming privacy changes. 
Vungle has acquired GameRefinery. Mobile performance advertising company Vungle announced that it has acquired mobile gaming analytics company GameRefinery for an undisclosed sum.  
Product Launches & Updates
WhatsApp finally announced voice and video calling via its desktop app. WhatsApp announced the introduction of end-to-end encrypted voice and video calling for its desktop app. It first launched the feature to a small group of people in December and with today's launch the feature is now available to all WhatsApp users on desktop. 
Last week, we also covered that WhatsApp is working on self-destructing photos. 
Instagram launched 'Live Rooms' for broadcasts with up to four users. Instagram has added a highly-requested feature to its platform launching ''Live Rooms'' which allows Instagram users to broadcast with up to three guests. Previously IG users were able to go live on the platform with only 1 guest.  
Twitter tests new shopping features. Twitter confirmed last week that it is working on shopping features with both paid and organic tweets, as part of its plans to reduce its dependence on advertising revenue. 
Last week, app researcher Jane Manchun Wong discovered that Twitter is testing an 'undo send' feature to let users fix a tweet with a typo or error. 
Sources Say
Instacart mulls going public through a direct listing. Last week, people familiar with the matter told Reuters that Instacart is pondering going public through a direct listing because it concerns that a traditional IPO could cause leaving money on the table. Earlier this week, on-demand grocery delivery platform Instacart raised $ 265 million in a new funding round from Andreessen Horowitz, Sequoia Capital, D1 Capital Partners and other existing investors.
Bytedance is building a Clubhouse-clone. Two people familiar with the matter told Reuters that ByteDance is building a clone following the China ban on Clubhouse. One source said that the discussions on Clubhouse about TikTok and ByteDance sparked ByteDance executives' – including CEO Zhang Yimin – interest in the genre.
Game & App Stats
61% of women globally play mobile games. According to a recent study by Newoo and Facebook Gaming, 65% of women globally play games while 61% play mobile games. The study says, in 2020, women make up 48% of mobile gamers and 47% of total gamers. 
Top Hypercasual games accumulated 6.3 billion installs in 2020. According to Sensor Tower, heypercasual genre accounted for 31% of global downloads with top titles in the genre accumulated over 6.3 billion downloads across Google Play and the App Store.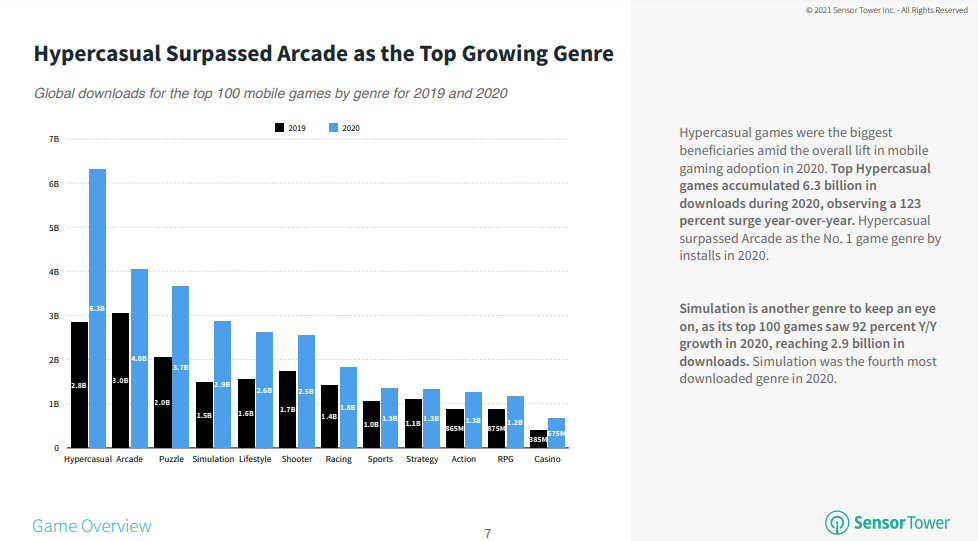 Spotify podcast listeners will outnumber Apple's for the first time in 2021. According to eMarketer, 28.2 million people will listen to podcasts on Spotify monthly in 2021, while 28.0 million will listen via Apple Podcasts.