Facebook announced a new ad campaign named 'Good Ideas Deserved to Be Found' to defend the importance of personalized advertising for SMBs ahead of Apple's upcoming privacy changes.
''We're introducing Good Ideas Deserve To Be Found, an initiative that highlights how personalized ads are an important way people discover small businesses on Facebook and Instagram, and how these ads help small businesses grow from an idea into a livelihood.'' said the company in its latest blog post.
As reported by CNN, the ad campaign which features many SMB owners who use Facebook's personalized ads to grow their businesses will appear on TV, radio and digital platforms starting this Thursday and will run for 12 weeks.
The Good Ideas Deserve To Be Found ad campaign is Facebook's latest move in its fight against Apple's controversial IDFA changes.
Apple's new App Tracking Transparency feature which will roll out in early spring with an iOS14 update will require developers to get user consent to track their data. Meanwhile, Google is also reportedly looking for an alternative to the App Tracking Transparency feature.
---
Also Read: Mobile adtech companies form 'Post-IDFA Alliance' to address the concerns of mobile marketers
---
Facebook has been one of the most vocal critics since Apple first announced the privacy changes at the Worldwide Developers Conference 2020. The social media giant has released many blog posts against the changes, created a webpage called 'Speaking Up For Small Businesses' and even ran full-page ads on major newspapers.
The company also started showing iOS users in-app prompts to explain why personalized ads matter and to convince them to allow ad tracking.
---
Also Read: Zuckerberg reportedly told his staff to 'inflict pain' on Apple
---
In addition to the Good Ideas Need to Be Found campaign, Facebook also announced new product updates to help small businesses.
The company said that it simplified the interface of Ads Manager, waived fees for businesses who use Facebook's Checkout on Shops service, won't collect any fees for paid online events until August 2021, introduced new options for restaurant pages including a new menu tab, and updated Business Resource hub on Facebook and Professional Dashboard on Instagram to provide more detailed information on personalized ads.
Lastly, the company also introduced a new sticker on Instagram and the #DeserveToBeFound hashtag on Facebook to allow businesses to express their ideas on personalized ads.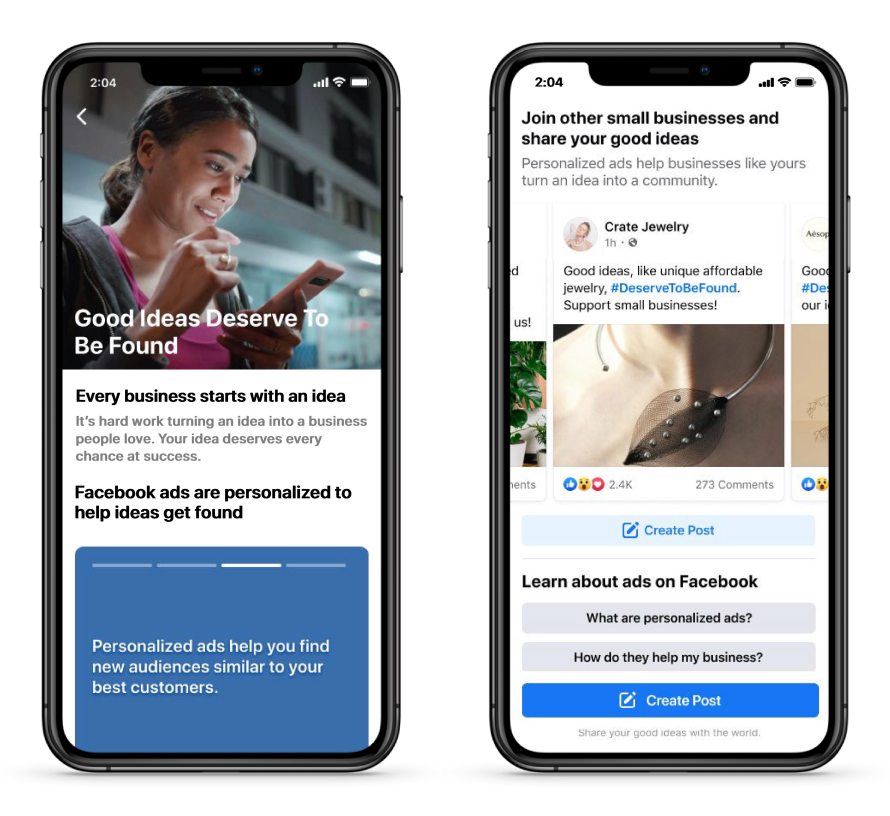 Don't forget to check out our other mobile marketing news.