In the dynamic realm of video content, a captivating delivery can make all the difference. Imagine having the ability to seamlessly deliver your lines, maintain eye contact, and engage your audience effortlessly. This is precisely where The Best Teleprompter Apps for iPad step in, revolutionizing the way you present on camera. Your iPad becomes a powerhouse, turning your video creation process into a smooth and polished experience. Let's delve into the unparalleled features of these teleprompter apps, designed to empower you with confidence and finesse in every video presentation. Without further ado, here are the best teleprompter apps for iPad!
BIGVU Teleprompter for Pros
Price: Free/In-App Purchase: Up to $139.99
BIGVU Teleprompter for Pros is an excellent app that provides a TV studio pro experience right on your iPhone or iPad. With over 7 million users, it's the go-to teleprompter app for creating professional videos. This app seamlessly combines a super-easy teleprompter with advanced features like adjustable scrolling speed, manual exposure control, and real-time audio monitoring. Switch effortlessly between front and rear cameras during interviews, capture multiple takes, and choose the best ones.
What sets BIGVU apart is its versatility. Beyond being a teleprompter, it acts as a DIY video editor, allowing you to add automatic captions, apply elegant themes with your logo and colors, and incorporate visuals. Whether you're into social media, education, corporate communication, or content marketing, BIGVU transforms your videos into captivating, professional productions. From green screen replacement to automatic subtitles and commercial-free music integration, it's a comprehensive tool. Visit Teleprompter BIGVU's website for more detailed information about the app.
BIGVU Teleprompter for Pros on the App Store
PromptSmart Pro – Teleprompter
Price: $29.99/In-App Purchase: Up to $34.99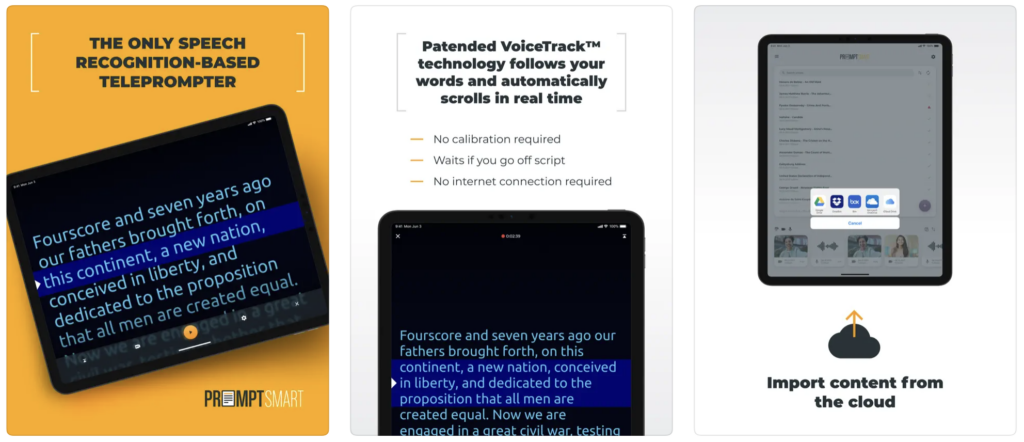 PromptSmart Pro is one of the best teleprompter apps for iPad. This app introduces VoiceTrack™ speech recognition technology, a revolutionary feature that automatically follows your voice in real-time. Say goodbye to fixed scrolling speeds and hello to a prompting tool that adapts to your natural pace.
Also, perfect for reducing stress and enhancing efficiency, VoiceTrack ensures the teleprompter starts and stops according to your speech, allowing you to focus on other production values. PromptSmart Pro is not just for video creators; it's an invaluable tool for public speakers, educators, podcasters, and business leaders. The app supports various file types, including DOCX, PDF, RTF, TXT, and GDOC, and offers in-app camera controls for optimal video quality.
PromptSmart Pro – Teleprompter on the App Store
---
Also Read: The 6 Best RSS Reader & News Aggregator Apps
---
Teleprompter for Video
Price: Free/In-App Purchase: Up to $18.99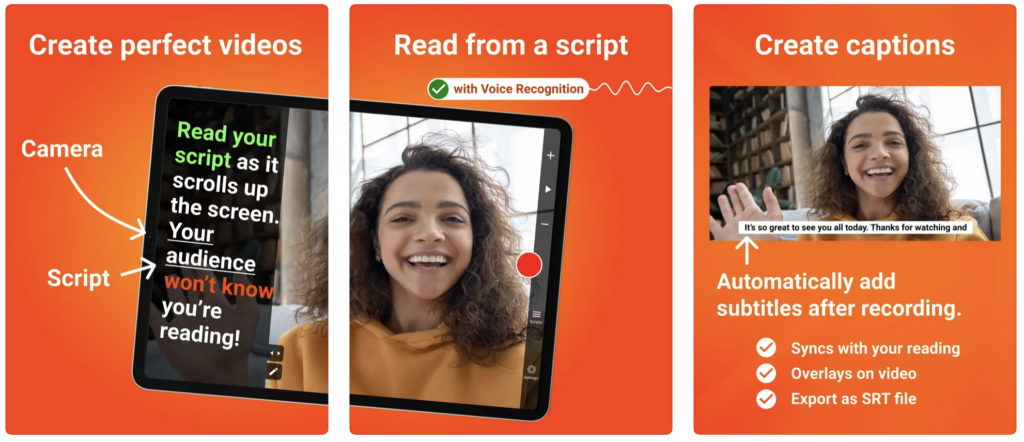 Creating professional-looking videos is a breeze with Teleprompter for Video. This free app turns your iPhone or iPad into a powerful tool for vlogs, speeches, business communications, and more. Boasting over 1 million users worldwide, it's a go-to choice for actors, religious leaders, job seekers, and content creators.
Teleprompter for Video offers features like floating mode for live streaming, voice-assisted scrolling, countdowns, and compatibility with various resolutions and frame rates. From recording high-definition videos to editing with ease, this app is a versatile companion for content creators, and it stands out among the best teleprompter apps for iPad.
Teleprompter for Video on the App Store
PromptSmart Lite Teleprompter
Price: Free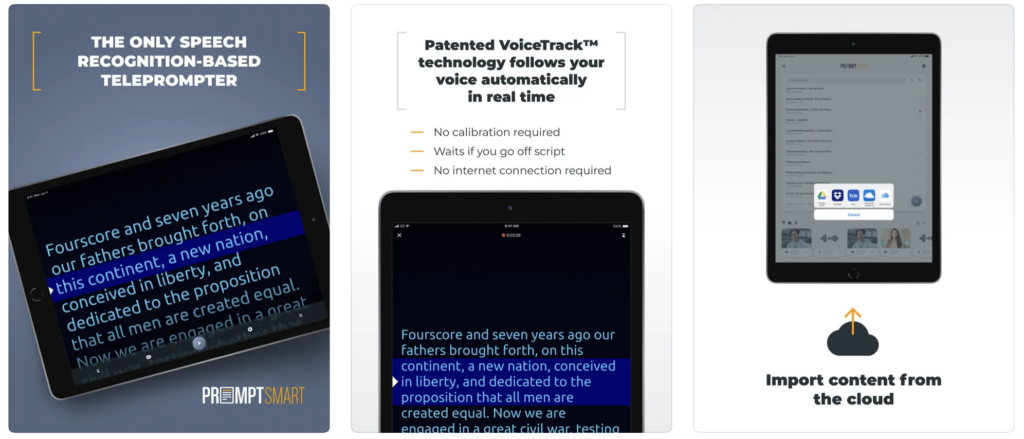 Experience the power of VoiceTrack™ speech recognition technology with PromptSmart Lite Teleprompter. This free trial version of the full-featured PromptSmart Pro allows you to try VoiceTrack risk-free before committing to the paid version. With VoiceTrack, the teleprompter follows your voice, scrolls at your natural pace, and pauses when you improvise.
Ideal for video production professionals, public speakers, and those new to teleprompters, PromptSmart Lite ensures a smooth and natural delivery. Use it to guide speakers through content naturally, reducing the need for multiple takes and post-production work. PromptSmart Lite supports various file types, has a user-friendly interface, and ranks among the best teleprompter apps for iPad.
PromptSmart Lite Teleprompter on the App Store
---
Also Read: The 7 Best Conservative News Apps
---
Teleprompter
Price: Free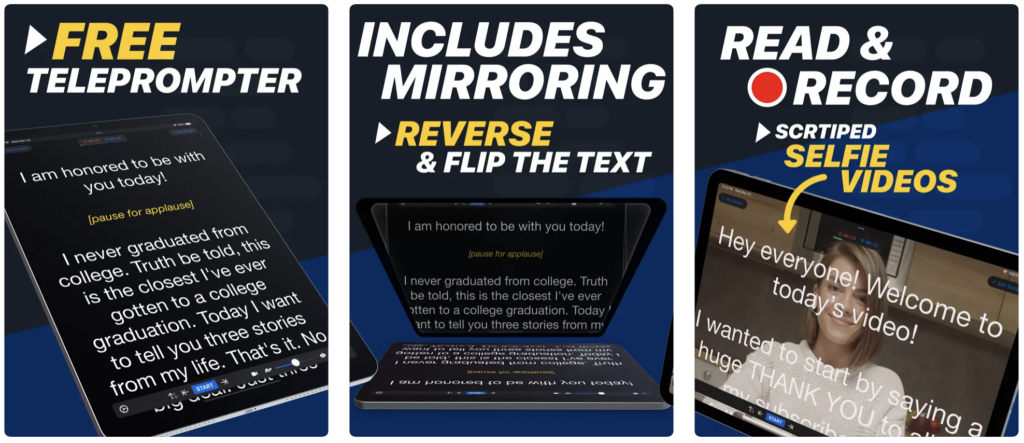 If you're looking for the best free teleprompter app, Teleprompter is your solution. This easy-to-use app turns your iPad or iPhone into a versatile teleprompter with mirroring, unlimited script lengths, and fantastic features. Whether you're a seasoned professional or a beginner, Teleprompter has you covered.
Top features include mirroring text for on-camera rigs, smooth and clear script scrolling, sound recording with various options, and full control from any web browser on the same WiFi network. Customize text size, color, and background color; choose between continuous or paging scroll modes; and add cue points to your scripts for seamless presentations.
Moreover, Teleprompter supports exporting and sharing scripts, timed scrolling, and even cloud sync for script management across devices. Whether you're creating vlogs, tutorials, or business presentations, Teleprompter ensures smooth and professional delivery.
Parrot Teleprompter
Price: Free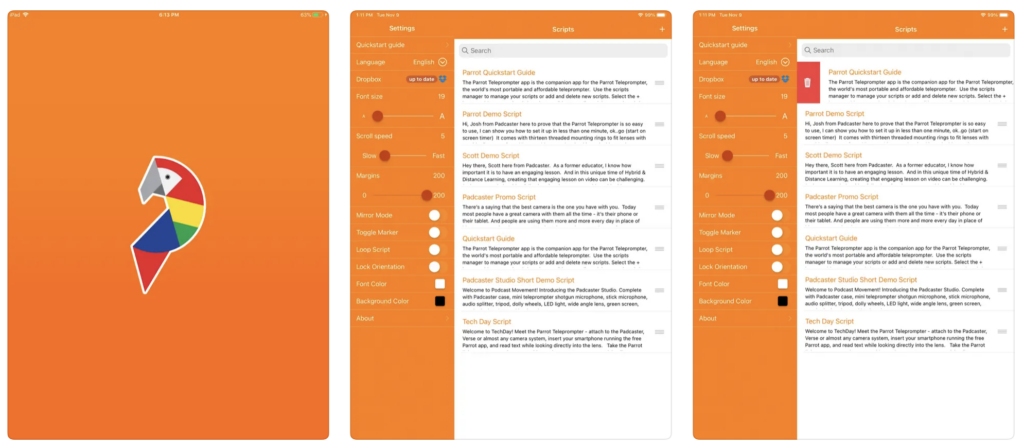 Parrot Teleprompter is a terrific app to turn your smartphone into a professional teleprompter. This free app, designed for use with the Parrot Teleprompter hardware, offers top-requested features for a seamless teleprompter experience. Control scroll speed, adjust text size, and type or edit scripts directly within the app or connect to your Dropbox account.
Parrot Teleprompter is perfect for on-the-go video creators, and it deserves to be among the best teleprompter apps for iPad. Scroll scripts in landscape or mirrored mode, change text and background colors, and even enjoy remote control functionality with the Parrot Teleprompter remote accessory. With unlimited script support, loop script settings, and intuitive controls, it simplifies your video production process.
Parrot Teleprompter App on the App Store
---
Also Read: The 7 Best Free News Apps
---
PromptSmart+
Price: Free/In-App Purchase: Up to $79.99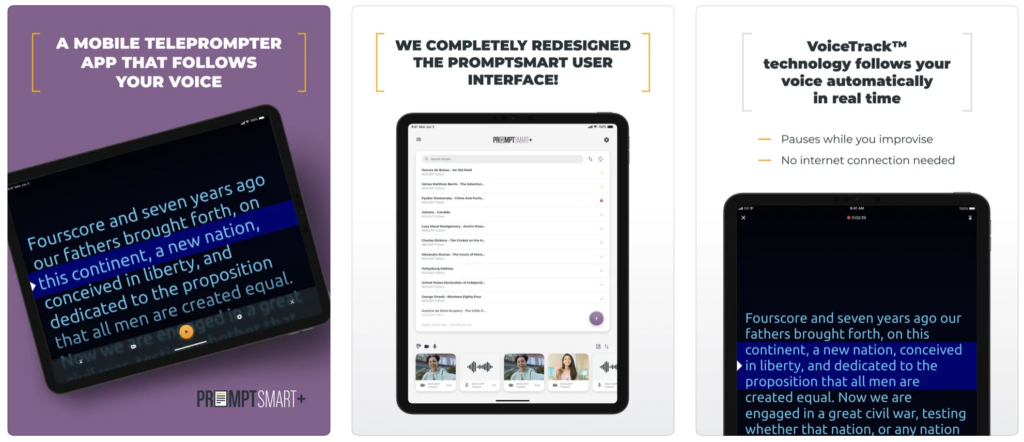 PromptSmart+ is a patented teleprompter app featuring VoiceTrack™ speech recognition technology. This app ensures stress-free presentations and video productions. VoiceTrack scrolls text in real-time, syncing with your voice and pausing when you improvise.
Furthermore, designed for a diverse range of users, from public speakers and educators to podcasters and business leaders, PromptSmart+ supports multiple languages. VoiceTrack performs all speech recognition tasks on the device, eliminating the need for an internet connection and resulting in efficient and secure presentations.
TeleprompterPAD
Price: Free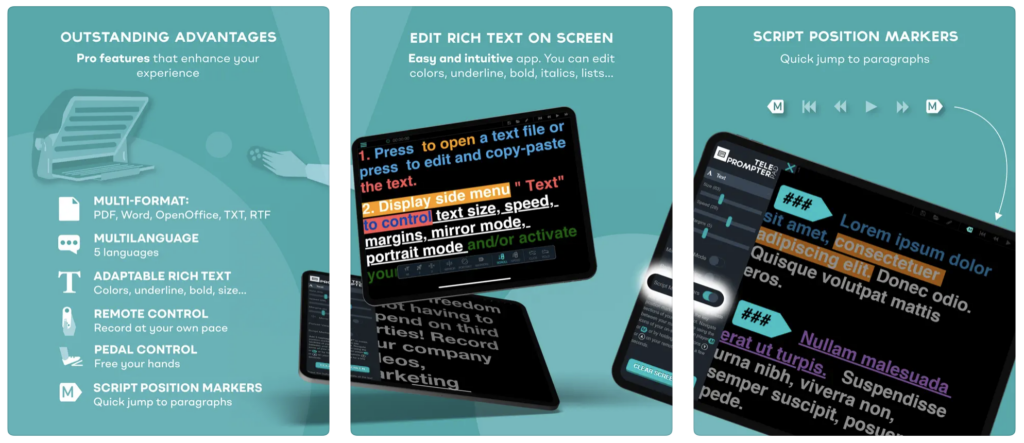 TeleprompterPAD offers a versatile teleprompter experience with support for various file formats, including PDF, Word, OpenOffice, and TXT. Designed for use with mirror teleprompter hardware, this free app transforms your device into a teleprompter, providing speed, font size, and margin adaptability, along with remote control functionality.
While the app is intended for use with mirror teleprompter hardware and doesn't record video itself, it offers a seamless experience for controlling scripts during recording sessions. With features like multi-format support, adjustable settings, and cloud sync options, TeleprompterPAD provides flexibility and convenience for your teleprompting needs.
TeleprompterPAD on the App Store