Instead of accessing a limited number of radios, how about accessing the radios around the world and discovering new songs? Don't just be limited to the radios in your region, great radio apps developed for Android offer many possibilities such as music, live sports, news, and podcasts. These apps, which allow you to have multiple features with a single app, are pretty handy. But what are the best radio apps for Android? We have listed the best for you, here are the best ones!
iHeartRadio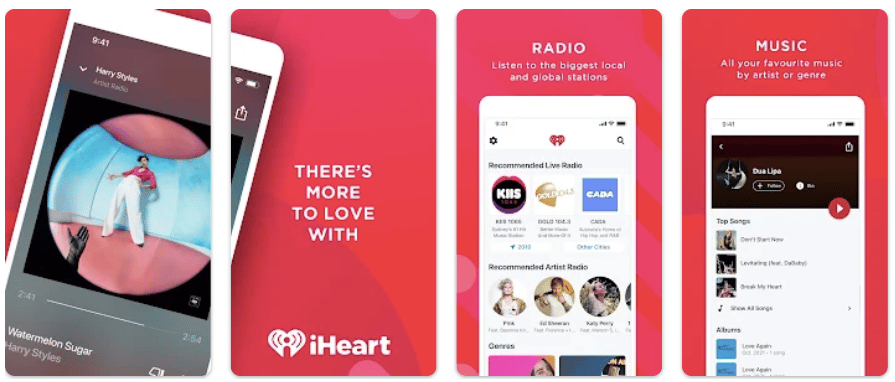 Price: Free/In-App Purchase: $0.99 – $12.99
iHeartRadio, where you can discover music, radio, and podcasts for free, is one of the best radio apps for Android. The app lets you listen on any device, including smartphones, tablets, Wear OS, Chromecast, and more.
Additionally, the app offers access to Australia's AM and FM radio stations such as KIIS 1065, The Edge, 2GB, and New Zealand's ZM, The Hits, Newstalk ZB, Radio Hauraki, Radio Sport, Flava, Coast and is ad-free. Apart from the radio feature, the app comes with popular podcasts in News, Finance, Comedy, Sports, and Entertainment.
In addition, the app allows you to save your favorite station, and you can create your custom stations with "Favorites Radio".
---
Also Read: The 5 Best Podcast Apps
---
AccuRadio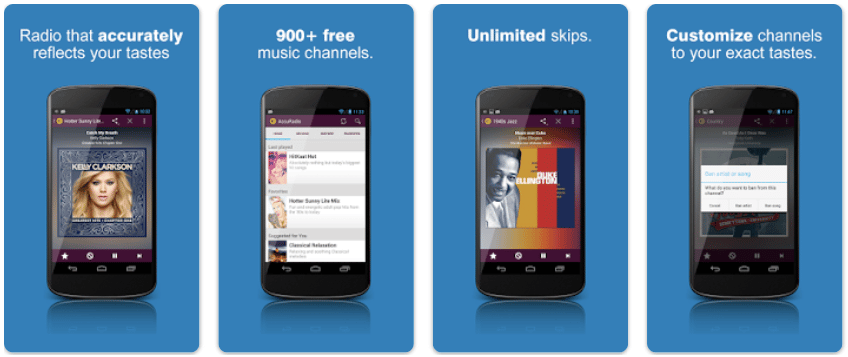 Price: Free
AccuRadio is a radio app that makes it easy to discover, customize and enjoy music to your taste. The app comes with hundreds of music channels in more than 50 music genres.
Furthermore, AccuRadio allows music lovers to save their favorite music channels and listening history. Users can ban artists or songs from a particular channel with the app's customization features.
Moreover, the app offers Relaxing music, Classical, Hip-Hop, Christmas music, R&D, Oldies (the 50s, 60s, 70s, 80s, 90s), Indie rock, Christian, and Electronic, blues, reggae, Celtic, classic rock, alternative rock and more music genres to its users.
---
Also Read: The 6 Best RSS Reader & News Aggregator Apps
---
TuneIn Radio
Price: Free/In-App Purchase: $0,99-$149,99
TuneIn Radio is a fascinating app that offers news, podcasts, and radios from all over the world in a single app and is among the best radio apps for Android. TuneIn Radio comes with over 100,000 radio stations worldwide, live sports, exclusive music channels, breaking news, and over 5.7 million podcasts.
Moreover, TuneIn Radio is favorable for free on 200 platforms and connected devices. Users can use it from their watch while doing sports, from their car while driving a car to other devices to which their phone is connected.
---
Also Read: The 9 Best Music Streaming Apps
---
Pandora Radio
Price: Free/In-App Purchase: $0,99-$9,99
Pandora Radio is an app that offers its users a personalized listening experience that is constantly evolving. The app allows users to create stations from their favorite songs, artists, or genres. The app keeps you up to date with the latest singles and releases and provides instant access to popular artists and podcasts.
Furthermore, users can take Pandora Radio wherever they go with Android Auto. Users can make calls, play music, pause, and adjust the volume with voice commands with the voice mode in Pandora Radio.
Also, Pandora Radio is compatible with Google's Wear OS, and users can control media playback such as play/pause, replay, skip, thumbs up, and more with a simple tap.
myTuner Radio
Price: Free/In-App Purchase: $5,99
MyTuner Radio is one of the best radio apps for Android, allowing you to tune in to live radio stations from all over the world. The app has a fantastic and easy-to-use interface and offers its users the experience of Live radio, internet radio, AM and FM radio.
Additionally, myTuner Radio has over 50,000 Live radio stations and over 1 million podcasts from over 200 countries and regions. Users can access their favorite live radio stations on mobile devices, the web, desktops, smart TVs, connected cars, and wearables.
Radio Online App
Price: Free
Radio Online App is an app that allows you to listen to FM radio, AM radio, shows, news, and music from different countries. Fast and easy to use, the app requires a stable Internet connection.
In addition, the app offers its user's music genres Pop, JPop, KPop, Spanish Rock, Reggae, Salsa, Cumbia, Rock, Metal, Dance, Hip Hop, Ska, Ranchera, Banda, Trance, Psyco, and more.
Radio Online App on Google Play
SiriusXM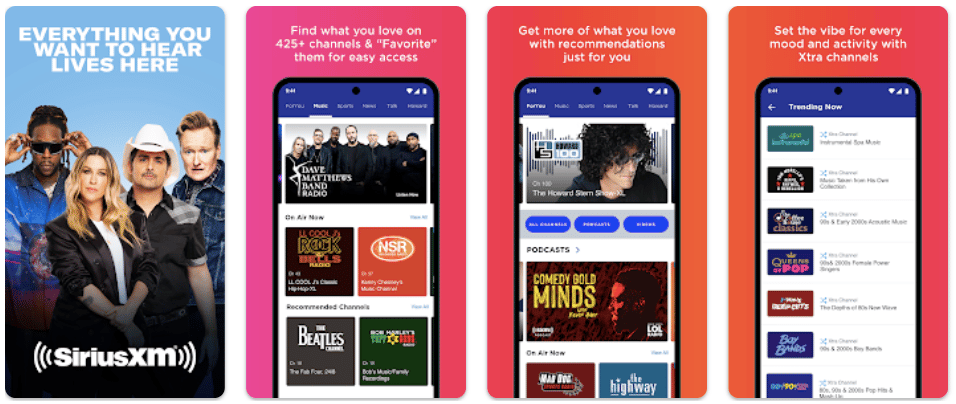 Price: Free/In-App Purchase: $8,99-$99,99
SiriusXM radio is one of the best radio apps for Android, offering live sports, original talk shows, Howard Stern, comedy specials, US and world news, and more. The app contains a selection of the best podcasts, including their originals and Marvel series.
Also, SiriusXM offers 2 Howard Stern channels and 425+ channels for streaming. The app features the NFL, MLB®, NBA, NHL® and NCAA® play-by-play, NASCAR® as well as the biggest names in the sports world.