One of the most curious subjects for those who are interested in photography and beginners is the DSLR (Digital Single Reflex Camera) camera. The image passes through a single lens and is projected onto the viewfinder with a mirror system in DSLR cameras. DSLR cameras have a wide range and are a favorite of everyone, from beginners to professionals. How about having the DSLR photography experience on your mobile phone? There are pretty handy DSLR apps for this, and we have listed them for you. Here are the best DSLR camera apps!
Adobe Lightroom
Price: Free
Adobe Photoshop Lightroom is a powerful photo and video editor and camera app and one of the best DSLR apps. Adobe Photoshop Lightroom offers many editing tools such as retouching your images, applying photo-free preset filters, and fine-tuning backgrounds.
Plus, Adobe Photoshop Lightroom's automatic editor provides an instant one-touch enhancement to your photos. The app has fine sliders to adjust all your light settings such as Contrast, exposure, highlights, and shadows. You can create dazzling edits with the color mixer and grading tools in Plus, Adobe Photoshop Lightroom. Using the in-app photo enhancer, you can change the look and feel of your photos with texture, sharpness, deblurring, and grain sliders.
In addition, advanced shooting modes in Plus, Adobe Photoshop Lightroom such as Raw, professional, and HDR allow you to take more detailed shots. You can unlock your phone's camera potential with unique controls like exposure, timer, instant presets, and more. Advanced edits to midtones, shadows, highlights, and colors are possible using the curves of Adobe Photoshop Lightroom.
Adobe Lightroom on Google Play
Blur Image – DSLR focus effect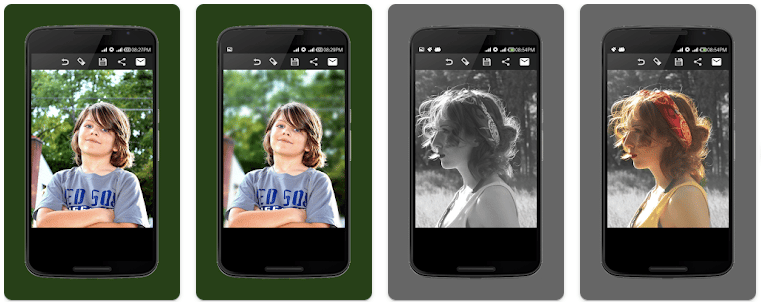 Price: Free
Blur Image is a very easy-to-use app. The app allows you to selectively blur or de-blur so you can manually focus on the subject correctly. Blur Image gives chance to adjust the brush size to fine-tune your image.
Also, you can save the renewed photos Photo to your sd card or you can share them with your friends on social media platforms such as Facebook, Twitter, Instagram, Whatsapp, etc.
Blur Image – DSLR focus effect on Google Play
---
Also Read: The Best Free Photo Editing Apps for Android
---
Snapseed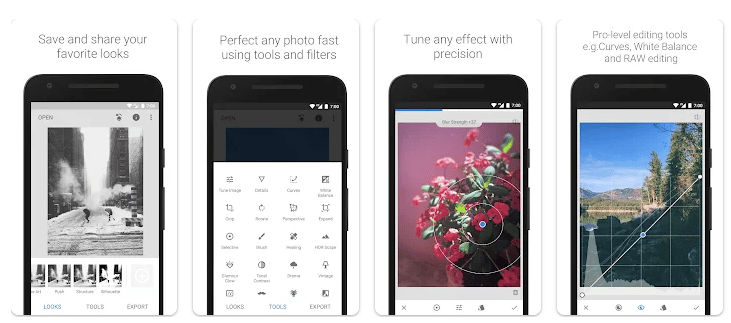 Price: Free
Snapseed, a complete and professional photo editor developed by Google, is one of the best DSLR camera apps. Snapseed has 29 Tools and Filters including app optimization, Brush, Structure, HDR, and Perspective. The app allows you to fine-tune all styles with precise control.
Also, the app lets you open and tweak RAW DNG files, save them non-destructively, or export them as JPG. Users can adjust exposure and color either automatically or manually with fine and precise control.
Also Read: The 5 Best Alternatives to Photoshop for Photo Editing
HyperFocal Pro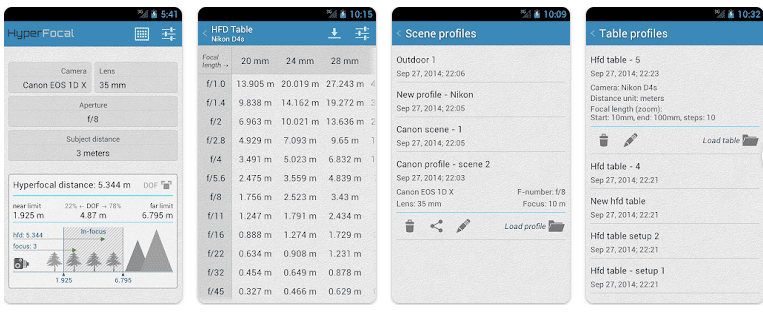 Price: Free
Hyperfocal is the perfect companion to your DSLR for field photography calculations. Hyperfocal aims to provide the perfect focus and focus zone for professional photographers. Users can easily configure their shooting parameters with Hyperfocal's well-designed, easy-to-use interface. The app allows you to get the Angle of View and Field of View values for the correct composition.
Additionally, the app includes a configurable hyperfocal distance chart generator module for customized charts for your camera/lens combinations. Hyperfocal can generate f-numbers and hyperfocal length tables and allows exporting hyperfocal length tables to multiple file-formats including HTML and excel.
---
Also Read: The 6 Best Camera Apps for Android
---
Manual Camera: DSLR Camera Pro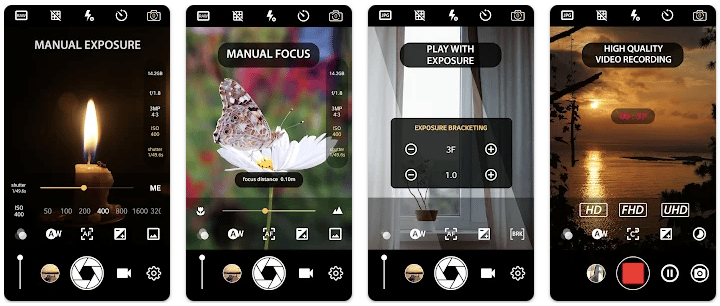 Price: Free
Manual Camera: DSLR Camera Pro turns your phone into a professional camera with features like full manual camera control over ISO, shutter speed, exposure, and manual focus. The app provides users with many features such as Control exposure, control white balance, manual ISO, manual focus, control shutter speed, RAW photo recording, real-time filter/color effect, and 4K camera recording (on supported devices).
Moreover, Manual Camera: DSLR Camera Pro allows you to create photos with other professional HD camera features like different effects, manual exposure lock, manual ISO, white balance, HD camera professional grid view, and golden ratio grid.
Manual Camera: DSLR Camera Pro on Google Play
---
Also read: The 15 Best Video Editing Apps for Android
---
HD Pro Camera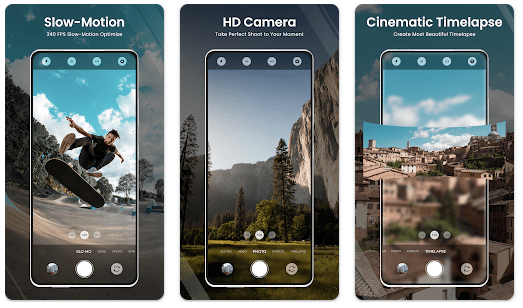 Price: Free
With 110 beauty filters and different professional effect styles, HD Pro Camera stands out among the best DSLR apps. The app features time-lapse, ultra-high HD resolution panorama, and offers many possibilities such as customization of different ratios, zoom, quality, and video/photo size, intelligent face detection and auto stabilization, fast motion, continuous shooting, and auto stabilization.
Furthermore, HD Pro Camera comes with SCE (night, sports, party, sunset, grass, nature, sunny, skin whitening, Brooklyn, pink, vivid, clean, a set of beautification filters) and white balance (incandescent, fluorescent, daylight), twilight), cloudy).
Magic ARRI ViewFinder
Price: Free
Magic ARRI ViewFinder is a digital director's viewfinder and helps you see the full field of view for your future shots. You can select the focal length of the lens by turning the wheel while inside the camera.
Also, the app simulates your camera using tele adapters or anamorphic optics and lets you choose the aspect ratio of the frame grid that covers your image. Magic ARRI ViewFinder helps you apply some commonly used color presets (also known as LUTs). Thus you can get vibrant and colorful images.